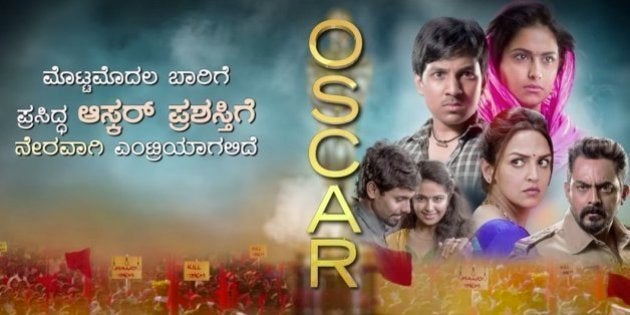 On Friday, yesteryear actress and BJP Rajya Sabha member Hema Malini tweeted excitedly about an upcoming Hindi-Kannada bilingual film called Care Of Footpath 2, which stars her daughter Esha Deol.
Wonderful news which I must share with all of u! Esha's bilingual movie in Kannada & Hindi has made a lateral entry into the 2016 Oscars!

— Hema Malini (@dreamgirlhema) September 26, 2015
Premiere will be in LA, USA. In Oct. before release in India.

The movie will be released in Hollywood style with a lot of fanfare!

— Hema Malini (@dreamgirlhema) September 26, 2015
All reports about this occurrence said roughly the same thing: that Care Of Footpath 2, a sequel to Care Of Footpath (2006), is in the race for the Oscars next year as a 'lateral entry' along with multilingual courtroom dramedy Court, which was recently selected as India's entry for the Best Foreign Language Film category.
If you've been wondering what a 'lateral entry' is, it means that the film can compete in any of the general categories, including Best Picture, Best Director, and Best Actor. Films competing in the Foreign Language category do not have this privilege.
The film's 19-year-old director Kishan Shrikanth (who entered the Guinness Book Of World Records for directing its prequel at the age of 9) told Hindustan Times that they had kept the Oscars in mind while making the film. "We got in touch with people from the Academy Awards about a year and a half ago, and were informed about these technical specifications and standards," he was quoted as saying. "They were taken into consideration from the day we began shooting." He added that they're planning a theatrical release in Los Angeles and have set aside a budget for its promotions there.
Over the past few years, there has been a slew of little-known and hardly-seen Indian titles that have been sent to the Oscars as similar 'lateral entries' and juiced some publicity out of it, such as Malayalam film Dam 999 (2011), Marathi film Touring Talkies (2013), and the erotic Sherlyn Chopra-starrer Kamasutra 3D (2014).
Interestingly, barring Care Of Footpath 2, all these films were submitted for Oscars consideration with the help of the same company: All Lights Film Services, a Kochi-based film consultancy that helps filmmakers submit their work to the Oscars as well as various film festivals, among other things.
"Anyone can submit their film to the Academy for consideration if they follow all the rules, and we help them do that," said Nisha Joseph of All Lights Film Services, in a phone conversation with HuffPost India. One basic requirement for a film to be eligible is that it should have been screened over at least seven consecutive days in Los Angeles County, United States, over the previous calendar year. "These screenings, which can be either public or private, are organised by us in Academy-approved theatres," she said. "We have many industry contacts there — Academy jury members, industry people, journalists — through an agent we work with, and we use that to build up buzz for a film."
This makes the 'lateral Oscar-entry' a matter of how deep producers' pockets are and hardly one of prestige, since all a film needs to do to be eligible is to have been screened over a week in LA and filled in all the paperwork properly. Joseph agreed and added, "We only help mediate the process. Nominations are a different ball game. For that, you really need to lobby and spend a lot of money, which is difficult for Indian films."
Since 2011, All Lights Film Services has helped 10 Indian films get Oscar-ready, for package deals that begin at Rs 5 lakh ("These only include working costs. We do not make any profits out of this," says Joseph). Not one of them has garnered a nomination. While most of these films have spent "under Rs 10 lakh" on their campaigns, one — Touring Talkies — spent as much as Rs 40 lakh.
Is it just unshakeable faith in their films that spur filmmakers — whose films haven't been selected by Film Federation of India as India's submission in the Foreign Language category — to spend money on a campaign where they're competing against the best of Hollywood? After all, precious few foreign language films have ever been nominated for, say, the Best Picture category in the Academy's history and they've usually been universally-acclaimed films such as Life Is Beautiful (1998), Crouching Tiger, Hidden Dragon (2002), and Amour (2012).
In contrast, many of the films that ALFS has worked with over the past four years have been critical and commercial failures, if they've released in India at all, and history has shown that the Academy is more likely to make conservative choices than root for an underdog (or basically a film that hasn't swept the international circuit).
Joseph says that, for many, it is a way to boost publicity as well as international sales for their films. "Compared to what it costs to put out a print ad in the newspaper or buy air-time on TV for your trailer, this is a more cost-effective way of getting the word out," she said. "Also, if a film makes it to the short-list [usually announced in mid-December], it gives them a lot of publicity as well as the chance of a sales agent picking it up."
In short, we aren't saying miracles don't happen, but we wouldn't recommend that you hold your breath for Care Of Footpath 2.