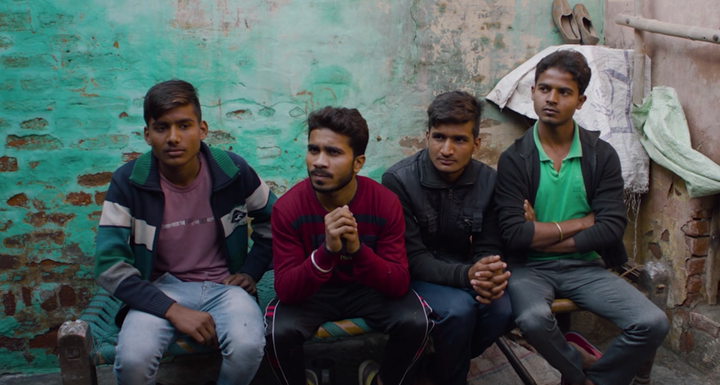 From young men who think menstruation is a disease women suffer from and older men who wouldn't acknowledge the subject in public to men who stare at women trying to buy sanitary pads at a neighbourhood store, Rayka Zehtabchi's Period. End of Sentence expertly unmasks the real menstrual health challenge facing a majority of women in India. And the biggest challenge is Indian men and their inability and unwillingness to engage with the subject.
The film which won the Oscar in the 'best documentary short film' category, points a finger at a concern shared by various health workers and women's rights activists who work at the grassroots, trying to improve women's access to menstrual health products. The film punctuates interviews with women in a Uttar Pradesh village with conversations with men from the same village, deftly mapping the root of the women's troubles.
It shows a group of young men agreeing that menstruation is an illness that women contract, then it moves to a woman whose uncle has rented his house out to set up a low-cost sanitary pad making unit. When the interviewers ask the man what he thinks is being made in the house, the man says, "Huggies". His niece, who seems to have facilitated the rent arrangement, is unwilling to confront the man about it. In another scene, a gutsy young woman who aspires to join the police says that she has not told her father exactly what she does for work — she works with a pad-making unit. She explains that it will be too difficult to explain what she does to her father and she may not end up working there at all if he is not convinced.
Suman, who works in a sanitary-pad-making unit, tells the film crew that the men are aware of periods and the fact that the women will be making sanitary pads but they will never speak in public, thanks to patriarchy.
Another man is show telling the film screw that the women in the self-help group will be making 'pads' for children. The absence of a common language on menstruation stares back at the viewers of this film, underlining that issues like GST on sanitary pads which social media rages about are the least of India's menstrual health issues.
In course of various interviews with HuffPost India, activists and health workers revealed that the primary reason women in villages and urban slums do not use sanitary napkins has to do with men stumbling upon a pad in their homes. A day nurse who lives in a poor migrants' colony in Mongolpuri on the fringes of Delhi told HuffPost India that though she insists her young daughters use sanitary pads, they often feel embarrassed. She lives in one-room 200-square feet house, which she shares with six other people, including her husband, son and son-in-law. She said that she often tucks packets of low-cost sanitary pads made and sold by women of her neighbourhood inside boxes of her clothes, or in other containers, but on many occasions men have ended up finding the pads while rummaging through these boxes for other things. "It's very shameful. They had to touch the pads," she told HuffPost India.
Sabbar Tausif, a programme manager with NGO Plan India said that many women have returned free pads given to them because they didn't know where to 'hide' them from men.
Swati Bedekar who runs Sakhi Pads from Ahmedabad explained that in villages men refuse to let women dispose completely biodegradable pads into compost which has a variety of rotting garbage otherwise. Often, after they have thrown used pads in empty pieces of land or bushes, cats and dogs come and tear the pads apart, Jaideep Mondal, manufacturer of Aakar Inventions which makes biodegradable sanitary napkins had told HuffPost India. Zehtabchi's documentary features a woman who echoes Mondal's concerns and complains that the dogs she has fostered often tear up used sanitary napkins making the whole exercise 'very embarrassing'.
Anshu Gupta, who runs the NGO Goonj, told HuffPost India that whenever the NGO undertakes awareness drives in rural India, it is usually led by men. Goonj holds awareness camps where they invite both men and women to participate and has male health workers explain the dangers of using dirty cloth.
The self help group model of manufacturing sanitary napkins may be riddled with issues which the film fails to address, but Period rightly asserts that men should unlearn their taboos before women can learn menstrual hygiene.