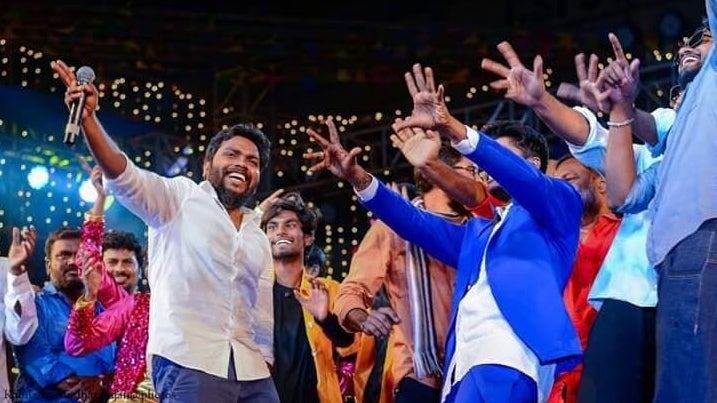 Pa Ranjith's office at Egmore, Chennai greets you with the warmth of a college canteen. A few months ago, I ended up visiting his office quite a few times and couldn't help marvelling at the refreshing disregard for social hierarchies, yet noticed a steady focus on work. I spotted assistant directors from his films, scriptwriters, cinematographers, actors, singers wafting in an out of the ground floor office often lost in discussions, or sometimes even caught in deep arguments. Some simply lounged around the massive bookshelf in the waiting area, reading. Most of the artistes I recognised were Bahujan.
The motley crowd at Ranjith's office represents how the 36-year-old filmmaker engages with his art. The artist, filmmaker and political activist seeks to continually engage with the public both through his art and outside of it. He approaches art as a community driven process that involves integrating artists and other stakeholders across various platforms.
That probably explains why Ranjith continues to wade into territories many artistes and filmmakers in the industry would dare not in the interest of 'protecting' their careers. Two weeks ago, an FIR was registered against Ranjith for recounting how land belonging to Dalits were snatched. He also spoke about exploitation of women institutionalised under the devadasi system during the rule of Raja Raja Chozha, a 10th century Chozha king. Three days ago, the filmmaker got anticipatory bail.
"Ranjith's protagonists have increasingly been more outspoken in asserting their Dalit identity and Ambedkarite politics."
Ranjith's comments aren't unexpected to anyone who has followed the arc of his filmmaking career. With each movie, Ranjith's protagonists have increasingly been more outspoken in asserting their Dalit identity and Ambedkarite politics. Ranjith explained how his first two films were also deeply political, though the 'politics was represented symbolically and mostly kept under the surface'.
"In Kabali and Kaala, it was possible to be more direct," Ranjith told HuffPost India. The success of his films has allowed him to produce Mari Selvaraj's Pariyerum Perumal (2018) under his own banner Neelam Productions. Selvaraj's film about a young man who goes to study law to fight the casteist oppression that crippled his childhood, took a markedly different narrative from Ranjith's confrontational style and made an angsty appeal to the caste society to introspect.
In the films directed or produced by him, Ranjith refuses to create an alternate idiom of cinema to tell Dalit stories. He said, "I am not particularly interested in working from an alternate platform. If we have to communicate with the masses, it is important to stay in the mainstream and share our narratives."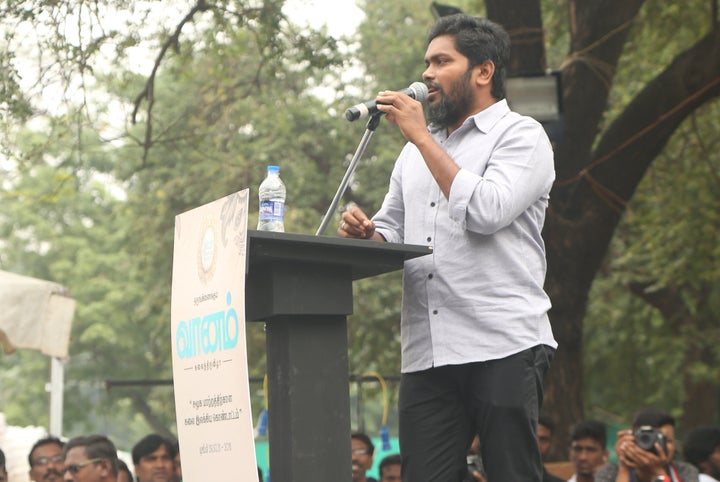 Fine arts student to voice of Dalits
Growing up in the suburbs of Chennai, Pa Ranjith enrolled at the Madras Fine Arts College for a course in animation. Before making films on his own, he worked with filmmaker Venkat Prabhu as an assistant director. His first film Attakathi released in the year 2012.
In less than seven years, he has written and directed four feature films, two of which starred Tamil Superstar Rajinikanth, produced the critically acclaimed film Pariyerum Perumal, put together an independent music band The Casteless Collective and produced documentaries on caste, gender and sexuality.
He also hosted a three-day long socio-cultural event called Vaanam Arts Festival, staged Oru Oppari Show that focussed on the folk song genre oppari, produced the play Manjal that addressed manual scavenging and instituted Koogai Thiraipada Iyakkam — a library, workshop and interactive space for budding filmmakers.
In addition to this, he recently kick-started an online YouTube channel Neelam and is in talks to set up a publishing house as well. While the volume of the output is in itself phenomenal, what is even more remarkable is how all these initiatives are fiercely political and espouse the Ambedkarite ideology in unison.
The importance of being Pa Ranjith
The most important of Ranjith's contributions to Tamil cinema is in how he has mainstreamed and humanised the portrayal of Dalit and other marginalised characters and their stories. Until his arrival, Dalit characters were often victimised, criminalised or exoticised on the Tamil screen.
In Attakathi (2012), he narrated a slice of life story of Dalits living in the suburbs of Chennai. In Madras (2014), he documented the political consciousness of the residents of North Chennai, a location that has often criminalized in cinema.
And if Kabali (2016) followed the lives of Tamil migrant labourers in Malaysia, Kaala (2018) spoke about the political consolidation of Dalits in Dharavi, Mumbai.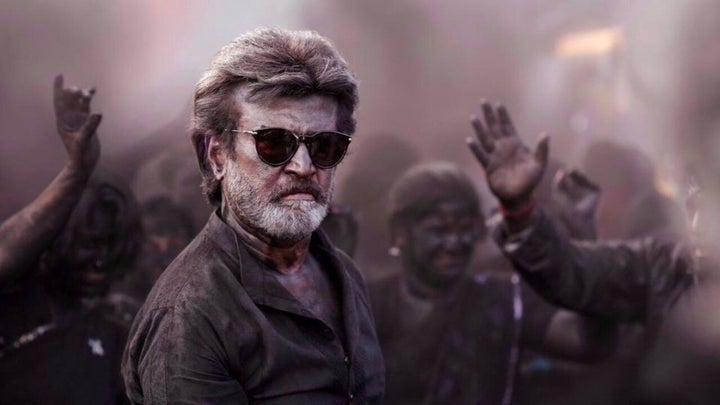 Outside of the feature film format, he has produced documentaries that include Malini Jeevarathnam's Ladies and Gentlewomen, which explores and documents the issues faced by the LGBTQ community, Jaikumar's Beware of Castes: Mirchpur that chronicles caste discrimination and oppression in Mirchpur, Haryana. He has also collaborated with Jyoti Nisha's crowd-funded documentary BR Ambedkar - Now and Then. In addition, Neelam productions along with Jai Bhim Mandram staged Jeyarani Mayilvahanan's play Manjal at Chennai's Kamaraj Memorial Hall, that problematized the Indian society for continuing the inhuman and criminal practice of manual scavenging.
Song for the masses
Gaana refers to an urban folk genre of music that is sung by the Dalit Bahujans. While there have been several independent artists who are responsible for keeping the tradition of gaana alive, it still wasn't considered a mainstream form of music because of its association with the Dalit Bahujans.
Film music composer Deva played a key role in taking the genre to the masses through his gaana songs in the 90s. But still, the themes touched by Deva were mostly celebratory in nature and only rarely social.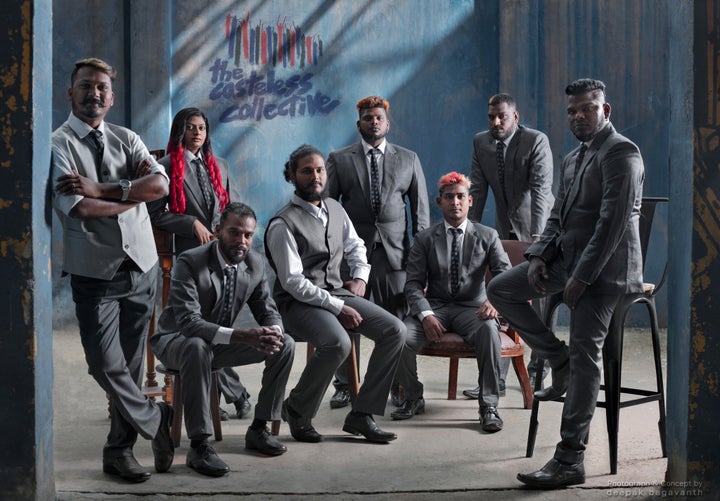 Early last year, Pa Ranjith, who had never trained in music, put together the 19-member music band The Casteless Collective, whose songs are fiercely political and touch upon a range of social issues including caste, gender, reservation, agriculture and land rights among others.
The band blends gaana, rap and rock genres in varying degrees for their songs. For inspiration, Ranjith said he often turns to Afro-American music artists. "It is not only crucial to be popular but equally important to politically assert one's identity. Consider Michael Jackson, for example. The Afro-American population love him and see him as one of their own. But that's about it. His music didn't go beyond entertaining them. It made no socio-political intervention. I am, in fact, inspired by artists like Kendrick Lamar and Childish Gambino (Donald Glover). The kind of social impact they create with their music is what we hope to do as well," Ranjith said.
The Casteless Collective has been performing live shows and in addition, released their first album Magizhchi (Happiness) comprising of nine songs, each finely balancing political commentary and musical entertainment.
One of their popular songs 'Quota' critiques the common public perception on reservations through its lines "Concession, this isn't! You have no right to take away my right! Charity, this isn't! To slog under you is no matter of respect!"
Additionally, in their effort to promote independent artists working on social themes, Pa Ranjith and The Casteless Collective have produced and presented Therukkural, a hip-hop album by artists Arivu and OfRo.
Earlier this year, Ranjith staged a musical performance titled Oru Oppari Show. Oppari is a Bahujan folk song tradition that is often a mixture of eulogy and lament and is typically sung by a group of women who come to pay respects to the departed in a mourning ceremony. Because of its relationship with the oppressed castes, oppari is generally considered to be a 'lowly' art form in the public narrative.
To counter this perception, Ranjith deliberately staged the show at Madras Music Academy, a space that is often associated with Carnatic music concerts that are dominated by artists from the Brahmin community.
One person doesn't make a movement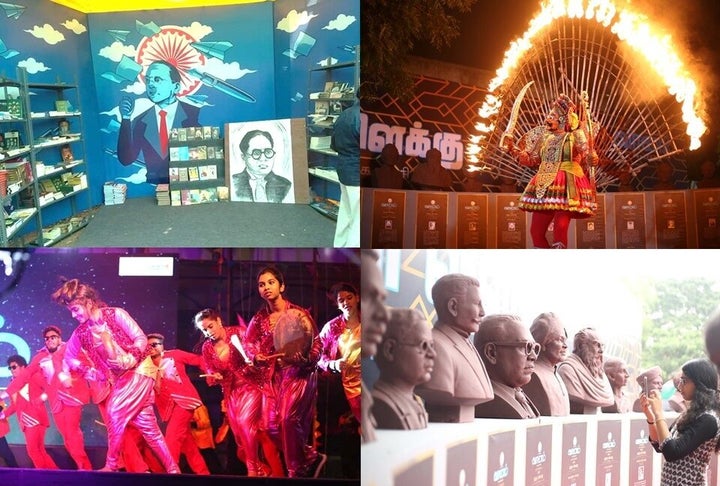 Ranjith spends a lot of time, resources and energy to access and utilise all possible art forms. "Even for people to acknowledge my work as art, I have to first expound them about it. Only if they can understand my lifestyle and culture, they would be able to appreciate my art. And we can achieve that only by reaching out to them through all possible avenues," he said.
Ranjith's relentless efforts to reach out, back and collaborate with artists is rooted in the belief that one person alone cannot effect a social movement. It is this belief that gave birth to Koogai Thiraipada Iyakkam (Koogai Film Movement). Housed at a small building in Valasaravakkam, Chennai, the space serves as a library, film appreciation club and workshop space for budding filmmakers.
Its library is filled with books on Godard, Kurosawa and Kubrick at one end and the works of BR Ambedkar, Periyar and Karl Marx at the other. Apart from conducting regular workshops and interactions with actors and technicians, the members here have the opportunity to interact with academicians, activists and other intellectuals as well. Filmmakers Lenin Bharathi, Ram, writers Azhagiya Periyavan, Bava Chelladurai and academician Prof. Swarnavel Easwaran have held workshops and interactions here.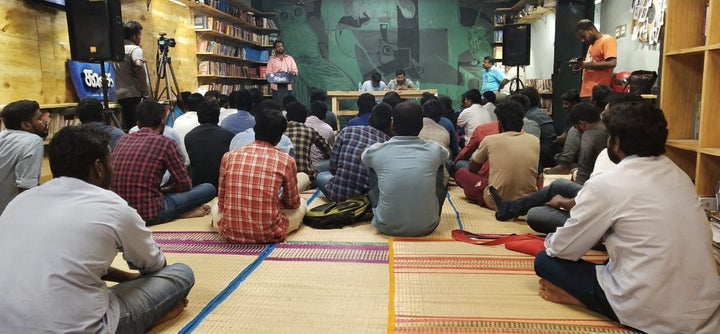 Koogai, which hopes to nurture a generation of filmmakers whose art would balance both aestheticism and social equality, is easily Ranjith's most ambitious initiatives till date.
Dalit assertion in art
Pa Ranjith is certainly not the first successful Dalit in the Tamil film industry. Before him, there have been quite a few influential actors and technicians from the Dalit community. While the Dalit identity of some of them are openly known within the industry and outside, the identity of several others remain as curious rumours. But none of these artists have ever claimed or asserted their Dalit identity the way Ranjith does. He said, "What is the point of people accepting me only if I hide or suppress my identity? As a society, we have to move to a point where I can be open be about my Dalit identity and still be accepted as an equal."
It is often tempting to wonder if Ranjith is trying to replicate the Dravidian movement's use of cinema, theatre and other mass media in the 50s and 60s. Ranjith, however, believes that there is a distinctive difference between the Dravidian and Dalit movements.
"The Dravidian movement's ideology stemmed from a single head and branched out to the lower levels. Their task was to then take the message to the masses. However, in the case of the Dalit movement, the various political and cultural groups are fragmented and there is no unifying single head. In fact, the challenge for the Dalit movement is to bring together these several voices under a single umbrella," he said.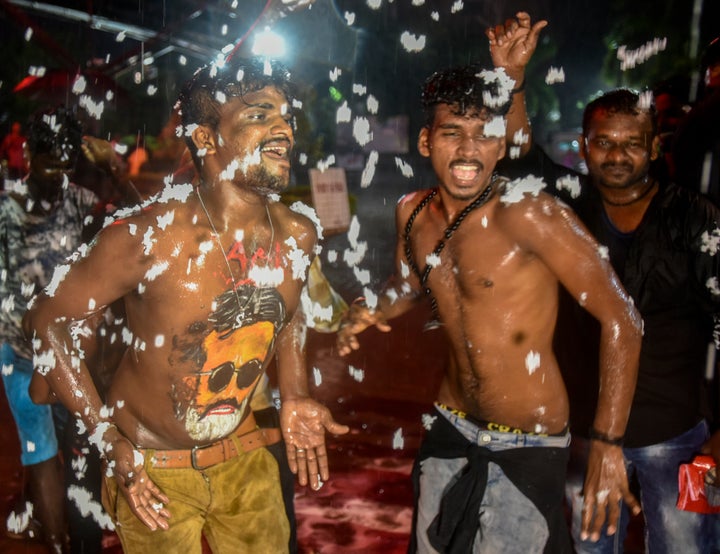 Instead, Ranjith is influenced more by the Afro-American hold on cinema, language, literature, music and theatre. "In fact, what we witness as American culture is often a representation of the Black culture. We would like to do something similar here," he said.
However, the Afro-American cultural intervention has been greatly commodified and appropriated by White artistes. An example of that is the hugely-popular movie La La Land (2016) which told a story on jazz, a music genre that originated among the Afro-American communities of New Orleans, yet almost erased the community from its narrative.
The Dalit cultural intervention, critics often argue, could face a similar nature of appropriation from the Brahmin Savarna in India. Naren Bedide (Kuffir), writer, poet and contributing editor of Round Table India and The Shared Mirror Publishing House brings up Dhadak, a film often considered a proof of Bollywood's tendencies to appropriate and erase caste narratives.
"Nagraj Manjule's Sairat (2016) was a hugely successful Marathi film and was well-received by even those who don't understand the language. However, when Bollywood tried to remake it as Dhadak (2018), it was only able to re-create a superficial version of the original. The essence of Sairat, which is a critique on the caste society was not easily replicable. As long as Bahujan filmmakers stay honest in their art, it won't be easy to mimic them," he said.
Anti-caste narratives told from a Dalit-Bahujan perspective have been witnessed more often in regional cinema than Bollywood. Actor Niharika Singh traces it to the fact that there are barely any Dalit and Bahujan writers or filmakers in Bollywood.
"The rare voices that exist are mostly seen enjoying the benevolence or sharing the politics of their upper-caste benefactors. Though caste conversations seem to be trending at the moment, films made by Savarna filmmakers that engage with caste are primarily made for an upper caste audience and are barely radical. I'm almost certain that these filmmakers along with their cast and crew identify themselves as 'caste-less' or 'caste-blind'," she said.
Too many foes and too few friends
A week before the release of Kaala, actor Rajinikanth made a comment on the anti-Sterlite protests that was widely considered as insensitive. As a response, there was a frenzied call on social media to boycott the Pa Ranjith film.
While Rajinikanth's political views haven't changed much in the last one year, his later films 2.0 (2018) produced by Lyca Productions and Petta (2019) produced by Sun Pictures didn't face any such boycott call. Kavin Malar, a Chennai based journalist and social activist believes that Rajinikanth's remarks were simply an excuse people needed to attack Ranjith.
"With every new movie, Ranjith has been making it difficult for people to make convenient non-political interpretations. His increasingly assertive politics in the mass media has been a worrying trend for all sorts of status-quoists," she said.
That Ranjith is making 'status-quoists' uncomfortable is evident from the FIR lodged against him based on a complaint by the Thanjavur district secretary of the Hindu Makkal Katchi. The Chozha king, whose legacy Ranjith criticised, is considered as a pride of Tamil culture. Apart from a police case that was filed against him, he has been attacked and threatened by several communal, caste and ethnic outfits.
However, there has been very little solidarity from both the political and film fraternity. Bedide explained that the film industry's silence is not surprising since the support Ranjith gets from them is purely for materialistic reasons — his success as a commercial filmmaker.
"So, it is natural for them to be shocked to hear him speak on the land rights of Dalits or critique the Chozha king," he said, adding that the architectural achievements that Chozha kinds are attributed with is actually the work of Bahujan craftsmen who never got their due.
"Raja Raja Chozhan is considered synonymous with Tamil pride and culture, no one wants to take the risk of siding with Ranjith and thereby antagonize the Tamil sentiment," Malar adds.
An Ambedkarite future
A criticism that is often placed on Ranjith, even by his well-wishers is that he is a man in a hurry. However, he vociferously disagrees. "We are in fact, very slow. It took me 36 years to make a speech like that on the land rights of Dalits. If anything, we should be quicker than our current pace," he said.
Ranjith's critics often hint all his cultural initiatives are deliberately planned to prop his 'political ambition' and prepare the ground for his entry into politics. Ranjith not only finds the argument unconvincing but points out that Tamil Nadu has 45 MLAs from SC reserved constituencies and yet they haven't been able to become the voice of Dalits.
"Like Dr. Ambedkar said, we cannot have any political reform without social reform. What we are trying to do is use art to push the society towards that social reform," he said.