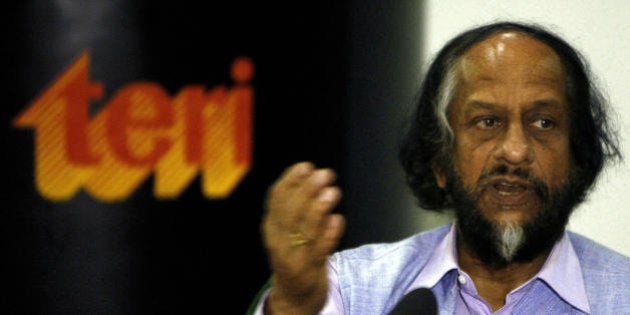 NEW DELHI -- The 29-year-old woman researcher, who has accused well-known climate scientist Dr. Rajendra K Pachauri of sexual harassment, has now written to Prime Minister Narendra Modi and requested his intervention in the case. She has told Modi in the letter, viewed by HuffPost India, that she is "very apprehensive" and fears that Pachauri's influence might impede the fairness of the investigation.
She alleged that The Energy And Resources Institute (TERI) wasn't cooperating with the police to "deliberately help the accused." Further, no chargesheet has being filed in the case despite five months since the complaint and all action, following the internal investigation in TERI that found Dr. Pachauri guilty, was stayed due to an ex-parte court order.
"There is fear and terror created within the workplace and witnesses are being influenced, which the police too have said repeatedly in court," she claims "The ICC committee was subjected to hostility and intimidation for sabotaging the inquiry outcome. Every neck and arm is working against me and the legal process. From being up against one man, I am now up against an entire system."
"My only fault being that I did not quit my job and reported grave wrong-doing," she wrote.
She had filed a police complaint against Dr. Pachauri for allegedly sexually harassing her since September 2013. She provided emails and phone messages from him as evidence even as the scientist claimed his communication devices had been hacked and he was unaware of the situation.
In the letter, the complainant has described the sequence of events of the last five months, ever since she filed a police complaint against Dr Pachauri. She said that she has been unable to rejoin work, and been "further victimised".
The woman researcher has requested Modi to ensure that the investigation into the incident is fair. She has asked that Dr. Pachauri should be removed as Director General of TERI, which, according to the complainant, allows him to use "his clout and influence to sabotage other aspects of investigation". The TERI governing council announced last month said that Ajay Mathur would be the new head of Teri. While he is yet to take charge, Pachauri continues to be listed as as the Director General of Teri on their wesbite.
The complainant has also requested that all forensic reports collected in the case be protected and experts examining the evidence should not be influenced. She has also requested that the original investigating officer in the case, Inspector Ajay Singh Negi, who has recently been transferred, be delegated back to her case as he had tracked it for five months.
"At a time when your good self and your government are highlighting sexual harassment at the workplace through radio adverts, implementing new guidelines for the Department of Personnel and Training to protect women's right at the workplace and to ensure justice is not delayed," she wrote in the letter dated August 8, "I would urge you to take cognizance of a case where a highly influential person held guilty in a detailed inquiry continues to work in the same organization where others are yet to depose in the case while I am made to sit at home."
She has alleged that those who have supported her version of events were living "in fear of their jobs" and that her "conscience and patience was dying a slow death".
"For someone honored with the second and the third highest Civilian Honors of this country, the Padma Vibhushan and the Padma Bhushan, and for an organisation which is headed by such an individual," she wrote, "one does not expect for the issue at hand to be dealt with in the given way."
She has also hit out at the TERI governing council for "their scary silence and inaction on this issue", claiming that a press statement to appoint a new DG in Dr. Pachauri's place was merely a "white wash".
"The guilty has been welcomed back to the organisation with garlands and flowers while I continue to be shunted out of the organisation," she wrote. "Concerned employees too have written to the Council members stating that they are at unrest with the accused taking continuing in TERI and have been intimidated and fear of their jobs."
HuffPost India has emailed Pachauri for comment.
Here's the full text of her letter to the Prime Minister:

Shri Narendra Modi,

Hon'ble Prime Minister of India,

Prime Minister's Office, South Block,

New Delhi - 110011

08 August, 2015

Sub: Rajendra K. Pachauri Sexual Harassment

and Molestation Case

Dear Shri Narendra Modi Ji,

Namaskaar.

I write to you in the capacity of the complainant who has initiated with criminal proceedings against Rajendra Kumar Pachauri for deprave misconduct and sexual harassment at the workplace. Delhi Police have lodged an FIR against R K Pachauri, Director General, The Energy and Resources Institute (TERI) and the then Chairman of the United Nations Intergovernmental Panel on Climate Change (IPCC) at the Lodhi Colony Police Station (PS) on basis of my written complaint registered on 13 Feb, 2015 and after meeting with me on 18 Feb, 2015. The sections in the FIR include 354 for Assault or Criminal Force to a Woman with Intent to Outrage Her Modesty, 354(A) Sexual Harassment, 354(D) for stalking and 506 for Criminal Intimidation. In addition to the criminal case, I had also initiated action on the said complaint with the Internal Complaints Committee (ICC) of TERI on 09 Feb, 2015.

The headquarters of TERI are located in the posh locality of Lodhi Road in New Delhi at the esteemed India Habitat Centre, having its offices there since more than 30 years and the accused himself has been the DG of TERI since 34 years. He is a highly influential man having contacts with the rich, powerful and famous all across the world; features in India Today ranking of 50 most influential people in the country. While the accused resigned from his IPCC Chairmanship within days of this FIR and from your Hon'ble Panel on Climate Change, he continues to head TERI as DG and remains the Chancellor of the TERI University as well as the Chairman of TERI. Morality took the backseat while double standards are at the forefront. India is yet again being treated as a soft law state.

I, on the other hand, am an individual who has been wronged. In the pursuit of getting justice, I have been left to fend for myself from the organisation and the pace of the investigation has been slow. It has been five months and the accused has only been questioned four times. TERI has not been co-operating with the police deliberately to help the accused. There is fear and terror created within the workplace and witnesses are being influenced, which the police too have said repeatedly in court. The ICC committee was subjected to hostility and intimidation for sabotaging the inquiry outcome. Every neck and arm is working against me and the legal process. From being up against one man, I am now up against an entire system. My only fault being that I did not quit my job and reported grave wrong-doing. From the so many others who were witness to it, a few have supported my version to the inquiring agencies and they all live in fear of their jobs. My conscience and patience was dying a slow death and I had to simply speak up. Result of my raising my voice - I cannot join back work, made to sit at home past five months and further victimised. I am facing losses in my productive time, finances, career and the ordeal is affecting me psychologically adding onto the agony and mental distress. The major chunk of the organisation has known for times immemorial what goes on in the Institute but silence has been their friend; some women have spoken up in the media. For someone honored with the second and the third highest Civilian Honors of this country, the Padma Vibhushan and the Padma Bhushan, and for an organisation which is headed by such an individual, one does not expect for the issue at hand to be dealt with in the given way.

It has been more than five months to the FIR and the accused is roaming freely and there is no charge-sheet. I still await crucial outcomes and during this wait, one of the most able officers, Inspector Ajay Singh Negi has been transferred out of my case. This officer has spent more than five months in reading/understanding all evidence provided which include 6000 messages exchange, more than 200 pages of email exchange, my 164 CrP.C. statement made to the MM which took 9 hours over a period of two days to record and my 161 statement to the police which was spread out over a few days for it to be completely recorded. The 161 statement is also extensive and exhaustive. This transfer of this very able police officer has come as a rude shock to me and left me feeling more helpless and dejected. For a new officer to work on this case, the time already invested by the transferred officer now stands redundant. For someone who did his job so well and efficiently has been suddenly sent off packing.

The accused has repeatedly said in prominent media that he got to know of the sexual harassment complaint through the email of an Editor in the Economic Times and that is when he "realised" that all his communication devices have been hacked. A complaint to this effect has been submitted to the Delhi Police on 17 Feb, 2015 itself. He claims that his phones and laptops have been hacked over a period of 17 months and cyber criminals have authored the objectionable content throughout this entire duration. There is no FIR registered on this complaint to date. Because, this was a stand taken by the accused to counter the FIR against him as said by the police in open court. He is now falsely implicating his own executive staff for sending me objectionable correspondence. The police did not fund fruition in these claims.

The accused obtained an injunction on a day of court holiday (17 Feb, 2015) from the residence of a Judge of the Hon'ble High Court of Delhi. I believe, a common man would not have been able to get such an unprecedented relief .Along with his lawyers, he reached the publishing house at 1.30 am on 18 Feb, 2015 (as per news reports) to stop the publishing house from going to press. The story was removed from the website of the publishing house respecting the injunction granted by Hon'ble High Court of Delhi and it was only a matter of hours within which the injunction was vacated and liberty of the Indian Press was upheld.

While the FIR was in the process of being typed and before I was given a copy of the same, I had cited my fears and severe apprehensions to the ACP and Investigating Officer (IO) for destruction of evidence in my mobile phones and that they ought to be examined by independent journalists or investigators before I hand them over to the police. After much deliberations and pleas, all gadgets as part of evidence were sent to the Forensic Sciences Laboratory (FSL) in Gandhinagar, Gujarat and not to any facility in Delhi. Every single message in my phone (total of 6,000) have been video-graphed and shot with a still camera as well; DVDs made and printed and the same submitted to the IO.

The accused was not to be found at his office or his residence on 19 Feb, 2015 by the police and it was only on 20 Feb, 2015 that he was questioned by the police in his office and his communication devices were seized as well, but why was he not arrested at that time? The accused lied to the police that he was not pursuing any anticipatory bail application whereas he had filed his bail application which was heard in the Additional Sessions Court the same day. No notices were sent to either the IO or me and he was given interim protection from arrest for three days and thereafter granted anticipatory bail on 21 March, 2015. As per status reports, the police have stated that responses given by the accused during questioning are evasive and he is not cooperating with the investigating agencies.

After an exhaustive 90 day of inquiry, the ICC came out with its report on 19 May, 2015 which pronounced their DG guilty of conflict of interest, misuse of designation and violation of the prevention of sexual harassment policy. Despite many pressures and intimidation faced by this committee (as stated in their report itself). On May 29, 2015 the accused obtained an ex-parte stay from the Industrial Tribunal on the ICC report recommendations. So far, it was the most crucial piece of outcome which stood by my complaint confirming it in entirety. This report was not acted upon by the Governing Council members of TERI even though they were handed a copy in person. This Governing Council comprises of who's who of Corporate India:

Deepak Parekh, Chairman HDFC Bank

Kiran Majumdar Shaw, Chairman, Biocon Ltd.

Naina Lal Kidwai, President, HSBC

Hemendra Kothari, Chairman, DSP Black Rock Investment Managers Pvt. Ltd

Dr. Shailesh Nayak, Secretary, Ministry of Earth Sciences

Dr. Henrik.O.Madsen, Group President and CEO,DNV GL Group

It is most unfortunate to note their scary silence and inaction on this issue. The decision, as conveyed in a press release on 23 July 2015, to "replace" R. K. Pachauri with Mr. Ajay Mathur was only an attempt to put at rest the public outcry and media pressure. It is extremely shocking and deeply regretful that R.K. Pachauri continues to head the organization and seems to be there to stay. Despite the ICC indictment, it was a white wash of a press release which lauded the efforts of the DG and made no mention of the serious complaint of misconduct at the workplace nor the fact that he was found guilty in the internal inquiry of TERI. He was instead praised. The guilty has been welcomed back to the organisation with garlands and flowers while I continue to be shunted out of the organisation. Concerned employees too have written to the Council members stating that they are at unrest with the accused taking continuing in TERI and have been intimidated and fear of their jobs.

It is distressing to learn that those delivering seminars and passing sermons on issues of women protection on national and international forums are unabashedly and ruthlessly unmoved. All I can say is, with deep regret, that hypocrisy abounds. Worst, there are women who are members of this Governing Council and have flatly refused to "govern" the deprave misconducts of a man who is of my grandfather's age. The so called "Women of steel" displayed great foot work and have side stepped the issue adroitly.

It has now been more than five months and I await the FSL report which is the most crucial with regards to the police investigation in my case and shall aid bail cancellation of the accused and filing of the charge sheet.

Given the kind of influence and clout the accused enjoys, I feel very apprehensive and fear for how the investigations would unfold. I request you to take cognizance of my circumstances and of the facts so far to ensure that:

1. Investigation is carried out in a fair and free manner. It is imperative that the accused should not be holding the highest position in the organisation where more witnesses are yet to depose and the accused can exercise his clout and influence to sabotage other aspects of investigation.

2. The FSL reports are not influenced or sabotaged in any manner and that the results are given out at the earliest; FSL experts are able to work without any fear and favour and are not under any pressure or influence to sabotage the reports.

3. Inspector Ajay Singh Negi is delegated back on my case. I request you to provide my case with this able and efficient police officer so no further time is wasted and progress is made with cracking speed and most importantly in the right direction.

4. Following this letter a new file should merely not be opened up please; not a file that remains stacked in a corner shelf in a dark spot.

At a time when your good self and your government are highlighting sexual harassment at the workplace through radio adverts, implementing new guidelines for the Department of Personnel and Training to protect women's right at the workplace and to ensure justice is not delayed, I would urge you to take cognizance of a case where a highly influential person held guilty in a detailed inquiry continues to work in the same organization where others are yet to depose in the case while I am made to sit at home.

Yours sincerely,

The Complainant
Popular in the Community