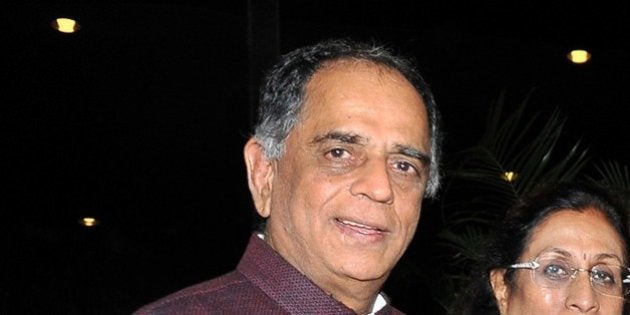 Pahlaj Nihalani, now surely the most controversial head that the Central Board of Film Certification (CBFC, commonly known as the Censor Board) has ever had, has never been friendly towards the concept of adult films since he took over earlier this year. However, on Thursday, Nihalani brought into enforcement an old rule in existence since 1990 that will make matters worse for films which have been unfortunate enough to receive 'A' certificates. According to a report by 9XE, adult films can no longer be aired on television even if they have been re-cut or re-censored to be eligible for a 'U' or 'U/A' certificate.
Nihalani claims he's "simply going by the book" and told 9XE that this is a result of films in recent times becoming more "predominantly vulgar themes" by depicting sex and featuring "double meaning dialogues", which he deems as infinitely more harmful than the "violence and horror" that would form a staple of Hindi cinema earlier. "We cannot possibly edit out a film's theme," he was quoted as saying, "so how do we re-censor these films to make them U or U/A?"
TV channels are legally not allowed to telecast adult content and this new decision by Nihalani spells bad news for many filmmakers. If you look at just this year, films like Badlapur, NH10, and Hunterrr — which were appreciated by critics as well as audiences — were all adult films. A decision like this one not only robs audiences of the chance to watch these movies on TV, but also denies their producers revenue through the sale of TV rights.
According to this Business Standard Report, revenues from broadcasters fell last year after rising steadily for the previous two years. A FICCI-KPMG report published this year reveals that the film industry earned Rs 1,470 crore from TV rights in 2014, which is actually about Rs 50 crore lesser than what it earned the previous year.
Moreover, broadcasters like Star India are reportedly eschewing movies for sports and other forms of entertainment. Data shows that time spent watching movies on TV has declined 2% over the past year. Add to all these reasons a "12-minute cap on advertisements that makes monetisation tougher" and it seems like it is already a tough enough task to sell movie rights of U- or U/A-rated films to broadcasters.
Now, with 'A'-rated films disappearing completely from the equation, it seems like producers of such films will have an even tougher time recovering their money. This, in turn, will lead to fewer such films being made. In a year where many such movies have appealed to audiences, this can only be a cause for utter gloom for the film industry.