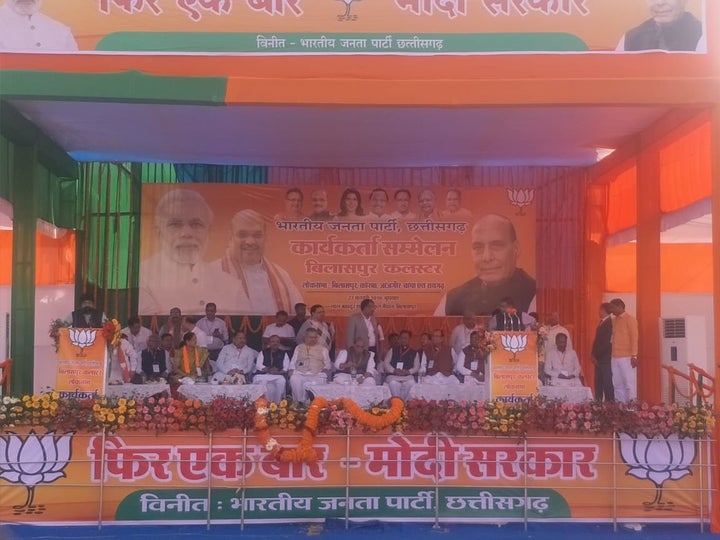 RAIPUR, Chhattisgarh — On a day when the Indian government admitted that an Indian Air Force pilot was missing in action after a skirmish with the Pakistan Air Force, Indian Home Minister Rajnath Singh busied himself with addressing Bharatiya Janta Party (BJP) workers in Bilaspur, Chhattisgarh.
Tomorrow Prime Minister Narendra Modi will address the "world's biggest video conference" according to the BJP's official twitter handle. Yesterday, as much of the country deliberated the sobering possibility of war with Pakistan, Prime Minister Modi spent his evening taking a metro ride to the inaugurate the world's biggest Bhagavad Gita at a religious site in Delhi.
This morning at 10:45 am Doordarshan shared a video of Prime Minister Modi launching the Khelo India app.
The schedules and priorities of two senior most ministers of the Indian government — the Prime Minister and Home Minister —have prompted concerns that the ruling BJP is putting its electoral interests ahead of national interest.
These aircraft crashes comes at a time of rapidly escalating India-Pakistan tensions. The tensions began immediately after 40 Indian troopers were killed in a suicide bomb attack in Srinagar on 14 February 2019. Yesterday, on 26 February, the Indian government said it had struck terrorist bases deep in Pakistan territory, in a place called Balakot.
Politics First
In Bilaspur, Singh praised Prime Minister Modi's farmer support scheme, and exhorted party workers to work hard to help the BJP win the upcoming general elections scheduled for summer 2019.
Singh was silent about any reverses suffered by the Indian armed forces along the line of control.
He spoke fleetingly of the events along the Line Of Control.
"Our country's soldiers entered the land of terrorists and have them a bloody nose," Singh said. "The world has accepted that India is a strong country."
Hours later in Delhi, the Indian government admitted that at least one air force pilot was untraceable.