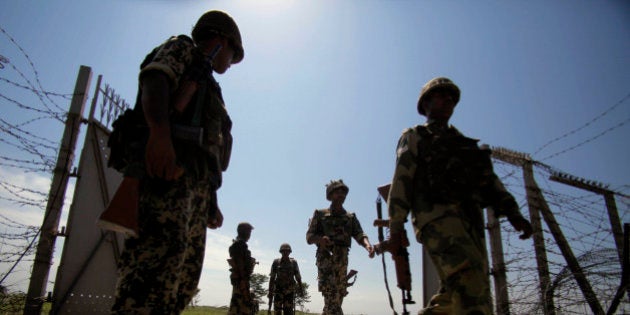 Pakistan violated border ceasefire in Jammu and Kashmir 685 times during the last eight months, resulting in death of 24 people, including eight security forces personnel, government told the Rajya Sabha today.
Defence Minister Manohar Parrikar said 126 ceasefire violations took place along the Line of Control (LoC) and International Border under operational control of Army, while 559 violations took place along the IB under operational control of Border Security Force (BSF).
He said five army personnel, three BSF personnel and 16 civilians were killed in the incidents.
Replying to questions, Parrikar said "local dynamics" like construction works are one of the reasons for ceasefire violations.
"Appropriate retaliation to the ceasefire violations, as required, has been carried out by Indian Army/BSF," he said.
In addition, all violations of ceasefire are taken up with Pakistan military authorities at the appropriate level through established mechanism of hotlines and flag meetings as well as weekly talks between Directorate Generals of Military Operations of the two countries.
BSF, too, hold talks at various levels with its counterpart, Pakistan Rangers, Parrikar added.
He further said that diplomatically, India has repeatedly emphasised, including at the highest level, the need for Pakistan to uphold the sanctity of the LC and abide by the ceasefire commitment of 2003 along the IB and LC.