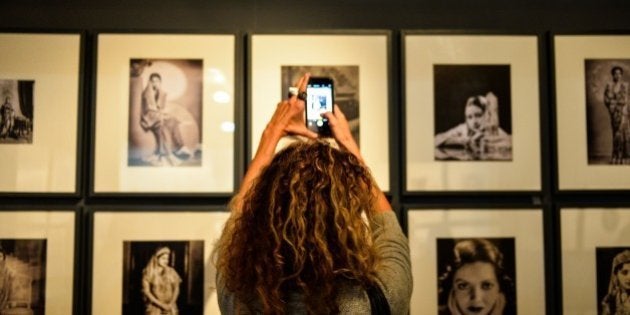 NEW DELHI -- Visual artist Ayesha Jatoi from Pakistan received her passport at the last moment and she literally walked across the border to be able to take part in the India Art Fair, which opened to the public here today.
"I had to go through a lot to get visa and I missed my flight and had to walk across the border. I got my passport at 2.30 am yesterday. In fact, I had a flight to visit India in November too but I got my passport only on Thursday. I am but very happy to be here," she said.
While Jatoi just about managed to mark her presence at the Fair, her contemporaries from the neighbouring country were unable to make it to the four-day long art event due to "visa issues."
Works by the visual artist who has a keen interest in miniature art are being shown at the Fair by the Madrid-based Sabrina Amrani gallery. She also participated in one of the sessions at the Fair under the 'Spotlight Series' where she was in conversation with fellow Pakistani artist Lala Rukh.
Taseer Gallery from Lahore, which is participating in the fair under its South Asian venture 'Platform' is showcasing the artworks of four emerging artists, out of which only one Farida Batool managed to sail through the border to arrive here early this morning.
"We really had a lot of problem to come over to India because we weren't getting our visas. We got our passports at nearly 12 o'clock in the night after which we crossed the border.
"The hotel that we had a booking in here perhaps did not know that we were Pakistanis and on learning that they refused us a check in. I have been visiting India for a long time now but this was the first time that we had such an experience," Batool said.
Sanam Taseer, owner of Taseer gallery, who also had to tackle visa issues said the response from visitors was encouraging.
"We have got a tremendous response at the Fair and people visiting have said they love the artworks. Just hope that the governments of the two countries can work together to grant visas to the artists," Taseer said.
Other artists exhibited at the gallery include Saba Khan, Mohsin Shafi and Humaira Abid.
Meanwhile, one Nepali artist whose works are being showcased by the Nepal Art Council, also faced a similar problem in transportation of her paintings to India.
To fill up the vacant frames in her gallery booth she created a red swish of paint, depicting blood, trickling down to the floor.
"Her work has been stuck at customs and is expected to arrive soon. Till then this will have to do," says gallerist Dina Bangdel.
The 8th edition of the IAF, has drawn artists from the subcontinent to the event, which has its focus on art from the South Asia region.
It also offers artists from India along with counterparts in Pakistan, Bangladesh, Sri Lanka and Nepal to look at and engage with each other and their respective art practices to capitalise on expanding global markets.
"When people get on a plane for example from Bangladesh, London, New York, Dubai etc we want to give them a one stop moment to educate themselves about the region," Zain Masud, International Director, IAF said.
Issues explored in the art from the South region include that of migration, identity politics, boundaries, gender parity among others.
Two works by Batool both made of lenticular photos are displayed at the fair. In one of the works titled "Why are you looking at me," she has assorted images of 550 pairs of eyes to symbolise the "male gaze."
Her other work "Eik Shahar Jo Udaas hai" (A city that is in mourning) is a commentary on the climate of extremism that was prevalent in Lahore in 2009.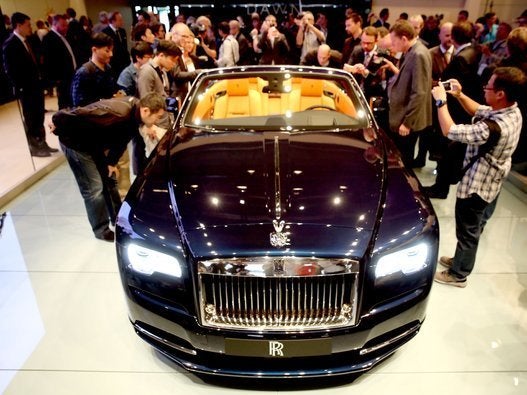 PHOTOS: Say Hello To Dawn, Rolls-Royce's 'Sexiest Car Ever'