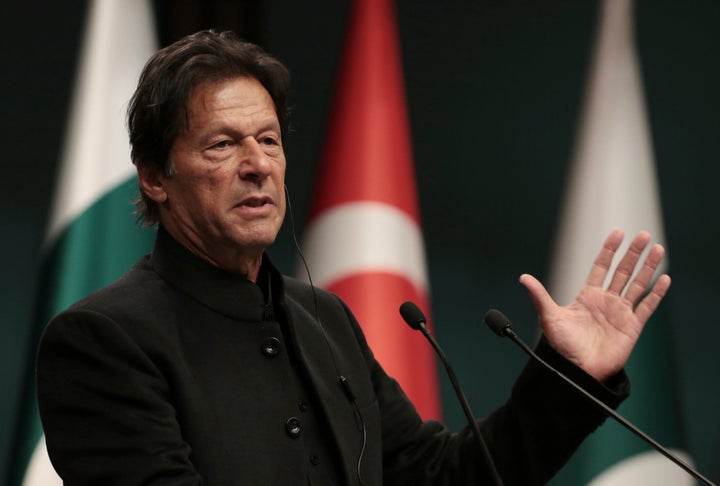 Khan said his statement was directed at the Indian government, which he said had blamed Pakistan for the attack without evidence.
"What benefit does this (attack) have for Pakistan when we want stability," Khan said.
Khan said the Kashmir dispute could only be resolved through dialogue and said Pakistan was "ready to talk" with India over terrorism.
However, the Pakistan PM said the country would not hesitate to retaliate if it was attacked.
"If you (Indian government) thinks you will attack us and we will not think of retaliating, we will retaliate. We all know starting a war is in the hands of humans, where it will lead us only God knows. This issue should be solved through dialogue," Khan said.
Khan said this was a "new Pakistan with new mindset".
"It is in our interest that nobody from our soil spreads violence. I want to tell Indian govt that if you have actionable intelligence, share it with us, we will take action if evidence is found against anyone from Pakistan," the Pakistan PM said.
The Indian Army on Tuesday said the bombing was masterminded by Jaish-e-Mohammed and Pakistan's spy agency ISI.
Imran Khan's comments come close on the heels of foreign minister Shah Mahmood Qureshi's appeal for UN intervention.
Qureshi wrote to UN Secretary General on Tuesday to help ease tension with India that has escalated sharply since the attack, for which India has blamed Pakistan.
"It is with a sense of urgency that I draw your attention to the deteriorating security situation in our region resulting from the threat of use of force against Pakistan by India," Foreign Minister Shah Mahmood Qureshi wrote to UN Secretary General Antonio Guterres.
"It is imperative to take steps for de-escalation. The United Nations must step in to defuse tensions," he wrote, blaming India for deliberately ratcheting up its hostile rhetoric for domestic political reasons.
Post the attack, for which Pakistan-based Jaish-e-Mohammed claimed responsibility, Prime Minister Narendra Modi warned Pakistan of a "strong response".
On Tuesday, the army said it had eliminated the top commander who carried out the Pulwama attack.