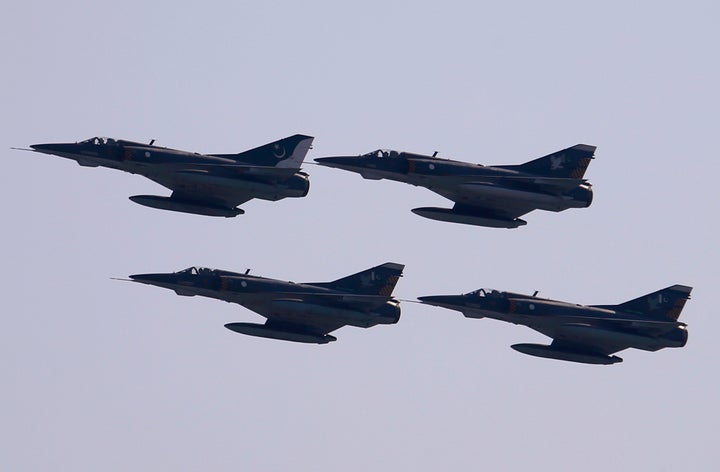 Pakistani jets violated Indian air space in Jammu and Kashmir's Poonch and Rajouri sectors and dropped bombs on their way out, officials told PTI on Wednesday. The violation comes a day after India struck a terror camp in Pakistan's Balakot in an operation described as "non-military" and "preemptive".
On Wednesday, Pakistani fighter jets violated Indian air space in Nowshera sector of Rajouri district but were pushed back by Indian aircraft, a top official said.
Pakistan military's spokesperson Major General Asif Ghafoor said its Air Force shot down two Indian aircrafts inside Pakistani airspace. An Indian pilot was arrested by Pakistani troops on ground, he said.
According to a statement released by Pakistan, Pakistan's Air Force undertook strikes across the Line of Control from within Pakistani airspace.
"This was not a retaliation to continued Indian belligerence. Pakistan has, therefore, taken strikes at non military target, avoiding human loss and collateral damage. Sole purpose being to demonstrate our right, will and capability for self defence. We have no intention of escalation, but are fully prepared to do if forced into that paradigm."
There were no immediate reports of any casualties or damage. "The jets entered into Indian air space over Nowshera sector this morning," the Indian official told PTI.
They were immediately pushed back by Indian jets on air patrol.
Home Minister Rajnath Singh Wednesday reviewed the security situation in the country, especially along the border with Pakistan, a day after Indian fighter jets bombed the biggest camp of terror group Jaish-e-Mohammad in that country, officials said.
During the meeting, attended by National Security Advisor Ajit Doval among others, a detailed presentation was given about the security situation in the country and steps taken to ensure peace in all sensitive places.
Singh directed the officials to ensure the Border Security Force, which guards the India-Pakistan border continues to remain on highest level of alertness so that any misadventure from across the border could be foiled, a home ministry official said.