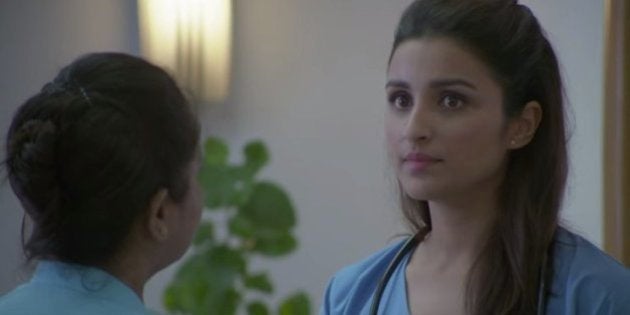 Parineeti Chopra must have had a nightmare. That people have mistaken her for a 'feminist'. And wherever she goes, women shriek and sprint back home to hide their bras in secret bunkers. The men, run after these women, begging refuge in the safe-houses they have built for their brassieres. "Chhori badi drama queen hai," pareshan men whimper, as they disappear from her sight as fast as intelligence does in the Bigg Boss house. There is fire, fire everywhere and not a bra to wear.
Enough, she tells herself. They have warnings against dengue, swine flu, cow meat. Who is going to save us from feminism? She decides to take a much needed step in the direction and declares, "I am very often confused to be a feminist but I am not. I am really not. Coming into Bollywood, I think definitely it has made me stronger and more responsible."
So what does she espouse, if not feminism? "I do feel proud of my gender, of being a woman. I do speak against gender inequality. I am the brand ambassador for Haryana's 'Beti Bachao Beti Padao' campaign. And I think it is very important for me personally to strive for equality, especially the industry that I come from," she says.
Uh oh! What, then, does she think feminism is? A fight for the rights of mosquitoes to survive with and on humans? A movement to outlaw vada pav? Or a struggle to reveal the source of music when Bollywood couples dance on mountains and deserts, bazaars, and balconies?
Assuming that Chopra is not snorting too much Meryl Streep, one is left wondering why she would refuse to be called a 'feminist', though she seems to be batting for the very principles of it?
That won't be an easy to answer to find. After all, the 'I-am-not-a-feminist' flu has swept over half of Bollywood's women. In Chopra's 'I-am-not-a-feminist' née 'I-haven't-looked-up-the-meaning-of-feminism' club, are Katrina Kaif, Madhuri Dixit, and cousin Priyanka Chopra. And there are are many, many more who haven't quite aired their stance on feminism in public.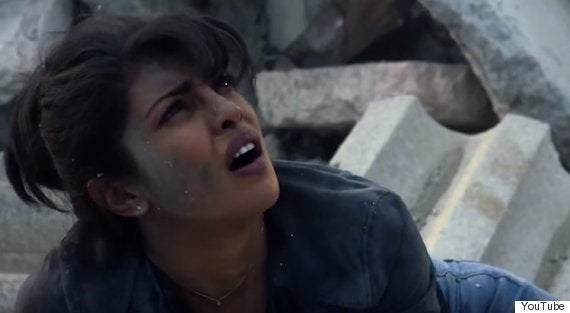 Chopra senior said during an interview about Quantico, "It's got very strong female characters, and I don't think it's a bra-burning feminist show where you're like, we hate men, but we have really strong male characters, too." The reason she found Quantico 'progressive' was 'it gives females an opportunity to be equal with the boys'.
Dixit said, she was not a feminist, no way. She was just 'independent and strong'. Katrina Kaif said she isn't a feminist but questioned why actresses are relentlessly asked about the men in their lives.
The deep irony of Parineeti Chopra's latest announcement is that she just appeared in a web series from Y-Films, a subsidiary of Yash Raj films, called Man's World. The four-part series was a humorous, though slightly clichéd take on misogyny and how it affects women everyday. In fact, one critique against the series would be it almost homogenises men as the inconsiderate, callous gender while women are whitewashed to play the quintessential victims.
Which makes you wonder. What is it about the word 'feminism' that send Bollywood's most influential women scurrying for cover? One explanation is that they don't know that Google search exists.
That apart, if they are indeed aware of what feminism implies, they don't want to bother the hundreds of thousands of men and women who think feminists are man-hating fiends of some sort. They also don't think it's their burden to tell the world that you don't need to be a woman to be a feminist. Or perhaps they fear that declaring themselves as women who can call the shots in their own lives, with or without the assistance of other men and women, may dilute the damsel-in-need-of-alpha-hero image that a majority of Bollywood's consumers endorse and pay to watch.
Like Priyanka Chopra explained, they are the kind of 'progressive' who are thankful for the opportunity they have been given to be equal with the boys. And in Bollywood's scheme of things, who gives that opportunity? The said 'boys' of course! Bollywood and its patrons would like a powerful woman, but preferably one empowered by man.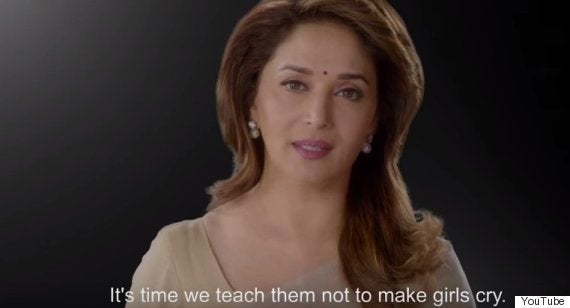 The dichotomy of Bollywood's struggle with feminism is perhaps best embodied by MARD, an initiative started by Farhan Akhtar. MARD expands to Men Against Rape and Discrimination. Note here, 'men' against the said atrocities. Not 'people' or 'humans' or something that doesn't ascribe roles to different genders. MARD's symbol is also the thick black moustache. Alpha much, right? Right. Even if unintentionally, the spirit of MARD mirrors the 'protector' role traditionally ascribed to men in an Indian society. In case you had a doubt about it, a line in the 'charter' of MARD confirms, a 'man' is someone who 'ensures that their (women's) dignity will never be compromised'.
There again, there's probably the apprehension that feminism and success in Bollywood are mutually exclusive. The only women who stand for feminism will be immediately slotted as 'activists' and their desirability will plummet immediately and they will be slotted as the 'art film' type. Not many entertainment-seeking Indian men will be comfortable watching their films without wondering why he is paying to watch the shenanigans of a woman who questions the ascendancy of his gender, and hence his very existence. You know the same folks — a staggering number of them — who will roll on the floor laughing while watching the Rs-100-crore-earning Grand Masti and Pyaar Ka Punchnamas of the world.
No wonder then that the biggest and the brightest of Bollywood's women are rushing to declare, "I am a Bollywood heroine and I am not a terrorist... err... feminist". It's pretty much the same thing in their heads, anyway.