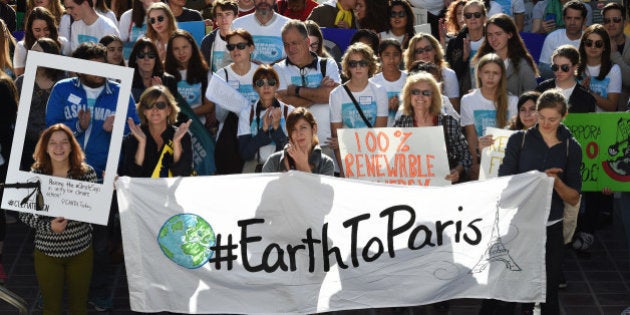 PARIS -- The clock is ticking at the Le Bourget Centre.
The latest draft of the climate change agreement is littered with brackets, leaving less than 48 hours for negotiators to resolve their ideological and practical differences by Friday evening.
There is a resounding call for compromise to get the deal done, but observers are concerned about leaving COP 21 with a weak agreement to save face, and pushing tough decisions down the road.
India has flagged its problem areas in the latest draft: elusive finance from rich countries, scaling up on national actions plans every five years, and uniform scrutiny of all plans to combat climate change by an international body.
Exhorting countries to put their differences aside at the Le Bourget Centre, U.S. Secretary of State John Kerry said, "We have the rarest of opportunities to save millions of people, give the world an agreement it deserves."
Vilified for most of the U.N. Climate Conference as an obstructionist, the Modi government pulled out all the stops to win the perception battle by engaging the media and civil society like never before.
New Delhi has tried to explain that India is quite literally stuck between a rock and a hard place.
While India is acutely vulnerable to unseasonal rains, floods, droughts and melting glaciers, it also has huge challenges of poverty eradication and providing electricity to millions of people, which will require burning more coal for the next decade at least.
As climate change worsens, India will also have to contend with a rising frequency of extreme weather events like the floods in Chennai, as well as unseasonal rains and other changes in climate patterns which ruin crops and drive farmers to killing themselves.
For the first week of the climate change talks, India's plan to double up on coal received a tremendous amount of attention from the world.
While officials here tried to talk about India's plans to produce 40 percent of its power from renewable energy by 2030, the burning question was whether India's CO2 emissions could derail the global response to climate change.
Around 40 billion tonnes of CO2 has been emitted into the atmosphere. The largest emitters are China at 28 percent, US at 14 percent, EU at 10 percent and India at 7 percent (with the highest growth rate of 5.1 percent), according to the 2014 Global Carbon Report.

India produces 1.9 tonnes of emissions per person (per capita), compared with 16.4 tonnes per person in the U.S., 7.2 tonnes in China and 6.8 tonnes in the EU.
Even the U.N. noticed just how much attention India was getting.
U.N. Assistant Secretary on Climate Change Chief Janos Pasztor told HuffPost India that countries should help India on a path of greener growth with finance and technology instead of targeting its plans for development.
With less than two days left to go, and the world waiting for the talks to succeed, India is now contending with the trickiest bits of negotiations: what bargains will it strike behind backdoors, how much ground will it concede and what will it get in return.
Describing Paris as a floor and not a ceiling, Kerry said this agreement could only endure if countries could revisit their obligations and and ratchet up on their goals as climate change unfolds.
But Indian officials find that the latest does not clearly differentiate between the responsibilities of developed and developing countries in combating climate change.
"We are not suggesting that we remain stuck to the past," said Environment Minister Prakash Javadekar. "But a durable agreement cannot be crafted by diluting historical responsibilities or by putting the polluters and the victims at the same level."
The U.S. is very keen that the action plans of developed and developing countries be should be subjected to the same standards of monitoring and verification by an international body, and these plans should be scaled up every five years. But India wants more flexibility for developing countries on both these fronts.
In his speech at the conference, Kerry said that the U.S. respects "common but differentiated responsibilities," but it wants a "strong legally binding transparency" mechanism for all nations.
Developing countries believe that developed countries need to shoulder the burden of responding to climate change since it is their historical emissions, for over a century, which has caused the global crisis.
Developed countries believe that any response to climate change will be redundant without taking into account the present scenario of economic growth and greenhouse gas emissions.
While they believe it is impossible to halt global temperature rise at 2 degrees Celsius if China and India don't reduce their CO2 emissions as well, India has asked developed countries to reduce their CO2 emissions further, and leave the remaining carbon space for developing countries to grow.
India is also iffy about including the target of 1.5 degrees Celsius in the agreement.
Small Island States need the world to stop global temperature from rising above 1.5 degrees Celsius to save their territories from being swallowed up by the rising sea. Several developed nations including the United States have agreed to its inclusion at least as an aspirational goal over and above 2 degrees Celsius.
Considering that India has 1,300 islands on its territory, New Delhi doesn't oppose the 1.5 degrees Celsius target in principle, but Indian officials don't believe that developed countries will step up on finance and reduce their CO2 emission, which is needed to match this higher goal.
Even now, the collective CO2 emission reduction targets of over 180 nations only work out to limiting global temperature rise to 2.7 degrees Celsius. Scientists have set the upper limit to be 2 degrees Celsius to avoid catastrophic consequences of climate change.
On finance, developing countries are very concerned that developed countries have not mobilised the $100 billion, which they promised in 2009. Meanwhile, they are pushing to expand the donor base to include large developing nations to give money to poorer nations on a voluntary basis.
Kerry announced that U.S. plans to double the amount pledged through grants for 2020 to 860 million. But India wants to know whether developed countries plan to scale up the $100 billion to combat climate change after 2020.