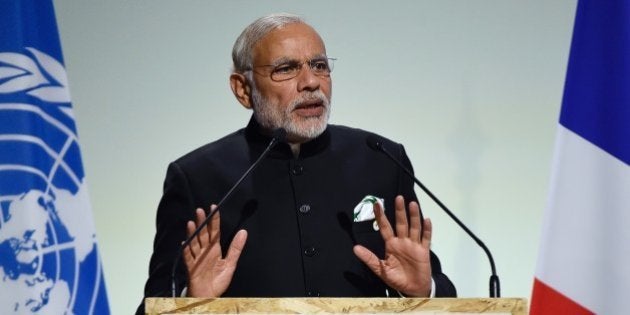 PARIS -- "Why should 300 million Indians go without electricity...why should India be bullied," Harjeet Singh, who handles climate change for ActionAid, told a reporter in a noisy and bustling corridor of the Le Bourget centre.
In an interview with HuffPost India, last month, Environment Minister Prakash Javadekar said that countries should not "bully" India at the U.N. Climate Change Conference to compromise on its economic growth.
At a press conference given by civil society groups from India on Tuesday, an observer remarked that the speakers sounded like government officials.
Over the past year, NGOs have had quite a scare under the Modi government. There was the crackdown on Greenpeace India, CBI's investigation into funding, and new rules were put in place to track money from foreign donors. Green groups have also railed against the Modi government's efforts to weaken environmental norms to benefit industry.
But none of that baggage has traveled to Paris, where civil society members are backing the Modi government at the U.N. conference, which is shaping up to be India versus rest of the world.
Officials and activists told HuffPost India that they have to work in tandem to counter the international media and NGOs which are "isolating" India.
"Civil society has to take a nationalistic approach largely because of the environment here, and the others are not taking an international position either. The American and European NGOs are not talking about the poor and vulnerable of the world. We have to defend our part of the world which is poor, vulnerable to climate change and needs energy access. They are defending their lifestyle," said Chandra Bhushan, deputy director of the Centre for Science and Environment.
"Why don't American NGOs say that U.S. INDCs (Intended Nationally Determined Contributions) are poor, they are yet to give money, they want to dismantle the Convention, and they have never participated in the Kyoto Protocol. Historically, they have done nothing," he said.
Sanjay Vashist, director of Climate Action Network South Asia (CANSA), who often finds himself at odds with CAN groups from other countries, said that for civil society to be at "loggerheads" is part of the negotiations.
"Our demands seem justifiable to us. Developed country's colleagues may feel their demands are justifiable. But we think that they have unrealistic expectations," he said.
Negotiators from almost 200 countries have gathered in Paris to reach an agreement on how to stop global temperature from rising above two degrees Celsius over preindustrial levels, and avert the deadliest consequences of climate change. So far, the combined CO2 emissions reduction targets will limit temperature rise to 2.7 degrees Celsius.
Even as the negotiators here are wrangling over the text for a possible agreement, torrential rains have claimed the lives of almost 200 people in Chennai - just another example of the extreme weather events which are in store for the world.
While pressure is ratcheting up on India to reduce its CO2 emissions, New Delhi is at pains to explain its "unique" predicament of combating climate change, while lifting millions out poverty and providing them with electricity. The international community, however, sees India's plans to double its coal consumption in the next decade as derailing the global response to climate change.
Modi Government Reaches Out
Climate change negotiations give space for a time-out, when civil society more or less backs the position of Indian governments, but the cohesion in their messaging in Paris is unprecedented. And while Prime Minister Narendra Modi still shies away from a two-way dialogue with the media, the Indian delegation here is making a huge effort to reach out to reporters and NGOs.
When HuffPost India asked civil society groups about their role in critiquing the government's position, they said that there is no lack of objectivity in pointing out just how high the stakes are for India.
"We don't have to be critical for the heck of being critical. We are critical to our government back home when it is about pollution, when it is about protecting forests, over human rights. This is not the place," said Singh from ActionAid.
"Look at the poverty levels that we have. If we bind ourselves to a deal that we are committing to green our economy and not grow our economy, which we absolutely need to do to provide electricity to our people, to take them out of poverty. How can you commit to something that will make your life miserable in terms of energy access, in terms of putting money in the development sector," he said.
While speaking in Paris on Monday, world leaders used their speeches to outline their country positions, and the divisions were stark.
Modi said that India would not be denied its chance to pursue economic growth, and he asked the rich nations to leave the remaining carbon space for developing countries. He also said that India would strive for a "lighter carbon footprint" while working on its development.
Within hours of Modi speaking at COP 21 on Monday, civil society groups issued statements backing his speech.
Bhushan's reading is that Modi's speech pushes the agenda forward in terms of operationalising two principles - equity and common and differentiated responsibilities - which several developed countries regard as antiquated.
"He has very carefully said that there is enough space to reduce your emissions. Then he is says that there is a limited carbon space. Then, he goes on to say that carbon space should go to developing countries," Bhushan said. "Modi is saying that once you operationalise carbon space, the rest of the issues will be resolved. It is a very well crafted speech and gives directions for the negotiations."
In a role reversal, civil society groups are also defending India's plan to ramp up on coal to counter the backlash against it.
A study released by the Climate Action Tracker on Monday found that if all coal plants in the pipeline were to be built by 2030, emissions from coal power would be 400% higher than what is consistent with a 2˚C goal.
Seven parties — China, EU28, India, Japan, South Korea, the Philippines, Turkey — have "inadequate" INDCs to deal with climate change, and their combined planned new coal capacity totalling 1210GW could put them in an even worse situation, according to the report.
On Modi's speech, Vashist said this was the first time he had talked about reducing India's dependence on fossil fuels.
"Look at the politics at home which is all about coal and fossil fuels. We have been talking about move subsidies from fossil fuels to renewable energy. He actually made that statement. So I have to agree with him. It was a very good speech," he said.



Popular in the Community