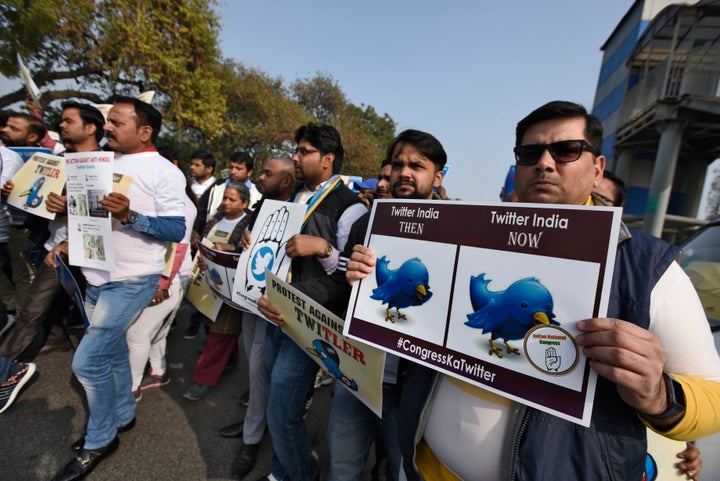 Senior Bharatiya Janata Party members have said Facebook executives may be asked to appear before a parliamentary panel for alleged bias against right-wing voices, a week after accusing Twitter of doing the same thing.
BJP MP Anurag Thakur, the head of the Parliamentary IT Committee, told HuffPost India, "We have been receiving lot of complaints for various social media platforms. And just to safeguard the interest of the citizens, and to make sure that nothing goes wrong, we are trying to understand from the government and the social media platforms as well that why people are complaining, what has changed?"
This isn't unique to India—Twitter is frequently accused of censoring conservative content, and US President Donald Trump is one of the people to agree, but here, the Parliamentary Committee on Information Technology officially took up the matter, and asked Twitter's officials to appear before it.
Over the weekend, Twitter responded stating that officials could not appear before the committee, citing the "short notice" of the hearing, ANI reported. The letter sent to Twitter by the Parliamentary Committee stated that the "Head of the Organisation has to appear before the committee," sources told ANI.
According to Twitter's legal head Vijaya Gadde, no one who engages publicly for Twitter India makes enforcement decisions about rules for content or accounts in India. This hasn't satisfied Thakur, who tweeted, "We will take appropriate action on 11th February." The matter will be brought up at 3pm in Parliament on Monday.
Thakur also clarified that the complaints—and the committee's focus—were not just on Twitter, but other social media platforms as well, and that in the future Facebook's top leadership could also be called by the Parliamentary Committee, though he didn't fix a deadline for this. "We haven't called them now, but may be in the future we will call them," he said.
Facebook's top leadership has previously been asked to testify in the US, Singapore, UK, and Canada, about issues such as fake news, political misuse of the social network, and more.
Ahead of this, Colin Crowell, Head of Global Public Policy and Philanthropy at Twitter, posted a detailed blog about Twitter's policies in India. Crowell wrote: "Twitter is a platform where voices from across the spectrum can be seen and heard. We are committed to the principles of openness, transparency, and impartiality."
"To be clear, we do not review, prioritize, or enforce our policies on the basis of political ideology," he wrote, adding, "Mistakes can happen. However these mistakes or "false positive" decisions, are not political statements of intent; they are the basic human error rate of running the fastest, most open conversational tool in history."
"As our CEO and others have stated publicly, Twitter does not use political ideology to rank content on our service. When setting up a Twitter account, people decide which accounts they want to follow ― they are in control of the views they see and the content they are interested in," he added. "India is the world's largest democracy, and one of our largest and fastest-growing audience markets globally. We are committed to surfacing all sides of the conversation as we enter the election season in this extraordinarily diverse cultural, political and social climate," wrote Crowell.
Earlier, The Print had reported that BJP volunteers wrote to the Parliamentary IT Committee asking for a hearing against Twitter and Facebook for bias.
The letter alleged: "Twitter and Facebook have been systematically trying to curb free-speech of individuals who subscribe to the non-Left-wing ideology by suspending their handles, restricting their reach and removing trends from the trends list. However, it has been ignoring offensive, abusing and threatening tweets from Left-leaning ideologues and senior leaders of the Congress."