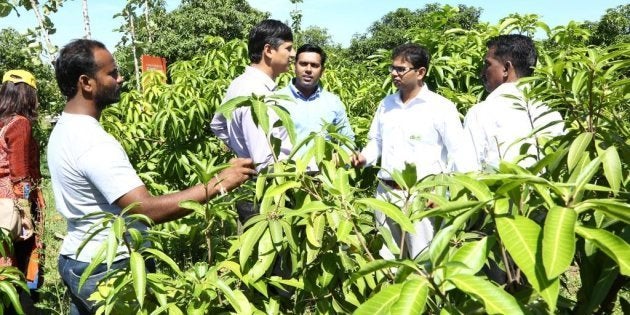 Gone are the days when businesses focused solely on the bottom lines; today more and more corporates are embracing the concept of the 3 Ps: People, Profit, and Planet. As more and more organisations step up to do their bit for the community and the environment, many opportunities are opening up to improve and impact both the urban and especially the rural landscapes.
Here's a quick look at different ways in which businesses are dedicatedly taking up their role as change agents and going back to the grassroots:
Helping artisans go global: Imagine local artisans tapping into new, far-flung markets through a tie-up with e-sellers – a win-win situation where sellers enjoy never-before-seen profits and customers get artisan goods! Businesses that enable this e-commerce channel connecting local communities to end consumers are also fuelling local growth! For instance, designers such as Ritu Kumar, Manish Malhotra and Tarun Tahiliani use master craftsmen in their high-end products. Also, Anita Dongre, who famously dressed the Duchess of Cambridge, Kate Middleton on her recent India visit, has a distinct crafts-based label called Grassroots that promotes the art and craft of local artisans.
New skills for new opportunities: Information and awareness can transform lives. Corporates recognise that the children of today are the citizens of tomorrow. Imparting education that bridges the skill gap across the industry through vocational skills brings the youth closer to the latest opportunities, be it jobs or small businesses. Showing them the immense possibilities through community skill development can do wonders for decentralised growth!
The Aditya Birla Group, for instance, is developing model villages in the vicinity of their manufacturing plants to bring about transformation among the local people. Villagers are taught to be self-reliant and skilled in a variety of areas such as education, health care, family welfare, infrastructure, agriculture, and watershed management.
Small funds power big dreams: Microfinance has the ability to impart buying power to the rural communities, satisfying their latent needs and stoking new aspirations. Corporates can fuel the fire by acting as sponsors to local businesses, allowing rural folk to dream big, achieve more and live a better life. Janalakshmi Financial Services, which began as a lender to the urban poor, has done yeoman service in empowering economically weaker sections living in cities. Impacting positively the lives of 27 lakh people in India it became the country's largest MF organisation in 2014 and continues its community-facing work through the Jana Foundation.
Becoming energy-efficient: Care for the planet, and you indirectly care for yourself. Corporates are embracing the concept of 'Care' with a vengeance, be it afforestation, ecosystem replenishment or energy efficient projects. Looks like they have taken a fancy to the Law of Karma- goodness given is goodness returned! ITC Hotels, for example, is the first chain to be certified platinum rated by US Green Building Council, has been water positive for 12 consecutive years, carbon positive for nine years, and has also been responsible for over 163,000 hectares of afforestation.
Towards "digital" farming: The modern farmer needs to be up-to-date on the latest irrigation techniques, agriculture practices and of course, rainfall forecasts! 'Back to the basics' is the buzzword as corporates tie up with mobile technology providers and deliver this know-how to villages through e-updates and other innovative ways! Companies are doling out affordable digital packages upping agricultural productivity and bringing a smile to both farmer and consumer...
Cola-Cola for example, whose flagship mango drink Maaza has been a market leader for the last 40 years, wanted to improve the lot of mango farmers who were their suppliers. So they partnered with Jain Irrigation to research improving the yield per acre for mango farms. Their solution, Ultra High-Density Plantation (UHDP) farming, was turned into a large-scale community movement called Unnati. Unnati is modernising farming practices, improving yield and is expected to impact the lives of 100,000 mango farmers by 2023.
Clearly, inclusive growth is here to stay, with corporates leading the way. Click here to see how much Unnati and UHDP have changed the way India farms mangoes! #TransformingIndia