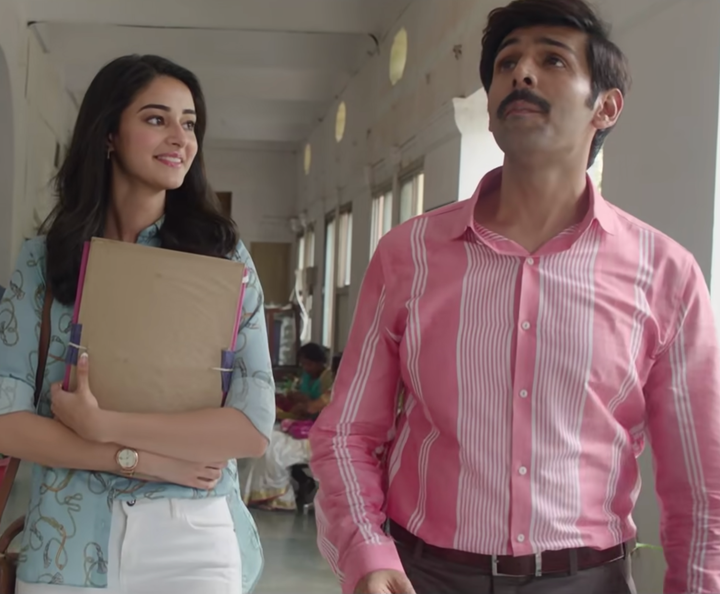 Among the many things wrong with the new Kartik Aaryan movie is a line uttered by a policeman in Lucknow, Uttar Pradesh. The cop asks a Muslim character, essayed by Aparshakti Khurrana, his name. When he says that it is Fahim Rizvi, the cop, jokingly warns him that he needs to be careful or he'll get 'encountered'. Rizvi doesn't have a comeback because the joke's on him.
In his continuous attempts to channelise discourse around the historically oppressed group of straight upper caste men, Kartik Aaryan yet again plays a role we've seen him play before. From spouting monologues about male victimhood in chic Bombay apartments, the milieu has shifted to the 'charmingly rustic' city of Kanpur, never mind that it's one of India's most polluted cities.
Welcome to the world of Mudassar Aziz's Pati, Patni aur Woh where Aaryan ensures he works on his characterisation to set himself apart. After all which actor wants to be typecast? So he's grown a moustache, thrown in a 'small-town' haircut and replaces Jack and Jones blazers with Deepak Shopee's check shirts tucked neatly under formal trousers.
An intense transformation.
Early on, he's married off to Pednekar's Vaidehi. She's progressive and spunky because she enjoys sex, as she makes it clear in their first meeting. Small time erotica, check. She wants to migrate to Delhi because she thinks they belong to the capital's 'clubs and restronts' (oh, the disappointment that awaits her). He's happy with the gentle monotony of everyday life as a sincere government employee. They quarrel, they make-up, life goes on. They enjoy three years of marital bliss. Trouble starts when Ananya Pandey's Tapasya (the name, I'm sure, was reverse-engineered to fit some dirty innuendos) shows up from Delhi to look for a plot of land to set up a manufacturing operation for her designer line. While she looks for a plot, the filmmakers forget to write one.
Pandey is introduced butt-first (because, of course) and our adarsh baalak, who's tasked with the responsibility of helping her find a plot, is enticed out of his marriage to forge a complicated relationship with her. He lies about enduring a cheating wife, she falls for them because women are naïve, doofus. Then they have sex. Nope. Then they just hang out and go for drives because that's what horny adults do.
Over the next two hours, Aaryan cheats and manipulates his wife and then, the film would like you to believe, gets outfoxed by some smart cats. However, the film's messaging remains clear: Men make mistakes (because, well, men) and so women must ensure they don't stray by cleverly guilt-tripping them into monogamous submission. ("Before a woman praises your smile, ask yourself who is the reason for your smile in the first place" is an actual line in the film that increasingly starts resembling an overlong TikTok video).
If Biwi No. 1 and Masti had a child (which they never should), it'd be Pati, Patni, aur Woh, a woefully tone deaf and misogynistic drama that thinks it's woke but it's actually too dumb to even realise how problematic it is. It's a film that thinks its subverting the overdone love triangle but it's the most conformist movie to come out in recent times.
Aaryan and his best friend go to insane extents to hide his supposed affair but of course, instead of reflecting upon his transgressions, the film offers the poor male protagonist a redemptive arc, with the women turning in extensive emotional labour for the man to see his mistakes...only to go back to his same old ways because #MenWillBeMen.
It's a film with the kind of performative bullshit that gives you a headache because the writer-directors actually seem to be convinced about the nobility of their subject matter. That Pednekar and Aaryan are persuasive and the lines are laced with quick, easily digestible humour make the drama even more troubling.
But the film's hollowness and shady worldview comes through despite its distracting one-liners and Aparshakti Khurrana's superlative performance.
In a scene where Pednekar's character is shown to be straying, she's shown in a Western attire (LOL), something she doesn't wear before. While Pandey's character is progressively falling for the leading man, her wardrobe goes from chic dresses to salvaar-kameez because what's love for women if not voluntary domestication? Throughout this, Aaryan wallows in self-pity and self-shame, getting drunk and breaking bottles, dodging cops and prudent relatives. Look what the menacing women made him do!
While one understands the templatised characters of Aaryan and Pednekar, Pandey's part remains a mystery. She's posh, she's South Delhi, and when in Bombay, she's decidedly Juhu. In fact, it appears that Pandey absent-mindedly wandered off from the sets of a Dharma movie and ended up in Pati, Patni aur Woh. She has one expression and one tone throughout the film as if the director praised her once for a particular scene and she decided to freeze the same for the rest of the film.
I've seen more expressions on a mall mannequin than on Pandey's face.
Well, if the collections of Kabir Singh are anything to go by, it's entirely possible that Pati, Patni aur Woh will turn out to be a hit. The success of a movie tells a lot about people watching that cinema than it does about those making it. And India, as we know, loves to hate its women.