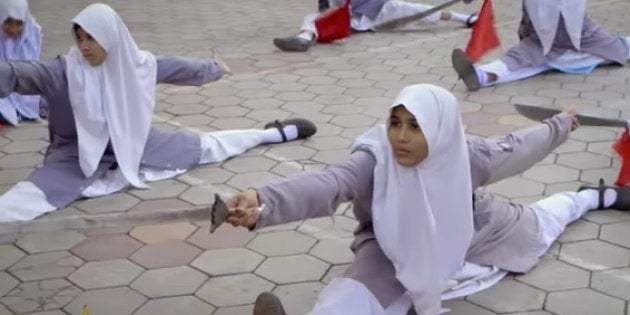 A majority of Indias may be unfamiliar with the word 'wushu', but students of one girls' school in Hyderabad are big fans of it. A form of martial arts that reportedly originated in China in 1949, wushu combines 'elements of performance and martial application', according to this article.
One school in Hyderabad embraced this form of martial arts to teach girls self defence. And of all the practitioners of this sport in the school, 14-year-old Fareeha Tafim is perhaps the most successful. After winning the state championships, Fareeha was selected to participate in the national championships this year. The nationals were to be held in Assam.
However, Assam seemed too far away and Fareeha's mother wasn't ready to let her go as yet. Her mother told her, "You are a young girl and it is dangerous outside." She also believed that if Fareeha doesn't don the veil--which she couldn't during the competition--she will be called 'shameless' by the community and immediate acquaintances. After all, not only will she be showing her face, she will be doing it in front of thousands of people.
While Fareeha was raring to go, tradition and orthodoxy nearly held her back.
At one point, the teen's mother and brother even told her that she was bringing dishonour to the family. However, Fareeha was not alone in this fight. With unwavering support from her father, not only did she travel all the way to Guwahati, she also won the national championships.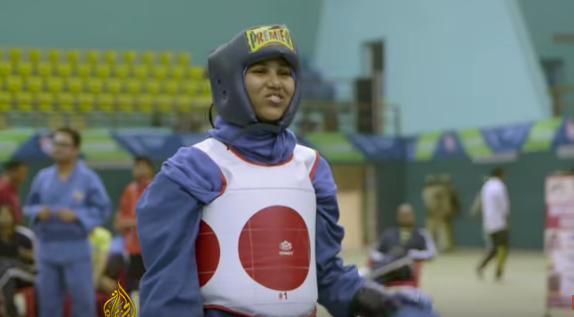 Patel, who has been making films on women in India for a while now, tells HuffPost India why she thought Fareeha's story needs to be told. She says, "It is an important issue. What struck me was that for her age, she was very forward thinking. Also the conservative community she lives in and to have that sort of for thinking and the determination is absolutely amazing."
Patel further adds that the principal of the school must be given due credit. Not only did he familiarise himself with this niche sport he also encouraged the girls to take it up and supported them in their pursuit of excellence in the sport.
Watch the documentary here: