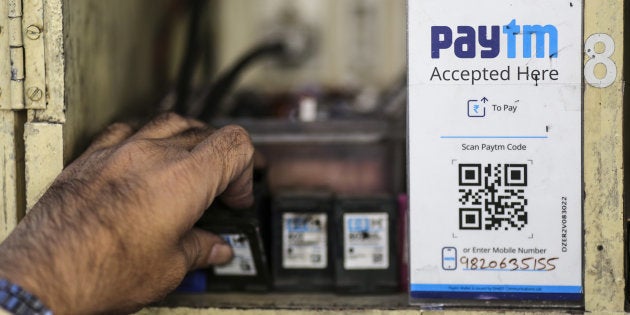 NEW DELHI -- China's Alibaba-backed Paytm today launched niche payments bank, offering 4 per cent interest rate and cashbacks on deposits as it looks to double its customer base to 50 crore by 2020.
Funded by Alibaba and SoftBank Corp of Japan, India's largest digital payments startup will have no minimum balance requirements and all online transactions will be free, Paytm said in a statement.
While bank accounts will initially be available only through an invite, the bank will offer current account facility to merchants.
Paytm, which saw a phenomenal rise after Prime Minister Narendra Modi's shock ban of high-value currency notes in November last year resulted in cash crunch and boosted use of its electronic wallet, will invest Rs 400 crore to build its banking network over two years.
It will open 31 branches and 3,000 customer points in the first year.
Paytm is third firm after Bharti Airtel and India Posts to have launched payments banks.
As many as 11 companies including Reliance Industries and India's top three telecom operators were in 2015 permitted by the Reserve Bank of India (RBI) to set up payments banks which can take deposits and remittances but cannot lend.
"The RBI has given us an opportunity to create a new kind of banking model in the world. We are proud that our customer deposits will be safely invested in government bonds, and be used for nation building. None of our deposits will be converted into risky assets," Paytm Payments Bank Chairman Vijay Shekhar Sharma said in a statement.
The company at present has around 22 crore customers who use its digital wallet. The wallets will be shifted to the payments banks and users will have to comply with 'know your customer' (KYC) norms for opening accounts.
The company is setting up KYC centres across India to assist its customers in opening accounts.
"Our ambition is to become India's most trusted and consumer-friendly bank. Leveraging power of technology, we aim to become the preferred bank for 500 million Indians by 2020. We will invest over Rs 400 crore over the next two years to build banking network across the country," Paytm Payments Bank CEO Renu Satti said.
In the first phase, the company will roll out its beta banking app for its employees and associates.
Paytm customers can request an invite through the Paytm Payments Bank website or the Paytm application on Apple's iOS platform.
"This will be a mobile-first product with first-of-its- kind feature of cashback on deposits. Every customer, to open a Payments Bank account, will get a cashback of Rs 250 as so they bring deposits of a total of Rs 25,000 in their bank account.
"The account will have zero balance requirement and every online transaction (such as IMPS, NEFT, RTGS) will be free of charge," the statement said.
For savings accounts, the company would offer an interest of 4 per cent per annum. The company will also offer current accounts to its millions of merchants.
Paytm plans to roll out 31 branches and 3,000 customer service points of the bank in the first year.
Users will continue to be able to use their Paytm Wallet in the same manner as before, it added.
Paytm will offer virtual Rupay debit cards to customers immediately and physical card on request for withdrawing cash from any ATM in the country.