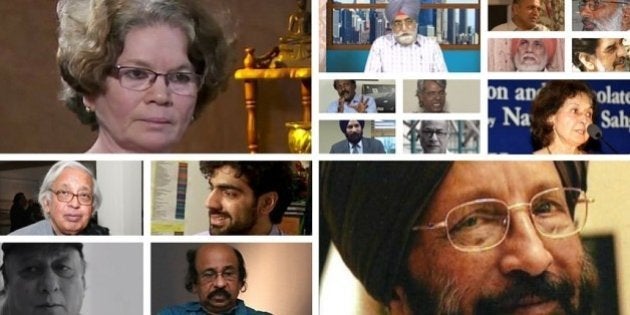 The organisation's president, John Ralston Saul, has also written to the Indian President and Prime Minister, as well as the President of Sahitya Akademi (the country's National Academy of Letters), representing writers from 150 countries who had assembled in Quebec, Canada, for the 81st Congress of the organisation.
"We stand in solidarity with the more than fifty novelists, scholars, poets, and public intellectuals who have returned their awards to the Akademi and admire their courage," reads the letter. The organisation has asked for protection of writers and artists in India, as well as speedy investigations into the murders of M. M. Kalburgi, Narendra Dabholkar and Govind Pansare.
The registered charity organisation, founded in London in 1921, promotes literature and freedom of expression. It is a non-political organisation which holds Special Consultative Status at the UN and Associate Status at UNESCO.
The statement released by PEN says that, despite India being the largest democracy in the world, "there is a climate of growing intolerance in India where those who challenge orthodoxy or fundamentalism have become increasingly vulnerable".
"Two government ministers have questioned the motives of the writers returning the awards. It takes courage in the current climate in India to express public dissent in a public manner."
The organisation has responded sharply against Indian culture minister Mahesh Sharma's comment, "If they (the writers) say they are unable to write, let them first stop writing. We will then see."
It has questioned the Akademi's silence over the murders, and urged the Indian government to protect freedom of expression.
PEN Writers' Statement of Solidarity: 81st PEN International Congress, Quebec City

India is the world's largest democracy. Yet there is a climate of growing intolerance in India where those who challenge orthodoxy or fundamentalism have become increasingly vulnerable.

Three public intellectuals have been murdered. PEN International mourns the passing of M. M. Kalburgi, Govind Pansare and Narendra Dabholkar, killed by unknown assailants. PEN International calls upon the Indian government to identify and arrest the perpetrators of these crimes.

Kalburgi was the recipient of one of India's highest literary awards, the Sahitya Akademi Award, and yet, after his murder, the Akademi remains silent even as its members resign in protest, and several award-recipients return their awards.

Two government ministers have questioned the motives of the writers returning the awards. It takes courage in the current climate in India to express public dissent in a public manner. PEN International salutes the courage of and expresses solidarity with those who have returned their awards in protest or resigned their membership of the Akademi or its governing council. They are:

Uday Prakash, Nayantara Sahgal, Ashok Vajpeyi, Rahman Abbas, Sarah Joseph, Kumar Veerabhadrappa (Kumvee), Mangalesh Dabral, Rajesh Joshi, Keki N. Daruwalla, Krishna Sobti, Ganesh Devy, Veeranna Madiwalar, T. Satish Javare Gowda, Sangamesh Menasinakai, Hanumanth Haligeri, Shridevi V. Aloor, Chidanand Sali, Gurbachan Singh Bhullar, Ajmer Singh Aulakh, Atamjit Singh, Waryam Sandhu, G.N. Ranganath, D.N. Srinath, N. Shivdas, Megh Raj Mitter, E. V. Ramakrishnan, K. S. Ravikumar, C. R. Prasad, Ghulam Nabi Khayal, Rahamat Tarikeri, Surjit Pattar, Baldev Singh Sadaknama, Jaswinder and Darshan Buttar, Anil Joshi, Aman Sethi, Chaman Lal, Pradnya Pawar, Bhai Baldeep Singh, Homen Borgohain, Nirupama Borgohain, Mandakranta Sen, Chandrashekhar Patil, Ibrahim Afghan, Mukund Kule, Urmila Pawar, Milind Malshe, Rajeev Naik, Mohan Patil, Harishchandra Thorat, Sanjay Bhaskar Joshi, Ganesh Visputay, Dalip Kaur Tiwana, K Satchidanand, P.K. Parakkavadu, Arvind Malagatti, and Shashi Deshpande.

PEN International finds it disturbing that India's Minister of Culture Mahesh Sharma has reacted to these tragic developments by saying, "If they (the writers) say they are unable to write, let them first stop writing. We will then see."

The writers of the world who have gathered in Quebec City, Canada for PEN International's 81st Congress salute these writers, who represent the breadth, diversity and excellence of Indian literature.

As the most populous democracy in the world, PEN International expects India to live up to the high ideals of its constitution so that every Indian can live in a land where "the mind is without fear and the head is held high"