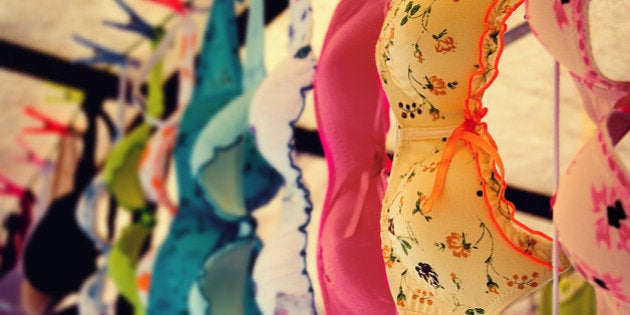 Finding the perfect bra can be as difficult as tracing the vodka in a free drink on ladies night. But what we don't realise is that the root of the problem traces back to us, or rather, our lack of knowledge. In this case, ignorance is certainly not bliss, at least not for our breasts. There are many factors that affect the measurements of your bra –- the tapering of your shoulders, how broad your shoulders are, and the circumference and firmness of your breasts.
"Cup sizes range from AA to L! Most women fixate on cup sizes, not realising it is not the end of the world if they have crossed beyond the dreaded D border," says Amelia Bandlish, a bespoke bra fitting expert who operates out of Vasant Vihar, Delhi. "Wear the right sizes, and you'll actually look slimmer."
Aparna Walters, the head of design and technical lingerie and nightwear for Enamor claims that over 80 per cent of the women in India are walking around wearing the wrong bra. Bandlish adds to this, claiming that in her nine years in India, she has tried to explain this to major players, but it seems they are more profit-driven than fit-driven. "They are growing at 30 to 40 per cent per year with the current sizing and that seems good enough for them. The fact that their bras neither fit nor support a woman the way they should doesn't seem to be part of any of their future strategies."
Bandlish also goes on to say that the perception here is occupied with a woman looking good once she takes her shirt off, instead of the primary feature of a bra: proper support. Without the right band or cup size, shoulder, back and neck muscles are at risk, "as you're not getting the support you need to get a great shape," says Bandlish. Especially if you have heavy breasts: all the weight is taken on your shoulders, which messes with your posture and leads to aches. Walters says the best way to alleviate confusion when shopping is to actually ask the store consultants for help: "Most women feel embarrassed to ask for help when shopping for lingerie -– but questions should always be asked!"
Here are some things to consider when bra-shopping:
Bust The Underbust: A fact that is hugely ignored is the size of the underbust, which according to Walters, "If too small, then the fit can hurt the breast tissue, as the wire will be sitting on breast tissue rather than the rib cage where it is meant to fit."
Consider Your Fabric: Cotton, the only fabric available to Indian women, is now passé and that's actually a good thing. "Cotton tends to stretch easily, and your bras lose shape quickly," supplies Bandlish. "It is a complete myth that cotton works better in hotter countries –- any fabric works well."
Indian Women Are No Different Than Others: The Indian anatomy and metabolism that has been discounted time over when compared to its Caucasian counterparts doesn't actually play any part in determining the right bra. "Perhaps, the only thing that should be taken into account is that Indian women are shorter, so their bra straps should be fully adjustable instead of half-way," says Bandlish.
Pay Attention To Your Band Size: The shape of your breasts can be affected if you're not investing in the apt band size, which is very different from cup size. "I hear girls in nightclubs complaining all the time about their strapless bras falling off," says Bandlish. "Honestly, it drives me crazy because they all have the same problem –- a bra that's been bought for its looks instead of a good band-size."
Watch The Hook: A new bra should be firm but snug on the loosest hook as most of the support comes from the band of the bra, states Bandlish. You may need to tighten it to maintain support as the bra stretches with every day wash and wear. Note: Replace your bras after 100 washes, give or take a few.
What About Your Knickers? With the explosion of sexy knickers on the market in mind-boggling colours, patterns and shapes, one cannot help but wonder if there is a science to choosing the right underwear. While definitely responsible for the occasional wedgie, thongs or any other kind of underwear do not pose any health hazards (provided your laundry regimes are regular –- Handy tip: handwash all your underwire bras to maintain their shape.) to your posture. Just remember to pick some fun ones, not just to treat your partner to a little eye candy, but because they make you feel good.