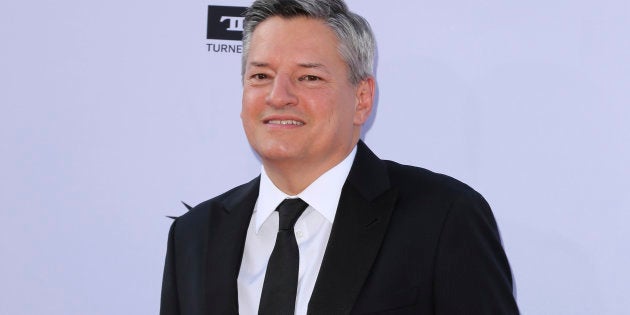 Netflix Chief Content Officer Ted Sarandos's visit to India has been under a cloud as he faces repeated questions over the streaming giant's association with the now-defunct Phantom Films, which produced Sacred Games, its first original series in India.
On Tuesday, Netflix announced that it had decided to retain Phantom co-founders Vikramaditya Motwane and Anurag Kashyap for season 2 of the series, based on the results of an "independent investigation".
Sarandos has been defending Netflix's decision to renew Sacred Games since then.
Earlier this month, HuffPost Indiareported, after a months-long investigation, that the partners at Phantom knew about a 2015 sexual assault allegation against one of them—director Vikas Bahl—and did nothing about it. Bahl has disputed the account published by HuffPost India, and has filed a defamation case against Kashyap and Motwane. The suit also names HuffPost India, the Times Group of Publications and the Deccan Chronicle newspaper.
On Friday, after a session at the Mumbai Film Festival, Sarandos answered a few questions from audience members.
When asked about the nature of the internal inquiry they conducted, Sarandos repeated that the investigation was thorough.
In the US, Netflix dropped actor Kevin Spacey from the Emmy Award-winning series House of Cards after he was accused of sexual assault. It also cut ties with comedian Louise CK, who was also accused of sexual harassment. This has led to murmurs that the company is more stringent about these cases in the US than in other markets.
Answering a question from HuffPost India, Sarandos denied that Netflix's response to sexual assault cases varied from country to country.
"We have the same standards... At Netflix programming, we are committed to making sure that the workplace is safe and respectful always. We have an instituted harassment training at all our productions everywhere and it is the same in India... Everybody from top to bottom of the production must go through law camps. We conducted investigations in this case and we determined it was appropriate to go forward with Vikram and Anurag and that is based on the condition of this story (the HuffPost India investigation) and has nothing to do with anything before or anything anywhere else. We believe on the basis of the facts that the investigation was appropriate," said Sarandos.