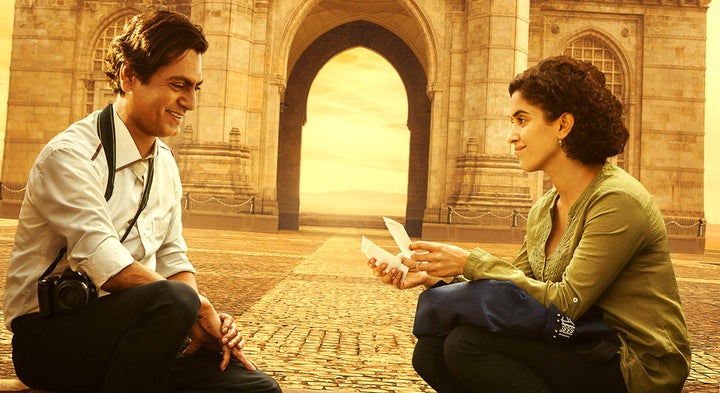 If one was to stitch together Ritesh Batra's four films into one holistic narrative, pain and longing would be its binding theme.
Batra, one can reason, isn't as excited about loneliness as he's about longing ― loneliness is stagnant and non-cinematic, longings, as Batra often depicts, carry a poetic touch.
Everything about Batra's new film, Photograph, is cinematic, starting from the name of one its two main characters. Nawazuddin Siddiqui, a small-time photographer at Gateway of India, is called Rafi. Later on, when he and a young woman he has befriended would go and watch a movie, the song, Tum Ne Mujhe Dekha plays, a song sung by Mohammed Rafi.
Siddiqui's Rafi meets Sanya Malhotra's Miloni while going about his work at Gateway. He persuades her to get a picture clicked, saying that every time she'll look at it, she'd be reminded of the sun caressing her face and the wind stroking her hair. His wordplay, which paints a vivid imagery, convinces Miloni to get the picture taken but she leaves without paying.
Rafi doesn't know her name. So when he hears the song, Noorie, from the 1979-hit, Noorie, he names her that in a letter to his grandmother, who has gone off medicines and wouldn't budge until Rafi finds himself a bride. He cooks up a story about Noorie being his lover and persuades Miloni, who he meets again, to participate in the deception.
It's no coincidence that Rafi calls her Noorie.
In the original Poonam Dhillon-Farooq Shaikh-starrer, produced by Yash Chopra, the lovers remain separated and are united only after death, buried alongside one another.
In Photograph, Rafi and Miloni are two people far removed from one another's realities. She's a Chartered Accountancy topper from a relatively well-to-do Gujarati family, he's a migrant worker who lives in a rickety room that he shares with four others. She's from a conservative Hindu family, he a Muslim. She's conventionally pretty and fair, a skin colour that's still considered aspirational in India. He's dark.
What on earth draws them to each other?
Batra, it appears, isn't keen on decoding the what as much as he's interested in exploring the possibilities of where it goes. In the process, he throws a difficult question. Are we actually free to love freely or are we governed by class barriers and confined by social expectations? Why is Miloni drawn to a life seemingly less comfortable than hers?
Miloni is a quiet woman who talks to her own family as if they were guests from an unpleasant household. She feels prisoned at home and Ben Kutchins's camera often trains its lens from outside the window sills, making the iron bars look like a literal prison. In Rafi, she sees an escape to a different life. The weight of her academic excellence sits heavy on her head (she's on billboards with a photoshopped crown). Her name, Miloni (which means achiever), is more of a burden than a motivation. On the other hand, one of Rafi's meanings is someone who 'comforts.'
Batra treats the unlikely romance between Miloni and Rafi with adequate awkwardness, hesitance, and class tension. Siddiqui and Malhotra, both exquisite performers, use their bodies to reflect their social divide but it's their emotive eyes that transcend all barriers to convey a singular emotion: love.
Siddiqui's grandmother, the veteran actor Farrukh Jaffar peppers the languidly paced narrative with both comic relief and pragmatic wisdom.
Largely shot in South Bombay (which itself looks like its frozen in time), the film is about young people who live between an unforgotten past and an uncertain future. They crave discontinued cola brands and share a liking for analogs.
As a friend observed, she doesn't own a mobile phone but uses the PCO service.
He has a vintage camera set.
In pictures, I look happier, she says. Pictures are all he knows how to take.
In one of the more poignant scenes in the film, which essentially turns into a meditative ode to Mumbai and movies, Rafi and Noorie sit outside a cinema and talk about love and life.
It's a snapshot into a shared moment in time, an improbable and unlikely one.
But how can a film be an ode to films without doing what films do best?
Most would argue that Rafi and Noorie may never be together is real life.
And maybe that isn't an incorrect assessment.
Their love story is so unrealistic, it only belongs in a movie.
Popular in the Community