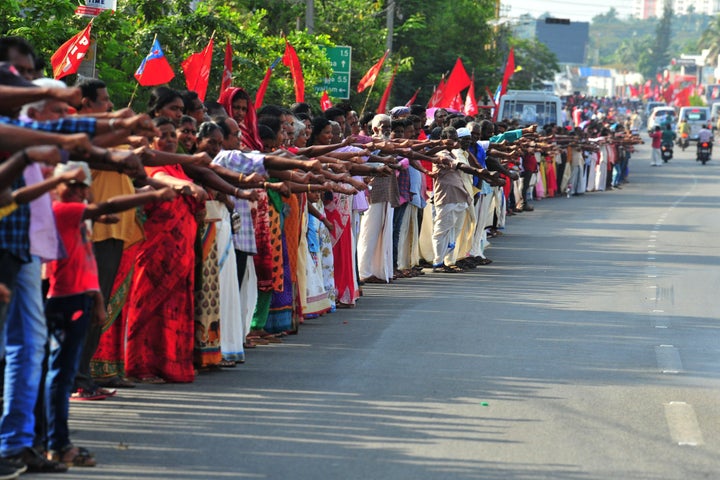 A 620 km long human chain was organised by the ruling CPI(M) led Left Democratic Front in Kerala on Republic Day, demanding withdrawal of the Citizenship Amendment Act.
The chain, which stretched from Kasaragod in north Kerala to Kaliyakkavilai in the southernmost part of the state, was formed at 4 PM, following which the preamble of the Constitution was read out.
Later, participants took an oath to protect the Constitution from the "attempts of the Central government" to destroy it.
The LDF claimed that around seven million people participated in the human chain.
Chief Minister Pinarayi Vijayan and CPI leader Kanam Rajendran joined the protest in Thiruvananthapuram.
Senior CPI(M) leader S Ramachandran Pillai was the first link of the 620-km-long human chain at Kasaragod, while M A Baby was the last link at Kaliyakkavilai.
In an address after the oath, Pinarayi said, "Peaceful protests are possible when the entire population unites. We can take pride in this fact. Participation in the human chain has been overwhelming. The message is clear— we do not accept CAA as this divides people on the basis of religion. Nations across the world and the United Nations should not have let this happen."
"In Kerala, we have already made it clear that neither NPR nor NRC will happen. We cannot rest until the CAA is withdrawn," he said, Malayala Manorama quoted.
The Left front has been in the forefront of anti-CAA protests in Kerala and organised various protests across the state.
The LDF and the Congress-led Opposition United Democratic Front (UDF) had earlier jointly protested against the Act.
The Kerala assembly was the first state to pass a resolution against the CAA. The state government also said it had stopped work on National Population Register considering "apprehension among the general public".