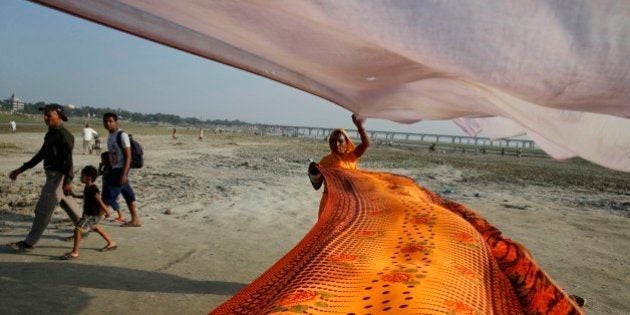 Earlier, this article erroneously mentioned that the Kerala tribal style of sari was worn by the Nair community all over Kerala. This has now been corrected to the tribal community from North east Kerala (including Wayanad and Palakad).
The traditional sari is a thing of wonder. It showcases the skills of handloom workers -- its weave and fabric indicating its geographic region. There is no such thing as the Indian sari: it is a collection of beautiful fabrics and textiles across different Indian states, each of which have their unique way of draping the six yard.
"In the North-East, Assam is a major sari-producing centre. But the Assamese sari, though it's called a sari, is actually a two-piece garment," said Shilpa Sharma, co-founder of jaypore.com, a website that features artisanal craftswork all across India, and specialises in saris. "Punjab and Haryana don't have much of a sari-wearing history (their staple outfit is kurta with a salwar and dupatta, and a top with a long skirt respectively), but the former state has now started producing phulkari saris," she added, also revealing that Kashmir has now started reviving pashmina saris.
HuffPost India caught up with Sharma and textile scholar Rta Kapur Chishti, author of 'Saris Of India' who has explored the ways people wear their saris across India. "Saris were traditionally worn without pins, blouses, and even petticoats," she said, adding that local women would also wear two saris together instead of one so their work wouldn't be hindered (they could take long strides and squat comfortably). Of the many styles that dot the country, she disclosed 14 traditional ways of tying a sari that she uncovered, which can be interpreted in a modern way by any any woman as the ultimate style statement.
Karnataka Bhootheyara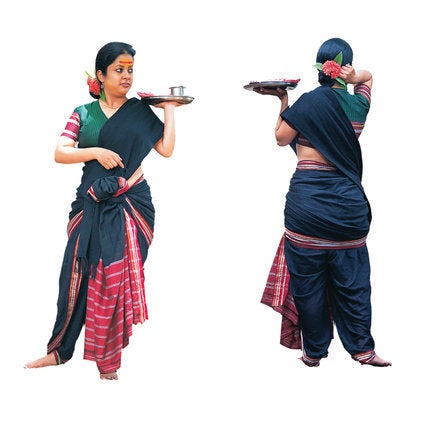 'Saris: Tradition and Beyond' by Rta Kapur Chishti
Goa Dhangad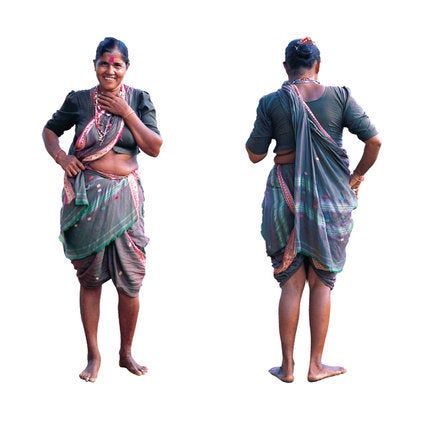 'Saris: Tradition and Beyond' by Rta Kapur Chishti
Gujarat Parsi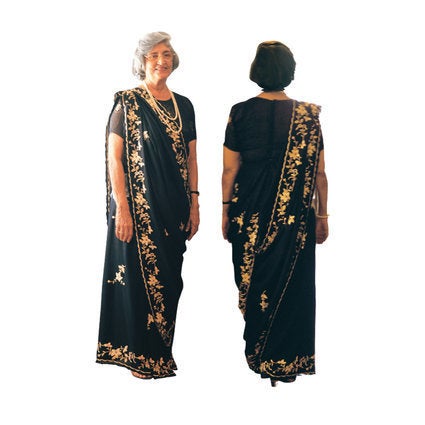 'Saris: Tradition and Beyond' by Rta Kapur Chishti
Madhya Pradesh Balaghat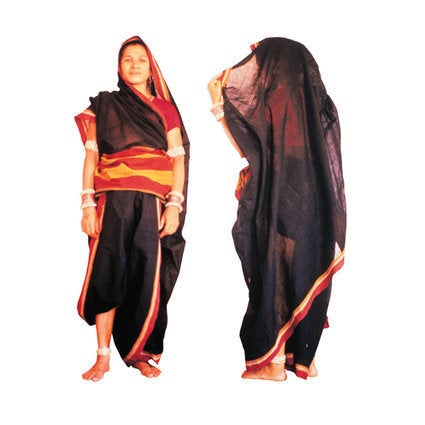 'Saris: Tradition and Beyond' by Rta Kapur Chishti
Central Chhattisgarh Style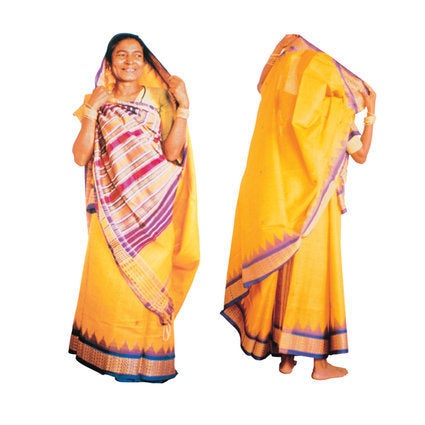 'Saris: Tradition and Beyond' by Rta Kapur Chishti
Uttar Pradesh Seedha Pallu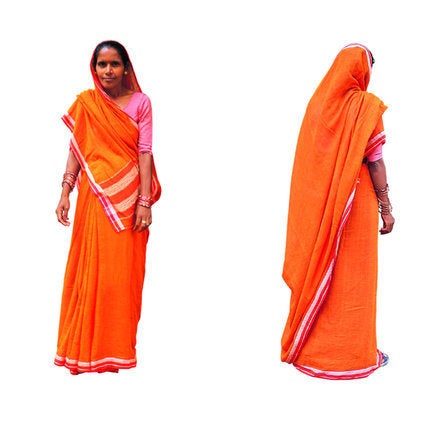 'Saris: Tradition and Beyond' by Rta Kapur Chishti
Bihar Purnia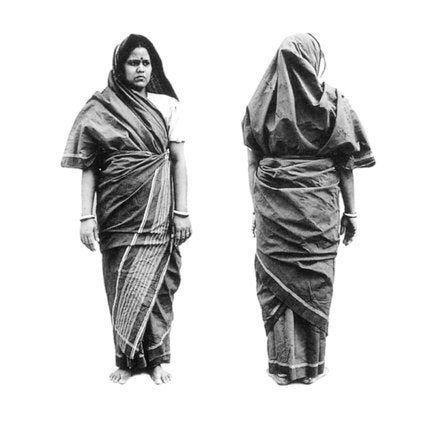 'Saris: Tradition and Beyond' by Rta Kapur Chishti
Jharkhand Santhal Pargana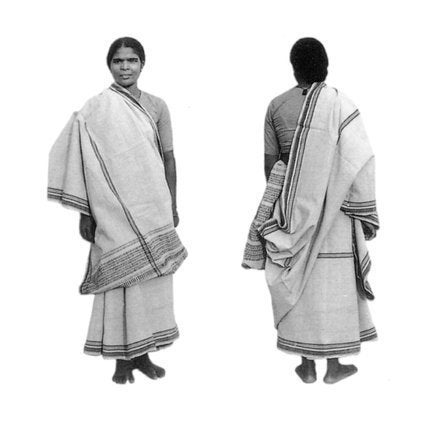 'Saris: Tradition and Beyond' by Rta Kapur Chishti
West Bengal Nadia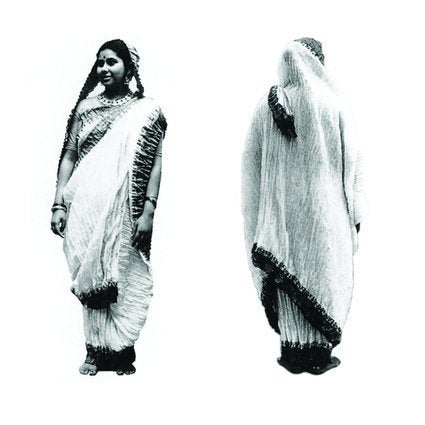 'Saris: Tradition and Beyond' by Rta Kapur Chishti
Orissa Kotapad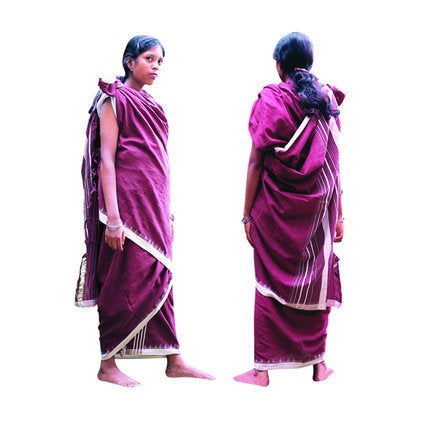 'Saris: Tradition and Beyond' by Rta Kapur Chishti
Andhra Pradesh Boggili Posi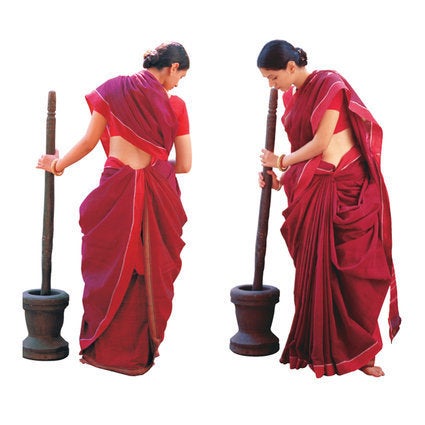 'Saris: Tradition and Beyond' by Rta Kapur Chishti
Tamil Nadi Madisaru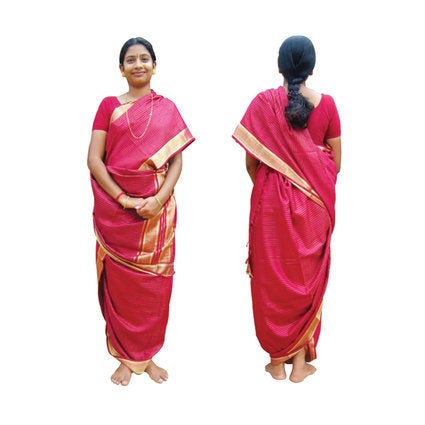 'Saris: Tradition and Beyond' by Rta Kapur Chishti
Maharashtra Nau Vari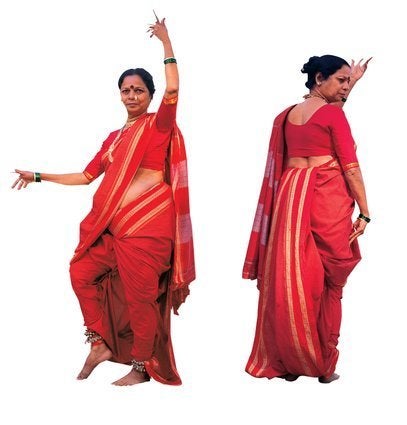 'Saris: Tradition and Beyond' by Rta Kapur Chishti
Kerala Tribal Style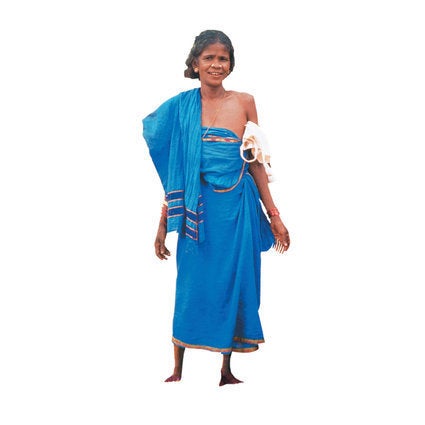 'Saris: Tradition and Beyond' by Rta Kapur Chishti