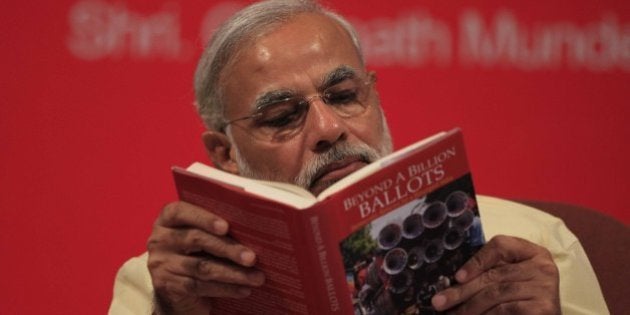 Senior Bharatiya Janata Party (BJP) leaders Amit Shah and Arun Jaitley on Monday attempted to put to rest days of speculation over Prime Minister Narendra Modi's educational qualification. At a press conference in the national capital, the two party leaders presented proof of the PM's degrees, both holding up copies of his pass certificates, so that journalists can take a look at them. But in a separate presser held soon after, senior leaders of the Aam Admi Party, Modi's bête noire, insinuated that the degrees are fake.
"It's unfortunate that we have to hold this press meet to clarify the Prime Minister's educational qualification status," said Shah, who is also the party president. The PM has a BA degree from the Delhi University as an external candidate and a MA degree from Gujarat university, they said.
The two leaders demanded a public apology from Delhi Chief Minister Arvind Kejriwal, who has been campaigning for the PM's degrees to be made public. Calling Kejriwal's charges "baseless", union minister Arun Jaitley said "public discourse has stooped low" in the wake of the allegations by the Aam Admi Party supremo.
In a scathing attack on AAP, Jaitley said several of its leaders are being prosecuted and investigated over fake degrees.
"In 1978 the PM completed his graduation as an external candidate," Jaitley said. He said the PM completed his masters degree from Gujarat University in the same way. "I know because I was associated with the Vidyarthi Parishad at that time," he said.
Jaitley said Modi came to Delhi to appear for the examinations during 1977-78. "He was then not known to many," he said.
I knew this because I was a student union leader in Delhi University then. These allegations are coming from a party several of whose leaders are being prosecuted for fake degree.
"I knew this because I was a student union leader in Delhi University then," he said, adding, "These allegations are coming from a party several of whose leaders are being prosecuted for fake degree."
"Arvind Kejriwal tried to turn a blatant lie into truth and create confusion among public by saying PM's degrees are fake. Kejriwal ji must apologize to entire nation and must clarify on what grounds he levelled such serious allegations. I will write a letter to Kejriwal ji so that he is reassured," Shah said.
However, AAP leader Ashutosh claimed the degrees shown at the BJP press conference were forged. "The PM's degrees have several discrepancies, including the names," he said, alleging that Modi's name does not match on two different versions of the marksheets.
We are putting the Prime Minister's both degrees (Bachelor of Arts from DU and MA from Gujarat University) in public domain.
Kejriwal has been alleging that the Prime Minister's BA degree is fake and that it was obtained by a namesake of his from Alwar. Last week, the Delhi Chief Minister had said that he can assert with "full responsibility" that Delhi University's records have no mention of "Narendra Damodardas Modi" and that one "Narendra Kumar Mahavir Prasad Modi" from Alwar had taken admission in 1975.
He had said the issue was not whether the PM was "10th pass or 12th pass" but that he has furnished "fake" certificates and "cheated" the people of the country.
The AAP handle tweeted out photos of the copies of degrees they have acquired.
The Central Information Commission (CIC) had earlier directed the Delhi University and the Gujarat University to make best possible search for information regarding the Prime Minister's degrees and provide it to 'appellant' Kejriwal. The AAP chief had earlier claimed the Delhi University's records showed that Prime Minister Modi had never enrolled in the university, contradicting the latter's claim that he obtained his Bachelor of Arts (BA) degree from DU.
"Nakal ke liye bhi akal ki zaroorat hai (One needs brains even to copy). The BA mark sheet is dated 1978 while the degree is of the year 1979. His name in the BA mark sheet is Narendra Kumar Damodardas Modi while in Masters degree, it is Narendra Damoderdas Modi," said the AAP leader.
Even in BA mark sheets, another AAP leader Dilip Pandey said, the PM's surname is spelt "Modi" in one case while it changes to "Mody" in another.