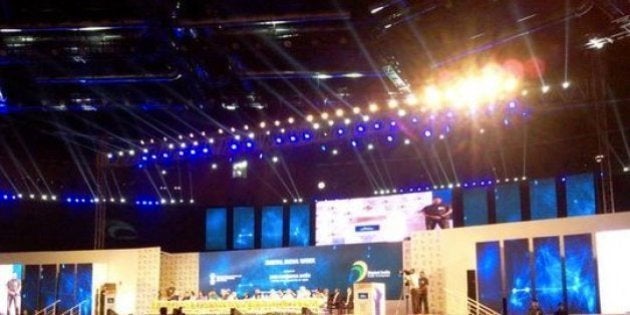 NEW DELHI -- Prime Minister Narendra Modi has launched an ambitious initiative to digitise India by making Internet access available to over two lakh villages by 2019, promoting e-governance, e-banking, e. education and e-health, and transforming India into a knowledge economy.
Covering issues ranging from cyber security and promoting startups to digital highways and "Design in India," Modi said that his government will invest Rs4.5 lakh crores in the Digital India program which will generate 18 lakh jobs.
"I dream of a Digital India where the world looks at India for the next big idea," Modi said at the launch in Delhi on Wednesday.
"I dream of a Digital India where government is open, and governance is transparent."
The Digital India launch in the capital was attended by 10,000 people including the Modi government's top political brass and the most powerful industrialists in the country who announced their pledges to the program.
Reliance Industries (RIL) Chairman Mukesh Ambani said that he will invest Rs2.5 lakh crores which will create employment
for over five lakh people. Ambani described Digital India as a "momentous occasion in the history of modern India" in which the government was moving faster than industry.
Cyrus Mistry said that Tata Group will hire 60,000 IT professionals, this year. K.M. Birla said that the Aditya Birla Group would invest Rs44,500 crores in next five years in the infra and digital space.
Finance Minister Arun Jaitley said that cheques will become obsolete in India as more people will do their banking through the Internet. "We want to make technology the way of life in India," he said.
In his speech, Modi questioned why is that "innovation" does not happen inside India. "I dream of a digital India where 1.2 billion connected Indians drive innovation," he said, promising help to all those who were working in Startups. "Design In India is as important as Make In India."
In his 30 minute speech the prime minister said people once settled near rivers and then highways, but now they settled where optical fibres run.
"E-Governance is going to change into M-Governance," he said. "M is not Modi Governance. It is mobile governance."



Popular in the Community