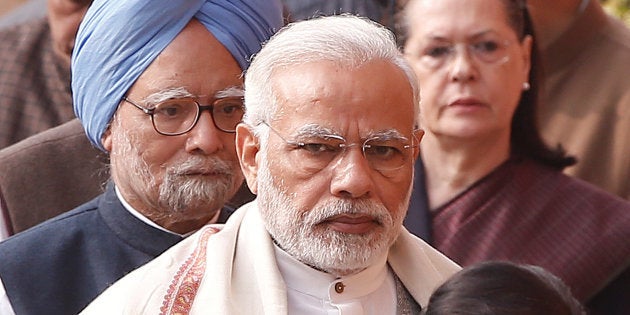 The Congress has demanded that Prime Minister Narendra Modi apologise to former PM Manmohan Singh, whom he accused of conspiring with Pakistan to influence the outcome of the Gujarat Assembly elections. However, after a joint meeting between members of the government and the opposition it seems an apology isn't immediately forthcoming from Modi, according to reports.
"I think the PM's stature will not be diminished if he clarifies and regrets because Manmohan Singh is also a member of the House. Why should he stand on falsehood? Either he should prove there was something wrong or he should take his words back to convey his regret to Singh," deputy leader of opposition in Rajya Sabha Anand Sharma said.
However, The Hindu reported that the government clearly conveyed its decision during the meeting, in which Union Finance Minister Arun Jaitley and Parliamentary Affairs Minister Ananth Kumar were present, that no apology will be issued for Modi's accusation of treason, which he made on 11 December, without providing any evidence.
While addressing a rally in Gujarat, the PM referred to a meeting at suspended Congress leader Mani Shankar Aiyar's house, attended by some Pakistani officials, Singh and former vice-president Hamid Ansari, among others, in which he claimed a conspiracy was hatched to way-lay the Gujarat polls.
The Congress has not let the winter session function since Parliament convened on 15 December, demanding that the government either apologise or clarify the PM's comments. Chairman of Rajya Sabha, Venkaiah Naidu, had tried to broker peace between the two sides and asked them to resolve the issue amicably. Congress staged a walkout from the Lok Sabha (lower house) yesterday after Speaker Sumitra Mahajan did not allow them to raise the issue.
In the upper house, Leader of the opposition, Ghulam Nabi Azad, said Singh's "integrity and loyalty to the country had been questioned".
Singh had earlier said that he was "deeply pained and anguished by the falsehood and canards being spread to score political points in a lost cause by none less than Prime Minister Narendra Modi."
"Modi is setting a dangerous precedent by his insatiable desire to tarnish every constitutional office, including that of a former prime minister and Army chief," Singh said.
The contentious meeting that Modi referred to in his election speech was held on 6 December at Aiyar's house and attended by Pakistan's former foreign affairs minister Khurshid Mahmud Kasuri, former Indian Army chief Deepak Kapoor, former foreign minister K Natwar Singh, and former diplomats Salman Haidar, TCA Raghavan, among others, an Indian Express report found.
At least five of those present in the meeting told Express that it had nothing to do with domestic politics.