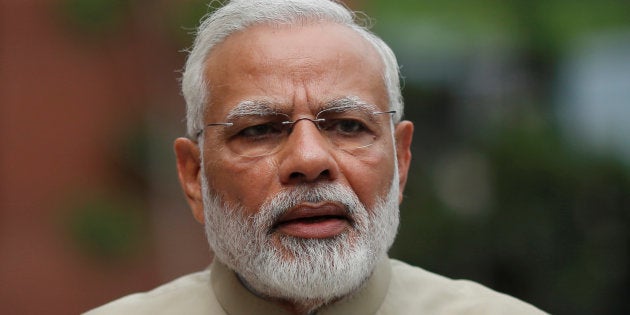 Prime Minister Narendra Modi is not too pleased with the performance of India's scientists. That's what he seems to have told top officials from related departments on Tuesday, a report in The Indian Express says, adding that he expected more revolutionary intervention from the community to eradicate problems like malnutrition.
For the public it's hard to decide if the rebuke was justified, but it's true India hasn't made any significant scientific breakthrough in several decades now. Infosys co-founder NR Narayana Murthy said the other day that the nation has made no "earth shaking" discoveries since the 1960s. His lament may have substance, but it's also true that the public only gets to hear of big scientific news — not of the many small strides that our scientists are making in areas as diverse as health, space, nuclear energy and agriculture. Or, for that matter, of the difficulties that the scientific community is having to deal with due to the State's apathy.
Did you know, for instance, that government spending on science is currently at a woeful 0.8% of India's gross domestic product (GDP)? Scientists have long demanded that this be increased to 3% of the GDP, but in vain. Frustrated by this culture of neglect, on August 9, they will be taking the protest to the streets with an 'India March For Science', following the example of the global rallies held on April 22 this year.
But what's even more worrying is the misdirected allocation of the limited funds that are available for research.
Here's another piece of news: On April 25, the Science for Equity, Empowerment and Development division of the Department of Science and Technology issued a memorandum to create a 19-member National Steering Committee for Scientific Validation and Research on Panchgavya (SVAROP).
For those not in the know, the term panchgavya refers to a substance made of the five elixirs derived from the cow — milk, ghee, curd, dung and urine — and mixed with recommended portions of other ingredients like jaggery, banana, tender coconut water and sugarcane juice to create a 'magic' potion. From health to daily utility products to agricultural produce, panchgavya is believed to have an impact on almost everything that affects human life. And this 'cowpathy', as Hindutva ideologues like to refer to 'cow science', will be studied for its scientific basis by SVAROP. The latter includes luminaries from the scientific world such as V Ramgopal Rao, the director of IIT-Delhi, alongside Bijay Bhatkar, president of Vijnana Bharati, affiliated to the Rashtriya Swayamsevak Sangh (RSS).
Welcome to India's evolving scientific temper, carried proudly into the 21st century by bodies like the Vijanana Bharati (also known as Vibha), which is reportedly soon launching an ambitious digital mentoring programme for school children to inculcate in them an interest in scientific research.
Apart from teaching young students about the regular sciences, Vibha's Science Portal will open the doors to dubious disciplines such as spiritual and Vedic sciences for them too. Because, you know, scientific education is not all about being rational and empirical; it is also about instilling patriotic feeling and national pride in the future generation of scientists.
For, while learning about the latest advancements in the world of technology, it is also important to allow our chest to swell with pride for the glorious mythical past we have left behind — those halcyon pre-historical days when gods had cosmetic surgery, members of royal families were born of IVF and aeroplanes flew about the skies of ancient India.
It was none other than PM Modi who sang these ditties to our ancestors shortly after he was elected with a landslide margin to lead the country of over a billion people. At the inauguration of a hospital in Mumbai, he related the successful implant of on elephant's head on Lord Ganesh to the superior knowledge of cosmetic surgery among the ancients. Karna, in Mahabharata, who was not born of his mother's womb, was a living example of genetic engineering thousands of years ago. The PM dropped every shining example he could to encourage new-age doctors to take a leaf out of the grand tradition they are inheritors of.
But the PM is not alone in dropping such nuggets of unknown wisdom.
Recently, a high court judge wanted the cow to be declared the national animal of India because, obviously, who but our mother deserves such an august position? That wasn't because peacocks lacked virtue. After all, the peacock didn't cohabit with the peahen to get her pregnant. The only thing that the female of the species needed were tears of the male to be able to bear its young, he added.
An education minister of a state went a step ahead, claiming that the cow is the only animal in the world that breathed oxygen in and out, a statement that was echoed by a high court judge too. Is it any wonder, then, that people in India get killed just on the suspicion of eating cow meat, but even innocuous things such as ferrying the animal from one place to another?
If you needed further proof of the cow's myriad usefulness, listen to the president of Akhil Bharatiya Gau Sewa Sangh, an outfit associated with the RSS, who said last year that dung produced by Indian cows has the power to absorb harmful radiation. To demonstrate his point, he brandished his cell phone, the back of which was liberally coated with the animal's dried excreta.
The list of such examples keeps growing, but we would be hugely amiss if we didn't draw your attention to the pedagogy followed by several schools in contemporary India, with textbooks teaching young children about the ideal dimensions of a female body, telling them that "ugly and physically challenged" girls have to pay dowry, and that working women are causing unemployment among men. Add to this roster the fact that sex education is a strict no-no among most Indian schools and that most young people in India are opposed to LGBTQ sexual identities.
In a country with such an exceptional scientific temper, the PM does have very good reason to feel upset indeed.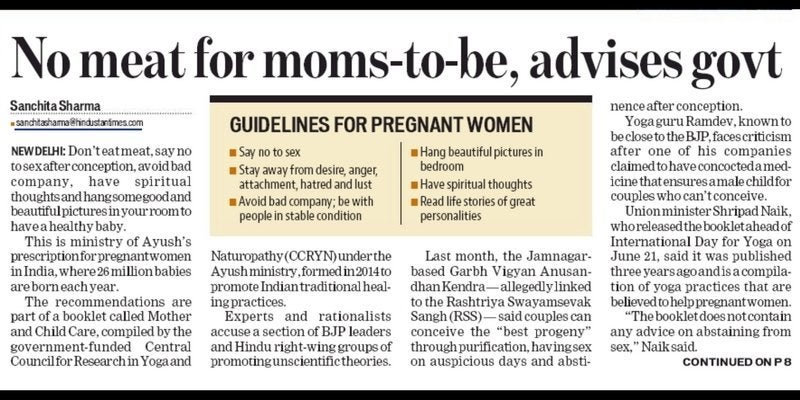 How Different Newspapers Covered The Ayush Ministry's Advice To Pregnant Women
Popular in the Community