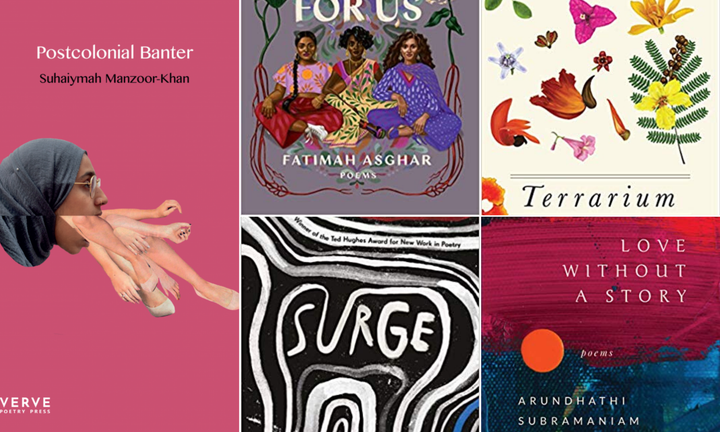 A little over a year ago, I fell in love with reading—and listening to—poetry again. Was it when I overstayed my welcome in a cafe because I was unstoppably turning the pages of Urvashi Bahuguna's Terrarium; or the first time I saw Raymond Antrobus perform—or the third; or, when watching Jay Bernard read made me ugly cry? I'm not entirely sure.
I've had the pleasure and privilege of reading these eight poets' works—oftentimes debut collections—in a publishing year that's been particularly rich for poetry. As we countdown to Christmas, and as a parting gift before 2019 comes to a close, HuffPost India is delighted to share these gems with you—be they stocking-fillers, or a little something for your own literary soul.
1. Terrarium by Urvashi Bahuguna (The (Great) Indian Poetry Collective)
Several rereads later, it's still hard to believe that this is Urvashi Bahuguna's first literary offering to, and outing in, the world—so assured is her poetic voice, so astonishingly beautiful are her verses. My copy is soiled with scribbled-margins and stained with giant teardrops—and, if asked, I would struggle to pick a favourite poem. Fittingly, a faded, dried, crisp leaf serves as a bookmark.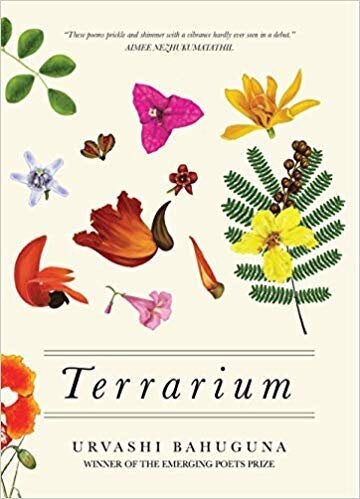 Terrarium moves from the abundant imagery of mangoes, mud and the Indian monsoons to the landscapes of other, more global locations and coordinates, making pit-stops in many latitudes and longitudes (from Ennore in Tamil Nadu to the Peter Harrison Planetarium, London) along the way. Curated in five sections, and featuring poems about gender relations, environmental disasters and mental health issues—poems of love and longing and loss—Bahuguna urges you to follow in her footsteps, from one line break to the next, as she learns "how to love this bruised and bumpy earth".
Winner of the Emerging Poets Prize (as selected by Aimee Nezhukumatathil), Terrarium is, as I've said elsewhere, terrestrial, atmospheric, oceanic.

2. Postcolonial Banter by Suhaiymah Manzoor-Khan (Verve Poetry Press)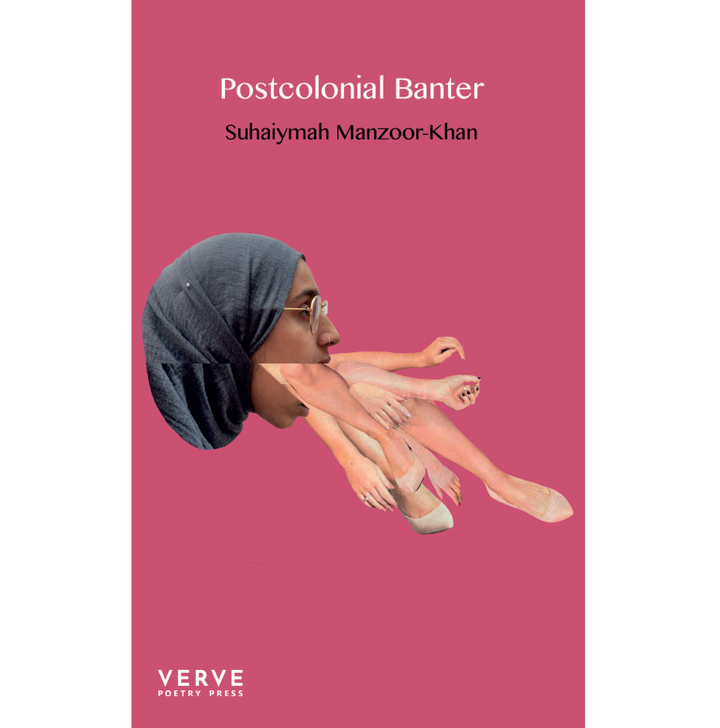 From the striking cover art to the "context boxes" she provides the reader with, from the paratexts to the text proper, and from the embodied page—which itself echoes of the spoken-word and the stage—everything expressed here is worthy of engagement and your full attention.
Written in six sections, from the directness of the opening poem—This poem is not for you—to what's perhaps my most favourite—the direction A poem that winds through Lewisham streets takes—her page poetry pulses, and is sharp and sticky with the here and now. It's a call to arms—considering and complicating as it does politics with a capital 'P'—yet it's also meditating on identity, individuality, community and solidarity.
These sentences and stanzas will smack you in the face, go straight to your gut, grip you by the throat, and stop you in your path—and we should be taking them very, very seriously.

3. Surge by Jay Bernard (Chatto & Windus)
You will have seen Surge on several prize shortlists this year—and deservedly so. It's hard to describe, wholly, and with justice, what this work means to and does to the black British archive—even as it undoes it. Born in part from London's George Padmore Institute archives, Surge is part documentary and part personal witness. It is a book that unearths and resurrects buried truths, tragedies, lives and radical histories.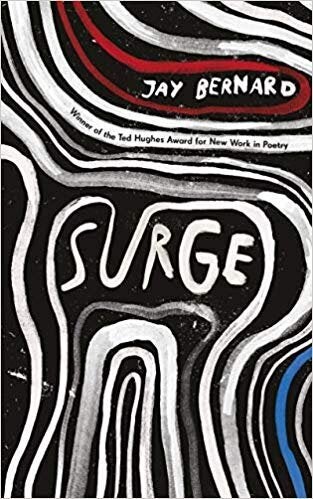 Through poetry, Bernard opens up an enquiry into the New Cross Fire (1981), and follows moments of state injustices and inequalities right up to the Grenfell fire and the Windrush scandal. A handful of poems work in pairs—+ and -, Ark and Ark II. These doubles and other spectres aside, Bernard places a mirror between national memory and the contemporary moment. With each poem, each reflection, the mirror cracks, and then shatters. Shards are everywhere: state, race, violence, rage, grief.
Opening with an author's note, leading into the fittingly-titled first poem, Arrival, interspersed with images, and with echoes of Jamaican dub poets' voices, I recommend you read this book out loud—from start to finish. Then start again at the beginning—as Bernard does here.

4. If They Come For Us by Fatimah Asghar (One World)
It's been a little over a year since I read this Pakistani-Kashmiri-American-Muslim-brown-queer poet's debut collection. I still think about it from time to time. After I turned the final page, "I wanted to rip out pages" from the book, stick it on the wall above my desk, and circulate it among strangers, I'd said. 44 poems (of which seven are titled Partition) comprise this collection, which crisscrosses continents and crucial historical events: from the British Raj to Trump's America, from 9/11 to the 2014 school attacks in Peshawar.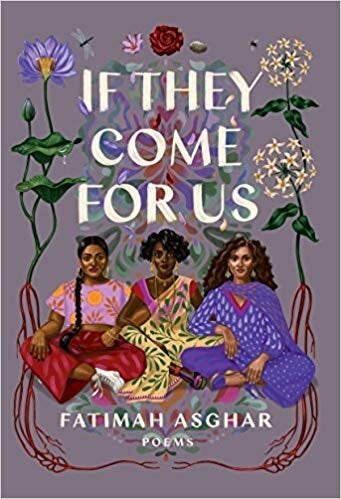 Asghar is interested in macro issues—collective memory and national history—but also in seemingly micro ones—sexuality and identity. Writer of the chapbook, After; co-creator of the Emmy-nominated web series, Brown Girls; contributor to The Good Immigrant USA; and co-editor of the anthology, Halal If You Hear Me—Asghar's poetry collection is as wide-ranging in approach and ambition as her career.
If They Come For Us is powerful, poignant, and pertinent writing that's also playful: Microaggression Bingo is formatted as a Bingo card and Map Home is a crossword puzzle complete with clues. To read her is to watch a poet at work—excavating, archiving, storytelling, and re-framing history through verse.

5. Deaf Republic by llya Kaminsky (Graywolf Press; Faber & Faber)
Before I attempt to articulate my thoughts on Kaminsky's second collection (following Dancing in Odessa), let me say at the very beginning: Deaf Republic is among my top three books of this year, in any genre. It opens in a fictional occupied territory (unknown to the reader) where, after soldiers shoot a young boy, the townspeople of Vasenka collectively decide on silence—and deafness—as an act of insurgency. (Silence aside, the citizens invent their own sign language, we're told.)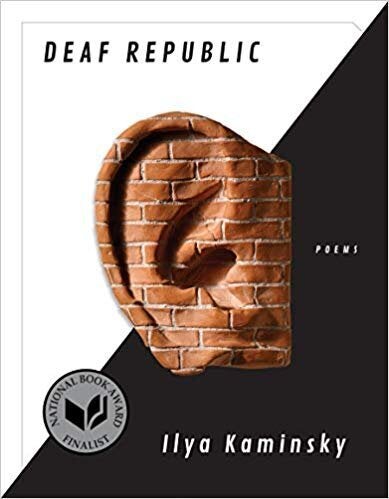 The rest of the play-poem, parable-in-poems is told in dramatic episodes in two acts—and is bookended by a pair of poems We Lived Happily During the War and In a Time of Peace. Kaminsky's poetry is as piercing, painful and prophetic as it is tender, transformative and touching. It's a love story, too, and is layered—at once both light and heavy. Images from Alfonso and Sonya's marriage, and from Momma Galya's puppet theatre, won't leave you for days afterwards.
Sample this: "Our hearing doesn't weaken, but something silent in us strengthens." If I may, it's not too soon, or a stretch, to claim that Deaf Republic a 21st century classic.

6. Love Without a Story by Arundhati Subramaniam (Westland)
Her previous volume of poetry, When God Is A Traveller, was shortlisted for the prestigious T.S. Eliot Prize. Subramaniam's new work, too, speaks of loud truths in soft whispers—symptomatic of her poetic style. The title poem doesn't exist—do not go on a chase to find it. Instead, fall for The Strange Thing About Love, the playfulness of Let Me Be Adjective, the cheekiness of "How to Read Indian Myth" (the answer is: "Read it like you would read a love story."). Bask in the beautiful nostalgia of old and lost friends, lovers, homes, seasons.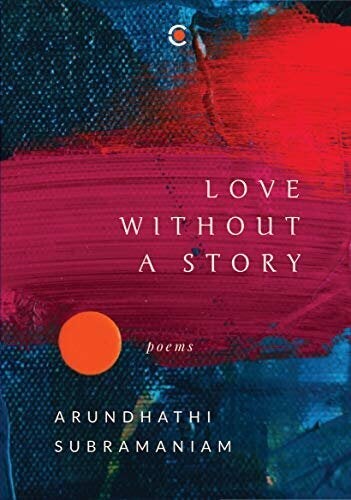 This is an intimate and quiet collection—its lyrics lying in liminal spaces. I read it in short bursts over several months—and I would've liked to see it on more shelves. For there's much here to talk back to, to think about, to seek, soak, and grow old with. These lines, from the poem The End of the World, have stayed with me: "The end of the world? / Just you and I withdrawing, love, / from this conversation."

7. The Perseverance by Raymond Antrobus (Penned in the Margins)
Earlier this year, Raymond Antrobus won the 2019 Rathbones Folio Prize for his first collection, The Perseverance—making him the first-ever poet to be awarded this cross-genre literature prize. Shortly after, and unfamiliar with his two previous chapbooks (Shapes and Disfigurements and To Sweeten Bitter), I picked up this multi-prizewinning work. This I knew from the very first poem, Echo: I was not ready for the breathtaking and devastating beauty and honesty of these words and verses.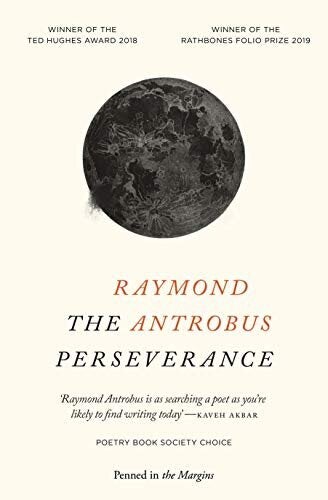 I was aware, however, that Antrobus has been a spoken-word poet for almost a decade, and so I immediately searched and watched videos of his performances online side-by-side. Soon, I was alternating between the page and stage, as it were. (I recommend you do that same.) The result was dizzying, fulfilling, moving—and I don't say this lightly—changing.
29 poems, pivoting around his mixed-heritage (Antrobus is Jamaican-British), memory, history, family, diaspora and the d/Deaf experience, and loss and language (signed and spoken), come together in this highly autobiographical collection—of which Dear Hearing World After Danez Smith is a stand-out, for me, and Two Guns in the Sky for Daniel Harris and Echo are close seconds. The Perseverance is precious; it's a poetic gift that keeps on giving.

8. A Dinner Party in the Home Counties by Reshma Ruia (Skylark Publications)
Winner of the 2019 Word Masala Debut Poet Award and co-founder of The Whole Kahani (a writers' collective of British South Asians), Ruia's first volume of poetry arrives with advance praise from Rishi Dastidar and Lemn Sissay MBE. Sliced into three sections—"Beginnings", "The Space Between", "Endings"—her style is conversational, and her sentences are sparse and deceptively simple.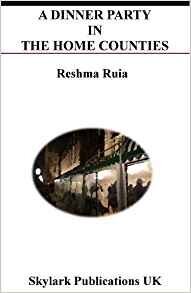 Do not be fooled. Here are poems on Brexit, immigration, deportation, partition (Brexit Blues, A Mediterranean Summer, to name-drop a few)—all heavy themes, yet written with a light touch. In the titular poem, Ruia writes: "One false move. I will be out of place." She has A Mrs Dalloway Kind of Day and A Conversation with Sylvia Plath. She invites you to listen, listen in, join these conversations.
In the space of few words, she produces meaning, and more significantly, feeling. What more can one ask of a poet?