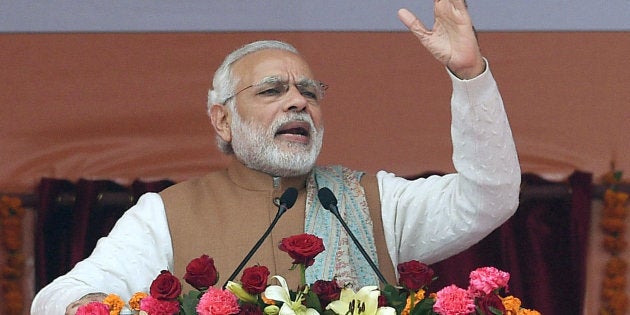 ALIGARH -- Mocking at opposition parties for joining hands fearing that BJP will get a majority in Rajya Sabha after the UP polls, Prime Minister Narendra Modi today took a dig at the SP-Congress alliance saying the BJP "storm" has forced Chief Minister Akhilesh Yadav to desperately seek the help of anything, "even a pole", to retain power.
Addressing an election rally here, he also launched a scathing attack on the SP government for "doing nothing" for development in the state, as he used his signature style of coining acronyms to assert that BJP will bring "Vikas" -- 'Vidyut' (electricity), 'Kanoon' (law and order) and 'Sadak' (roads), if voted to power in Uttar Pradesh.
Maintaining that he had come to Aligarh in 2014 as the PM candidate, Modi said "not even half this ground was filled then. But today there is a 'kesariya sagar' (saffron sea) before me...
"And when the wind is so strong, even a young leader cannot face it and seeks help of anything ...Even a pole...But this time BJP 'aandhi' (storm) is so strong that the Chief Minister fears that he might be blown off... The people of UP want change and justice."
Attacking the opposition, Modi said "we are working to save money by adopting strict measures. Will they not be angry with me and will not come together to defeat Modi? ...They feel that if they remain alone, Modi will get majority in the Rajya Sabha and make such rules that thieves, looters and the corrupt will not get any help. This is their fear."
"I am tightening the screws to teach those supporting black money a lesson," he said.
Attacking the SP government, Modi said "past governments in UP worked in such a manner that it led to the closure of famous Aligarh lock industry as they could not provide enough electricity."
He castigated the state government for "doing nothing for development" and accused it of neither checking corruption, casteism and nepotism, nor clearing the cane farmers' dues.
"But we are working day and night to ensure that every corner of India has electricity. We are making good progress. I am confident that electricity will reach every factory and household very soon," he said.
Amidst chants of "Modi-Modi", the Prime Minister said it is shameful that "youths were asked to pay bribe and bring recommendation for interviews by MLAs and Ministers. Poor had to mortgage land and assets to pay. This has to be stopped."
Observing that corrupt people were withdrawing money out of a widow's pension also, he said "the corrupt are flourishing under the current UP administration ... To stop this, we have from the Centre linked pension to Aadhaar and bank accounts. ₹ 40,000 crore of the treasury that these rats would have silently eaten, is now being saved."
On demonetisation, Modi said there was chaos amongst the corrupt after note ban was announced as they were forced to deposit the ill-gotten money in bank accounts.
"They thought Modi has not made any arrangement but they did not know that there was sufficient planning to find out details of all the money being deposited in banks... We want that this money comes to good use, for the benefit of our youth and development of our country. I am thankful to 1.2 billion people for supporting me," Modi said.
On lack of development in UP, he said, "Governments in the state in the past some years worked in such a manner that it led to closure of Aligarh lock industry because of bad state of elecric supply."
He said there was a "magic" which had led to the annual saving of ₹10,000 crore. "By introducing cheap LED bulbs, we have reduced electricity bills."
Interviews have been done away with in central government jobs for grade III and IV to check corruption, casteism, nepotism. Why can't it be done in UP?
Speaking on the law and order situation in UP, Modi asked if sisters and daughters can move out after sunset in UP and asked should this goondaism not stop. He appealed to the electorate to root out the leaders giving protection to criminals.
Maintaining that there was a "strange competition" between Mayawati and Akhilesh with both wanting to leave each other behind, the Prime Minister said "when Mayawati was in power, UP stood first in the country in three major crimes. But the youth (Akhilesh) who came later took the state ahead in five crimes."
On a single day, 7650 crimes, 24 rapes, 21 rape attempts, 13 murders, 33 kidnappings, 19 riots and 136 thefts happen in UP, he said, adding "your presence in large numbers prove that ... This 'aandhi' (storm) will uproot those who have indulged in corruption".
Turning to the youth, the Prime Minister said "I want to assure you that a decision has been taken that corruption will not be allowed when they seek jobs...
"Interviews have been done away with in central government jobs for grade III and IV to check corruption, casteism, nepotism. Why can't it be done in UP?"
"Tell me, have you all not faced injustice and discrimination? Let's take jobs for instance; does one have to belong to a certain caste to get a job? Or is it necessary know someone who is connected politically to find a job? Is this what our Constitution says?
"You all are facing this because of the current government in UP. They have failed you all. We will do our best to ensure that every young person in UP gets justice in getting job when BJP comes to power. It will make legal provisions to check corruption," he said.
Modi said those doing politics in the name of Ambedkar have been troubled when the digital app was named after Bhimrao Ambedkar was launched.
"We launched the BHIM app on Ambedkar's name. People questioned us, saying what right does Narendra Modi have to use Ambedkar's name? I want to remind them that he was the economist under whom the Reserve Bank of India was formed. He was a great man and his contributions will never be forgotten.
"I don't care if people are unhappy, but I will always honour him and hold him in highest regard," he said, citing various works being done by his government to honour Ambedkar.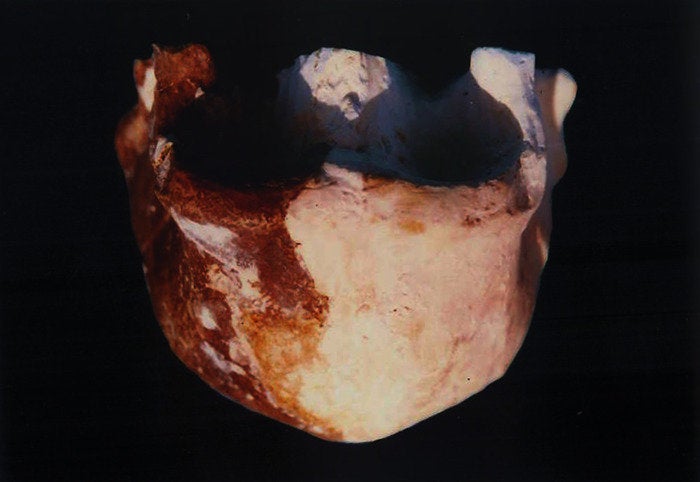 'Indica: A Deep Natural History Of The Indian Subcontinent' Is More Compelling Than Sci-Fi