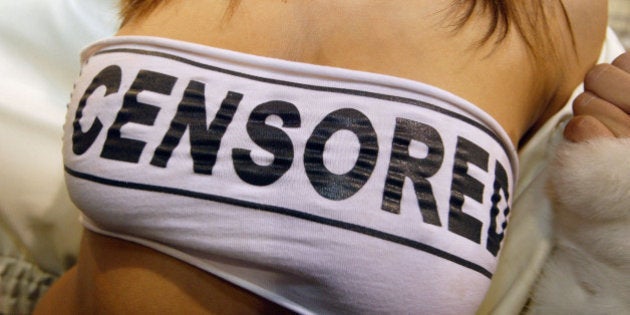 India's government has begun a massive and unprecedented ban on pornographic websites, supplying internet companies with a list of more than 850 websites that need to be denied access to.
"We have written to the ISPs (internet service providers) to restrict free and open access to 857 websites. This direction is based on the observations made by the honourable Supreme Court on 10 July and using section 79 (3b) of the IT Act read with Article 19 (2) of the Indian constitution," telecom ministry spokesperson N.N. Kaul told HuffPost India.
Section 79(3)(b) of the IT Act requires intermediaries to take down or block access to content when demanded by the government, while Article 19 (2) of the constitution imposes "reasonable restrictions" on freedom of speech.
According to the home ministry letter, the SC had made an adverse remark about the "lethargic approach to the issue" by the home ministry. Following this, the Rajnath Singh-headed ministry requested the telecom ministry to expedite a move in this direction.
In early July, the Supreme Court declined to pass an interim order during a petition brought by advocate Kamlesh Vashwani to block pornographic websites in India. Chief Justice of India (CJI) H.L. Dattu observed orally in court, during lawyers' arguments, that it would be a violation of Article 21 (right to personal liberty) to ban anyone over 18 years of age from "watching it within the four walls of my room".
But the court also took a "dim view of the lethargy" with which the home ministry was acting, asking additional solicitor general Pinky Anand why the home ministry was not taking any action on the petitioner's contentions. However the SC made these observations in the light of the home ministry not doing anything to curb access to child pornography websites.
Additional Solicitor General, Pinky Anand said that the government's moves were merely about "following up" on the Supreme Court's observations and there was thus no question of over-zealousness. "There are laws that over-ride the right to watch pornography. These sites that are under scrutiny have been chosen with some merit," she told HuffPost India. If the sites were acting as gateways to the child pornography and played a role in obtrusively displaying ads to internet users not interest in porn, then they certainly needed to banned, she added.
The list of 857 sites on the block included some of the largest international porn sites such as YouPorn and Pornhub as well pirate sites such as kickass.to, which along with porn, also hosts mainstream Hollywood and Bollywood movies.
The government can also order the block of any website under Section 69A of the Indian IT Act, which was upheld by the Supreme Court as constitutional even as it struck down the even more draconian Section 66A earlier this year.
This is what Section 69A of the Information Technology Act grants:
Power to issue directions for blocking for public access of any information through any computer resource.- (1) Where the Central Government or any of its officer specially authorized by it in this behalf is satisfied that it is necessary or expedient so to do in the interest of sovereignty and integrity of India, defense of India, security of the State, friendly relations with foreign states or public order or for preventing incitement to the commission of any cognizable offence relating to above, it may subject to the provisions of sub-sections (2) for reasons to be recorded in writing, by order direct any agency of the Government or intermediary to block access by the public or cause to be blocked for access by public any information generated, transmitted, received, stored or hosted in any computer resource.

(2) The procedure and safeguards subject to which such blocking for access by the public may be carried out shall be such as may be prescribed.

(3) The intermediary who fails to comply with the direction issued under sub-section (1) shall be punished with an imprisonment for a term which may extend to seven years and also be liable to fine.