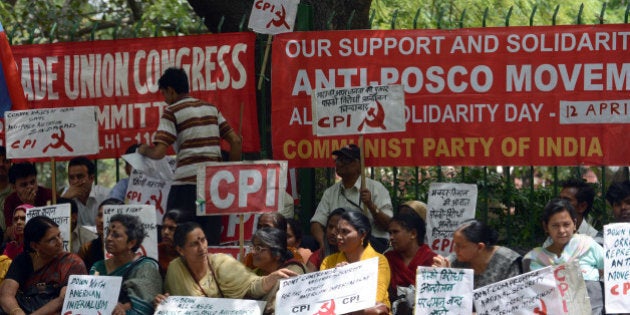 NEW DELHI/BHUBANESHWAR—South Korean steelmaker POSCO could scrap plans for a $12 billion project it agreed to set up in India a decade ago, after a new law made it costlier to source iron ore for the plant, a company spokesman told Reuters.
The U.S.-listed shares of POSCO fell as much as 3.3 percent to their lowest in more than six and a half years after the report.
The 2005 project to set up a steel plant in Odisha state was billed as India's biggest foreign direct investment at the time, but it has encountered a series of delays.
The company waited almost a decade to acquire land for the proposed 12 million-tonnes-a-year steel plant due to opposition from local tribal groups.
A mining law enacted in March by India means the company would now also have to buy a mining license in an auction. Originally, the Odisha government had promised to help the company obtain the license for free.
That could raise costs for the company at a time when a global steel glut is depressing prices.
"We will have to see how our costs will be, whether it will be viable," POSCO's India spokesman I. G. Lee said. "We will take a final call only after auction details come."
Asked whether POSCO could skip the auction and withdraw from the Odisha project, Lee said: "Yes".
POSCO and ArcelorMittal, the world's top steelmaker, have scrapped a number of other projects in India over the past two years, citing difficulties in acquiring land and mines.
Another withdrawal by POSCO, the No. 6 steel firm, could dent Prime Minister Narendra Modi's "Make in India" manufacturing push.
Odisha's mines minister, Prafulla Kumar Mallik, said his government remained keen to help POSCO, but had not heard from the company.
"We had requested the central government for a concession for POSCO but the central government wanted to go for an auction," Mallik said. "It is now for POSCO to decide if they want to participate in the auction."
The federal steel and mines minister, Narendra Singh Tomar, has repeatedly ruled out making an exception for POSCO.
Since the mining law was announced in March, POSCO has cut a number of jobs in Odisha, given up real estate and not rebuilt temporary site offices that were burned down by people protesting against land acquisition by the company.
"We downsized in April because there is no work," Lee said.
Instead, POSCO is importing steel from South Korea for its expanding network of processing centres in India.
It will raise its processing capacity by about a fifth to 680,000 tonnes through a new plant in Modi's home state of Gujarat next year, Lee said.
A free-trade agreement between the countries means South Korean companies pay little or no tax on steel shipped to India.