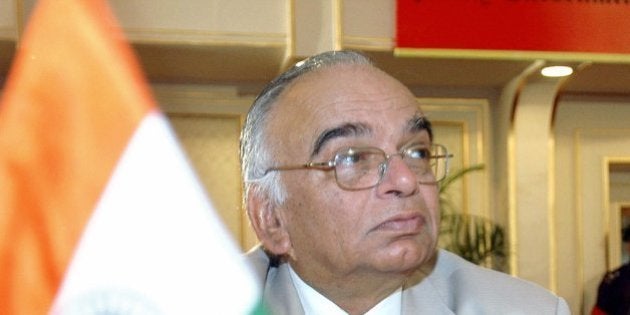 Pradip Baijal, former chairman of the Telecom Regulatory Authority of India, has alleged in a self-published book that he was targeted by the Central Bureau of Investigation in the 2G scam because he did not implicate former minister Arun Shourie and industrialist Ratan Tata.
The scam involved wireless spectrum licenses awarded in 2008 at a price that was set in 2001. This process favoured certain companies and led to a anti-corruption movement in 2011. Senior leaders were either implicated for supporting the process or looking the other way. Andimuthu Raja, who was overseeing the telecom ministry at the time, was sent to jail and is currently out on bail. A report by the government auditor, the Comptroller and Auditor General (CAG) estimated that the government had lost Rs 1.8 trillion by not holding an auction to sell licenses.
In his book 'The Complete Story of Indian Reforms: 2G, Power and Private Enterprise - A Practitioner's Diary', Baijal says "The actions of Dayanidhi Maran/(A) Raja/coal minister were approved by him (Manmohan Singh), and he is equally culpable for all the losses computed by the CAG."
Baijal further alleges that Singh warned him that he would come to harm if he did not cooperate with Maran. Maran told him not to submit recommendations of the previous Atal Behari Vajpayee-led NDA government on telecom licensing. Singh asked him to do as Maran said, alleges Baijal, who was the TRAI chairman at the time.
Baijal claims Maran told him that he was "Prime Minister, Telecom and would take all decisions on telecom." He warned that "I would come to severe harm if I did not comply with his instructions. He was proved right, since I did face severe hardships later," says Baijal. He alleges that Singh and Maran were working in tandem with cabinet colleagues P Chidambaram and Kapil Sibal so that the blame fell on Shourie and Tata and not on the government.
Baijal says he refused to go along, and was then investigated for several years by the CBI. "UPA II government ruined my reputation to divert corruption charges against the coalition government." The CBI "harasses upright civil servants and political opponents of the government in power," he says in the book. The investigation against him was closed after no evidence of wrongdoing was found.