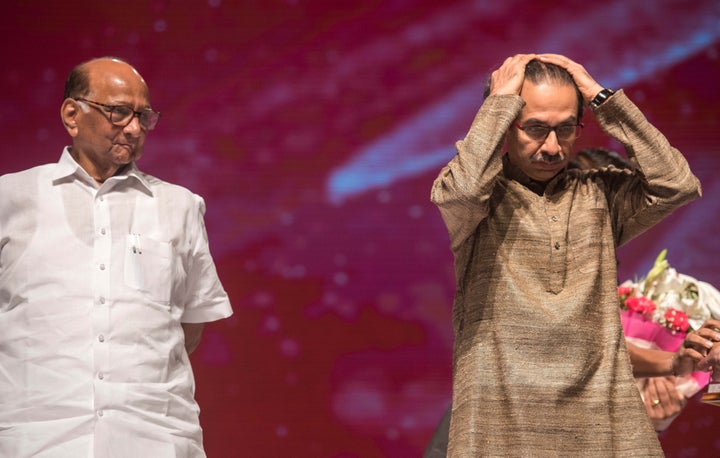 NAGPUR, Maharashtra: India's richest state may be set for a short spell of president's rule as four major political parties rush around trying to cobble together the numbers to form the state government. Sharad Pawar's NCP, the third party invited by Maharashtra governor Bhagat Singh Koshyari in a week to stake claim to forming a government, only has time till 8.30 pm on Tuesday.
Koshyari has recommended President's rule even before the deadline given to NCP, to show its willingness to form the government, ends.
"The Governor of Maharashtra Shri Bhagat Singh Koshiyari, having been satisfied that as the government of the state of Maharashtra can not be carried on in accordance with the Constitution, has today submitted a report as contemplated by the provisions of Art.356 of the Constitution," said a press release issued by Maharashtra Raj Bhavan.
Article 356 of the Indian Constitution deals with the President's rule in states.
Shiv Sena leaders had already termed the 24 hours given to it as "inadequate". The governor also refused Shiv Sena leader Aaditya Thackeray's request to extend the time given to his party.
The party's MLAs had already begun celebrating and distributing sweets at the Hotel Retreat in Mumbai, where they have been holed up, by the time Aaditya Thackeray and other leaders left to meet the governor on Monday. Multiple MLAs told this reporter confidently that both the Congress and NCP had guaranteed support to the party to form a government.
What followed was an hour of utter confusion as the Shiv Sena insisted it had the numbers but couldn't produce letters from Congress and NCP to back the claim.
On Monday night, Congress general secretary K.C.Venugopal issued a statement which said that his party would continue discussions with Sharad Pawar's NCP over government formation.
A visibly dejected Aaditya Thackeray told reporters outside the governor's house that the Shiv Sena's claim of government formation has not been rejected.
"He has refused to grant us any more time but our claim for government formation still stands legally," he said.
After that, Koshyari invited NCP, which won 54 seats in the recent assembly election, to stake its claim.
On Tuesday, Congress and NCP leaders pointed fingers at each other for the impasse.
"The Congress Working Committee deliberated on the situation for over three hours on Monday after which Sonia Gandhi spoke with Sharad Pawar. Pawar told her that Congress-NCP should first discuss among themselves and then involve Shiv Sena. Congress was ready but there could not be any decision last evening because of what Pawar told us. Pawar has again postponed a meeting with our senior leaders. His discussion with us yesterday was inconclusive. NCP was ready to go with Shiv Sena but Congress was still deliberating on it," Manikrao Thakre, senior Congress leader from Maharashtra, told reporters in Mumbai.
Sharad Pawar's nephew Ajit, however, claimed that Pawar was waiting for Congress's letter of support for Shiv Sena all of Monday.
"We could not have given our letter of support without Congress doing so. We are around 100 MLAs (Congress-NCP). Until 7.30 pm on Monday, we were waiting for Congress's letter," Ajit Pawar said.
NCP sources also told HuffPost India that the governor only giving 24 hours to Shiv Sena was "problematic" because many Congress and NCP MLAs were out of the state.
"There was no chance we could have obtained signatures of all MLAs needed to present before the governor. Pawar sahab had asked Uddhav (Thackeray) to ask for more time to the governor but he waited till evening. He should have sent someone to meet the governor in the morning. Also, you cannot have deliberations on government formation in half a day. It requires time. The governor gave BJP 72 hours but he has given only 24 hours to Shiv Sena and NCP. It is clearly unfair. All fingers are crossed now," an NCP leader told HuffPost India on condition of anonymity.
Sushil Kumar Shinde, former Maharashtra CM and senior Congress leader, was confident that even if president's rule is imposed, it would not impede negotiations for government formation.
"It can be lifted the moment the governor is presented with numbers," he said.
Pawar is chairing an NCP meet in Mumbai and Aaditya Thackeray is slated to meet Shiv Sena MLAs at Hotel Retreat.
According to an Indian Express report on Tuesday, most central Congress leaders, including former party president Rahul Gandhi, were against supporting Shiv Sena.
"We cannot compromise on our ideology…it is a fact that the state leaders are demanding…and most of the leaders here are not in favor," a senior Congress leader told the Express.
To be sure, even if the Congress, NCP and Shiv Sena manage to put aside their differences, the resulting alliance will have a tough time finding common ground to rule the state. The Shiv Sena has often mocked the Congress and NCP for their "secular" and "progressive" credentials, respectively.
If the NCP is not able to show it has the support of 145 MLAs by 8.30 pm, the governor is unlikely to invite the Congress, which is the fourth largest party with 44 MLAs. In that scenario, president's rule will be imposed in the state by Tuesday night.