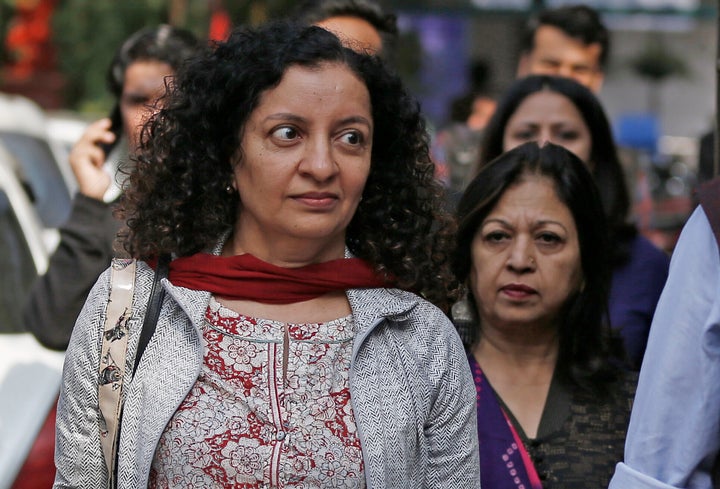 Journalist Priya Ramani told a Delhi court on Friday that she spoke the truth in her tweets in October 2018 where she accused union minister MJ Akbar of sexual harassment, and that his defamation complaint against her was "false and baseless".
"I spoke the truth. My tweet was not malafide, in bad faith, deeply offensive, maligning and spun out of lies," Ramani told court according to Bar and Bench. Ramani was deposing before the trial court in the defamation case filed by former BJP minister and journalist Akbar after she accused him of sexual harassment.
"It is false that Mr Akbar is a perfect gentleman holding a good reputation in society," Ramani told the court and maintained that it was not true that Akbar's reputation was damaged because of her tweets.
Ramani said that Akbar was deliberately singling out her tweets.
Ramani added that she did not question Akbar's reputation as a writer. She clarified that her tweets were related to "being sexually harrassed and his conduct as an editor of a daily newspaper."
Ramani told the court that Akbar's witnesses — Sunil Gujral, Joyeeta Basu, Veenu Sandal, Habib Rehman and Tapan Chaki — were motivated witnesses because they were "confidants" of Akbar.
Ramani had, in April 2019, pleaded "not guilty" in the case as a Delhi court framed defamation charges against her in the case and was granted bail. Akbar filed a defamation case against Ramani after she, and many others, accused him of sexual harassment during the #MeToo movement in India in October last year.
Meanwhile, Akbar, during cross examination in the case in May 2019, had denied all allegations made by Ramani. During questioning by Ramani's lawyer Rebecca John Akbar had denied meeting Ramani for a job interview in a hotel room and aspects of the incident which Ramani had detailed in a 2017 article in Vogue India.
Akbar also denied reading tweets by Kadambari Wade, Shutapa Paul and Shuma Raha who had also recounted incidents of harassment with him.
Akbar admitted that Majlie de Puy Kamp, another woman who accused him of sexual harassment, had worked as an intern at The Asian Agein 2006-2007, but denied that he had read the HuffPost India article in which she accused him of harassment.
While Ramani had not named Akbar in her initial story, where she wrote "Turns out you were as talented a predator as you were a writer. It was more date, less interview. You offered me a drink from the mini bar (I refused, you drank vodka), we sat on a small table for two that overlooked the Queen's Necklace (how romantic!) and you sang me old Hindi songs after inquiring after my musical preferences. You thought you were irresistible."
Several other women accused Akbar of sexual harassment following Ramani's tweet. Akbar, who was an Minister of State in the BJP government, had to resign from his post. However, he has maintained that all the allegations against him were false.