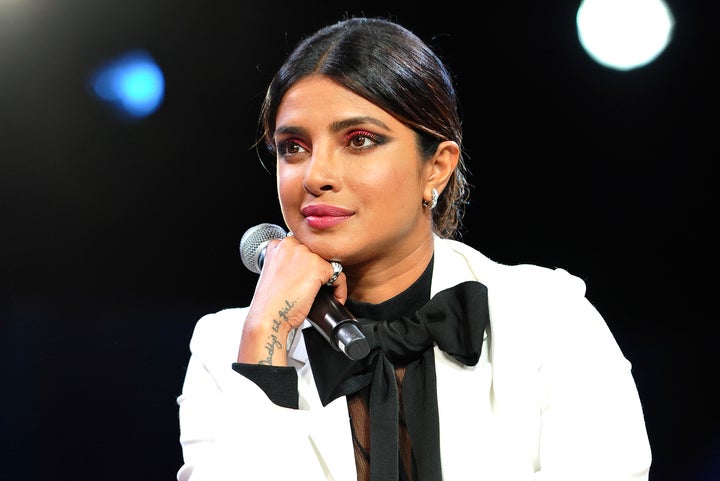 Actor Priyanka Chopra has been getting a lot of hate on social media over her response to a Pakistani woman who criticised her for a tweet after the Balakot strike, at a Beautycon event in Los Angeles.
What happened?
The audience member, Ayesha Malik, questioned the actor's role as a United Nations Goodwill ambassador in light of her 26 February tweet where she congratulated the Indian Air Force after the Balakot strike in Pakistan.
"So it was kind of hard hearing you talk about humanity, because as your neighbour, a Pakistani, I know you're a bit of a hypocrite," the woman can be heard saying in a video of the incident. "Because you tweeted on 26 February 'Jai Hind #IndianArmedForces'. You are a UNICEF ambassador for peace and you are encouraging nuclear war against Pakistan. There is no winner in this."
"As a Pakistani, millions of people like me have supported you in your business...," she can be heard saying before the mic is taken away from her.
What Chopra said
Chopra, in the video, can be heard beginning her reply with, "Whenever you are done venting!"
"I have many, many friends from Pakistan and I am from India. War is not something I'm really fond of but I am patriotic, so I'm sorry if I hurt sentiments to people who do love me and have loved me," she responded, according to PTI.
"But I think that all of us have a, sort of, middle ground that we all have to walk. Just like you probably do as well. The way that you came at me right now... girl, don't yell. We're all here for love," she added.
Malik says Chopra 'gaslit' her
In a tweet later, Malik said, "Hi, I'm the girl that "yelled" at Chopra. It was hard listening to her say, "we should be neighbours and love each other"—swing that advice over to your PM. Both India and Pakistan were in danger. And instead she tweeted out in favour for nuclear war."
Twitter hasn't responded kindly to the mic being snatched away from Malik, as well as Chopra's response.
Other controversies
The incident is the latest in a series of controversies faced by Chopra over the years.
In 2016, the actor was accused of being insensitive to the refugee crisis and ignoring her own privilege after she appeared on the Indian edition of Conde Nast Traveler magazine, wearing a t-shirt that struck off the words "refugee," "immigrant" and "outsider" and ended with "traveller". She apologised for that as well.
In 2017, she was asked about endorsing skin lightening creams in the past — at a time when she was often highlighting her experience as a brown person living in the US — but she did not quite offer an apology for contributing to India's problematic obsession with skin colour.
Chopra received backlash for using prosthetics and VFX to physically change her appearance to look like Manipuri boxer Mary Kom in the 2014 biopic.