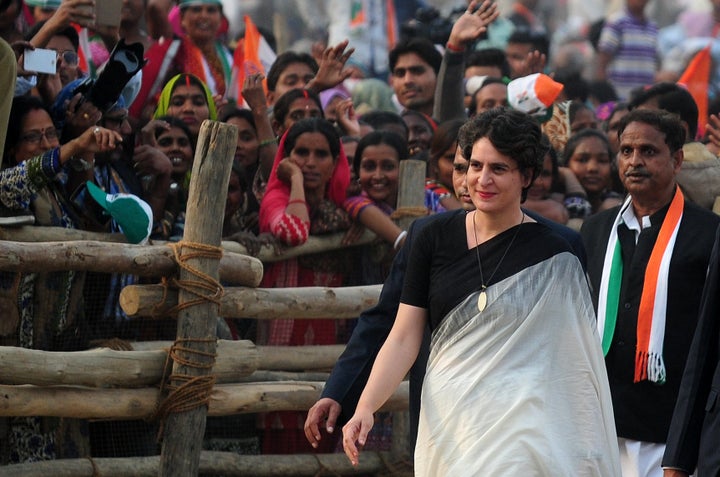 It's not easy being a female politician in India (or just anywhere). With Priyanka Gandhi Vadra's plunge into active politics, male politicians are making a beeline to take sexist digs at her.
While Bharatiya Janata Party (BJP) leaders are trying to berate the Congress, they are, in the process, making misogynist remarks against Priyanka Gandhi.
Much of the comments have reduced Priyanka Gandhi just to her physical appearance.
Senior BJP leader Kailash Vijayvargiya took a swipe at Congress for Priyanka Gandhi's entry, saying the party was fielding "chocolaty" faces in Lok Sabha polls as it has a dearth of strong leaders.
On 23 January, Priyanka Gandhi was appointed the Congress general secretary for Uttar Pradesh East, marking her official entry into active politics.
Bihar deputy chief minister and senior BJP leader Sushil Kumar Modi was quoted as saying by IANS, "An election is neither a wrestling match, nor a beauty contest, nor is it a competition of some other type."
Another senior BJP leader and Bihar Minister Vinod Narain Jha also courted controversy for his remarks on Priyanka Gandhi, forcing his party to distance itself from him.
"Except for being beautiful, I see no quality that Priyanka Gandhi Vadra may be credited with. Nature has showered its bounty on her. But the Congress should remember that beauty does not garner votes. She is also a novice and her husband faces serious corruption charges," Jha had said.
His comment was met with disapproval from Chief Minister Nitish Kumar's JD(U) and the Congress-RJD combine demanded his sacking, accusing him of having displayed a "perverse" attitude towards women.
Sexism cuts across party lines
In 2017, when BJP's Vinay Katiyar had said there were "more beautiful women star campaigners than Priyanka Gandhi," she had laughed it off saying it exposed the BJP's mindset.
However, the Congress has not been better as it has been vociferously defending Priyanka Gandhi's entry into politics.
Madhya Pradesh minister Sajjan Singh Verma responded to Vijayvargiya's comments by taking on another woman — Hema Malini.
India Today quoted him as saying, "It is BJP's bad luck that they do not have someone as beautiful as Priyanka Gandhi in their party. They only have khurdure (ugly, rough) faces. They have one Hema Malini and they keep using her to do classical dance across the country to earn votes."
The mud-slinging over Priyanka Gandhi has yet again put the spotlight on the inherent sexism in Indian politics. Politicians have for years made berating remarks against women and have used patriarchal notions of "manhood" to criticise each other.
Congress president Rahul Gandhi was recently called out on Twitter for his dig at Prime Minister Narendra Modi, saying Modi got "a woman" to defend him in Parliament over Rafale deal. Gandhi was referring to Defence Minister Nirmala Sitharaman.
Other female politicians, including former Rajasthan Chief Minister Vasundhara Raje and Union Minister Smriti Irani, have also borne the brunt of such misogynist male leaders.
In 2012, Congress' Sanjay Nirupam had said about Irani, "Aap to TV pe thumke lagati thi, aaj chunavi visleshak ban gayi".