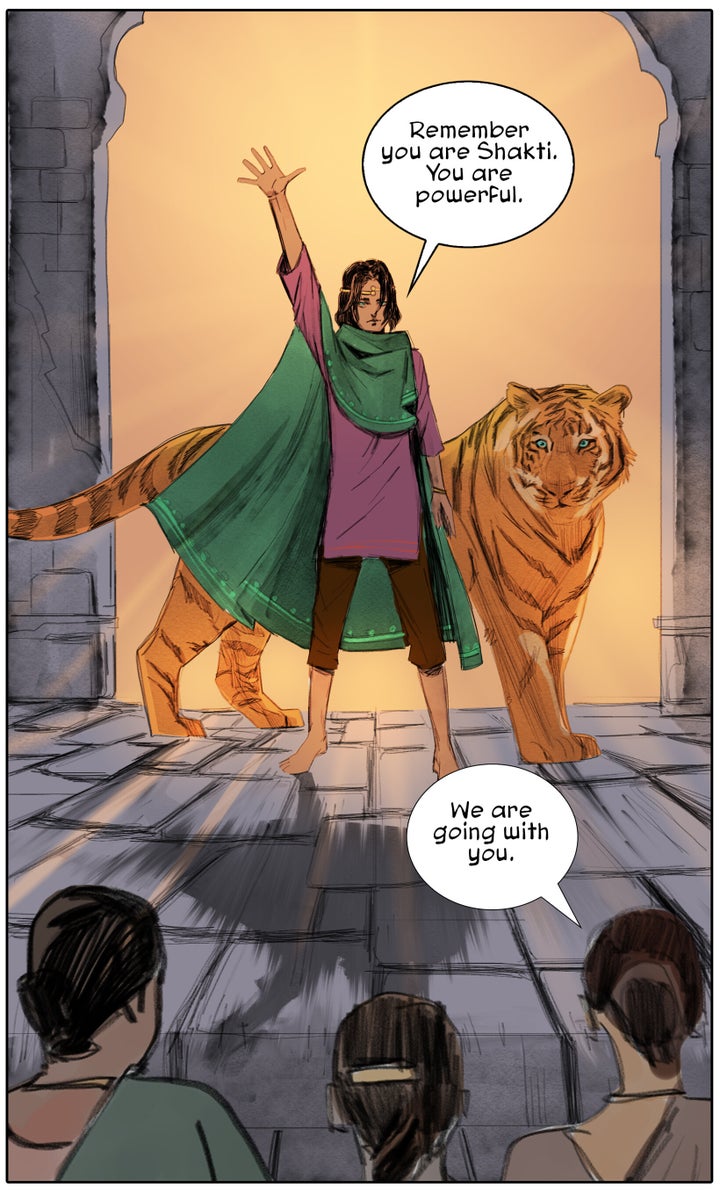 She is India's first woman comic book superhero, eschewing tights for a sari or salwar-kameez and confidently sitting astride a large Bengal tiger. She also happens to be a gang-rape survivor, who turns her trauma into a superpower.
The character of Priya is path-breaking in many ways. She starts her journey as a simple Indian village girl and goes on to fight the demons of rape, acid attacks, and, most recently, teenage sex-trafficking across three critically acclaimed graphic novels. But if you're expecting Kali-inspired beheadings and gory vengeance sequences, you might be disappointed.
The plots of the three books all possess one critical layer of nuance: they refuse to settle into the good vs. evil dichotomy of most other superhero stories. Priya's modus operandi is different in that she not only strikes down the bad guys, but also acknowledges the sociocultural system that creates them. And here's another first: Priya was one of the first comic books in India to use augmented reality; the stories well and truly come to life when one you scan the cover and pages with the Artivive app.
Priya debuted 2014's Priya's Shakti, which was published against the backdrop of the December 2012 Delhi gang rape. In this origin story we are introduced to Priya as a young woman who is shunned and shamed after her sexual assault. In despair she turns to the gods for help.
While Lord Shiva wants to punish humankind for turning into "degenerates" by revoking their reproductive capabilities, Goddess Parvati has another idea: she sends Priya on a mission to save the world by fixing the deeply patriarchal societal norms that lead to violence against women.Then, in Priya's Mirror (2016), she joins hands with acid attack survivors to fight the demon-king Ahankar and spread a message of body positivity.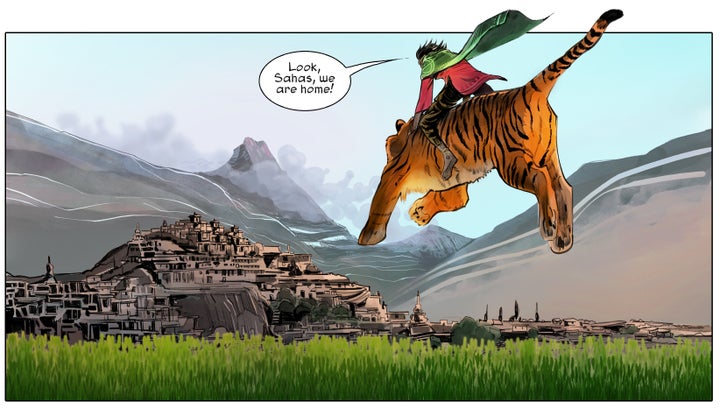 In the 2019 installment of the series, Priya and the Lost Girls, she returns to her village to get to the bottom of the disappearances of young women, including her sister Laxmi. She learns they have been taken to an underground brothel city, which is ruled by a demon called 'Rahu' who gets his power from controlling the minds and bodies of women. It is up to Priya to free the women from his spell, and to step in when village-folk shun them.
Priya is more social justice warrior than bloodthirsty crusader—but that doesn't stop her from being a total badass as she dives into volcanic mountains with the flying tiger she has tamed as a pet, to defeat mythical monsters by smearing them with her divine blood.
"Priya is not your typical superhero," says filmmaker Ram Devineni, producer and creator of the Priya series. "Although she rides a tiger, her main strength is her power of persuasion."
Playwright Dipti Mehta, who spent considerable time in Mumbai's red-light districts to conduct research for her award-winning one-woman show, Honour, was roped in to co-write the third story. Ruchira Gupta, the founder of Apne Aap Women Worldwide—one of the world's leading NGOs supporting at-risk girls and women in India and the US—was also on the squad and helped lay the groundwork for this tale.
"In my years of research, I found to my horror that a smooth supply chain existed from villages in India and Nepal to the brothels of Mumbai, Delhi, Kolkata, Patna. These customers would pay as little as thirty cents per rape, contributing to what is a multi-billion-dollar industry," Gupta explains.
"These customers would pay as little as thirty cents per rape, contributing to what is a multi-billion-dollar industry,""
A typical scenario, she says, would have a 'procurer' offering an impoverished farmer as little as $100 for his 13-year-old daughter. Clusters of such girls are then smuggled across the border. Confined in mud huts and given nothing but plastic sheets for a few days, they are starved and beaten, and then taken to transporters who hand them over to pimps in cities. The younger the girl, the higher the price she commands. The daily routine, which may continue for five years or more, often includes staying locked in a small room all day and then being served up to 10 to 15 customers per night.

In January 2017, Devineni spent some time in Kolkata's red-light district, Sonagachi. There he met scores of sex trafficking survivors, and knew he wanted to dedicate a Priya book to the issue.
The storyline depicts several aspects of human trafficking in India, including how women are coerced into sex work and then cannot see a way out. "Once absorbed by the system, sex workers are conditioned to believe certain things—for example, they start sympathising with the oppressors, they start to resign themselves to this life, and feeling that this is the only place for them in the world. They start to accept the trauma as a fact of life," says Mehta.
"The storyline depicts several aspects of human trafficking in India, including how women are coerced into sex work and then cannot see a way out."
A recurring theme in the three books is the emphasis on the systemic nature of violence against women. Priya and the Lost Girls attempts to explain that sex workers who were trafficked often stay only because they feel they would never be accepted into 'civilised' society. "In general, women are blamed for everything bad that happens to them. Similarly, people want to wash their hands off all responsibility for contributing to an oppressive system that leads to the trafficking and exploitation of women. They find it easier to blame the woman for getting into sex work. It's easier to think she is dirty and immoral instead of accepting that her 'choice' is a product of a patriarchal society," says Dipti.
Gupta knows only too well that the rescue operation is merely half the battle won for the women. Another agonizing prospect - re-initiation into every aspect of public and private life with a truly equal and dignified status, which entails getting equal access to education, jobs, housing, etc. - still looms large.
"What I appreciated the most in the story was that the struggle for freedom did not end with coming out of the brothel, but with challenging the system - in which both men and women were shown to be conditioned into patriarchy," she says.
"Moreover, everything in society is so sexual—right from advertising to cinema. So, sensitising them young is key."
While the comic book uses rather 'proper' language, it does not hold back from introducing hard-realities to its reader base of mainly young people, aged 13 years and above.
"Traffickers mainly target kids between five and 13 years old. We might be trying to protect our children and their 'innocence' by shielding them from issues like this, but we're only putting them in harm's way by doing so. Moreover, everything in society is so sexual—right from advertising to cinema. So, sensitising them young is key. I personally have already started talking to my five-and-a-half-year-old daughter about these things," says Mehta.
To suit the sensibilities of that demographic, however, Mehta has kept the narrative realistic and fantastical in equal parts.
That way, it remains educational but the fact that it's mythical softens the blow. "Instead of portraying the main antagonist, Rahu, as a man, we made him a monster. We stayed in the domain of story and myth, rather than it being set in reality," Mehta explains.
The series has amassed over 500,000 downloads and is available in English, Spanish, Italian, Portuguese and Hindi. Originally funded by the Tribeca Film Institute Media Fund from the Ford Foundation, and the World Bank, the third edition was developed during the Merriweather District's Artist-In-Residency program, located in Columbia, MD. Rattapallax, a literary publishing house and film production company based in New York City and New Delhi, is producing the project.
"I learned that most people do not want to talk about these topics. Rape, acid attacks and other gender-based violence issues are tough to talk about. But, structuring them around a superhero and in a comic book makes them accessible. That was the big breakthrough. Also, after the horrible bus gang-rape, there was a lot of focus in India about perpetrators and victims. But, there was very little being discussed about how society treats survivors and the burden of shame they put on women. I think the comic book helped start a discussion about this," says Devineni.
The comic will be released on Tuesday during the annual international campaign, 16 Days of Activism Against Gender-Based Violence, from 25 November to 10 December. It will also be launched at Sheroes' Hangout in Agra on November 30 and at the Merriweather Art District in Columbia on December 7.