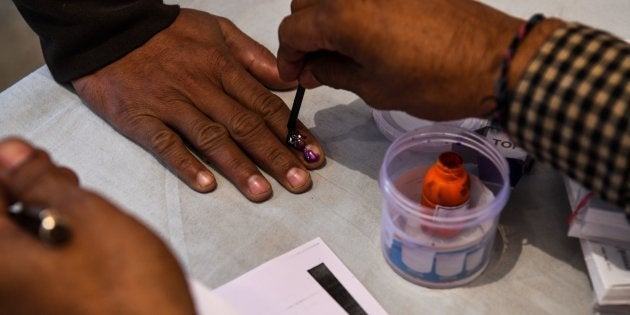 Several voters in Telangana protested on Friday after they reached their polling booths to find that their names were missing from the electoral rolls.
Security researcher Srinivas Kodali, who was also affected, tweeted a video of voters in Hyderabad complaining about being unable to vote:
Many others, including badminton star Jwala Gutta, have taken to Twitter to express their disappointment with the Election Commission of India (ECI), asking #WhereIsMyVote.
Gutta also shared a video in which she told doubters that she had checked her name on the electoral rolls three weeks ago, but still found it missing on polling day.
The development has revived persistent concerns that the Election Commission of India may have removed millions of legitimate voters from state election rolls as part of the controversial 2015 National Electoral Roll Purification and Authentication Programme (NERPAP).
In November this year, HuffPost India reported on how the ECI and UIDAI sought to use Aadhaar-linked biometric authentication, and unproved algorithms, to toy with the most fundamental right of any citizen in a democracy—the right to vote.
The documents show how Aadhaar-related technology, particularly data-sorting algorithms, have permeated some of the most fundamental aspects of civic life in India without any public discussion about its efficacy, or the risks involved. Rather than create transparency and accountability, the UIDAI's software has had the opposite effect—where senior government officers defer their judgement to software which they barely understand.
The project, as HuffPost India reported at the time, was field-tested in Andhra Pradesh and Telangana.
In September, election officials admitted that a "new software" could have played a role in the elimination of 2.2 million voters from Telangana's electoral rolls.
"A new software has been put in place as well and there could be other reasons also behind the deletion of names," Telangana chief electoral officer Rajat Kumar told a press conference, as reported by Mint, in September this year. "There are people living here who have chosen to exercise their voting rights in the neighbouring state of Andhra Pradesh. There could be multiple reasons."
In Andhra Pradesh, a pilot exercise limited to about 20,000 voters in 15 polling stations resulted in claims that 42% of electors had either shifted residences or did not answer their door. A much larger exercise in Nizamabad district, with a sample size of 18,88,348 voters, claimed 22% had shifted residences.
Here are a few people who tweeted about the missing names in Telangana:
Delhi deputy chief minister Manish Sisodia also asked the election commission for an answer.
Kodali also tweeted about the same.
Sreedhar Mether, a development professional, told Huffpost India that the names of six of his family members are missing from the electoral roll. They have been living in Serilingampally assembly constituency since 1990 and have voted in every previous election.
When Mether downloaded the voter list on Thursday evening, he couldn't find his name or that of his family members. He went to the polling booth and spoke to local TRS leaders, but even they just checked the voters' list and informed Mether that the names were missing.
Mether said that some Election Commission officials had come for a door-to-door verification to their home a couple of months ago and had asked for their voter ids and Aadhaar cards. His family, he said, had given them the details and yet their names are not on the voters' list.
Mether alleged that he was told by booth workers that about 200 people have found their names missing from the voters' list in Telecom Nagar.
HuffPost India has reached out to voters who said they could not vote on Friday. We will update this story once we hear from them.