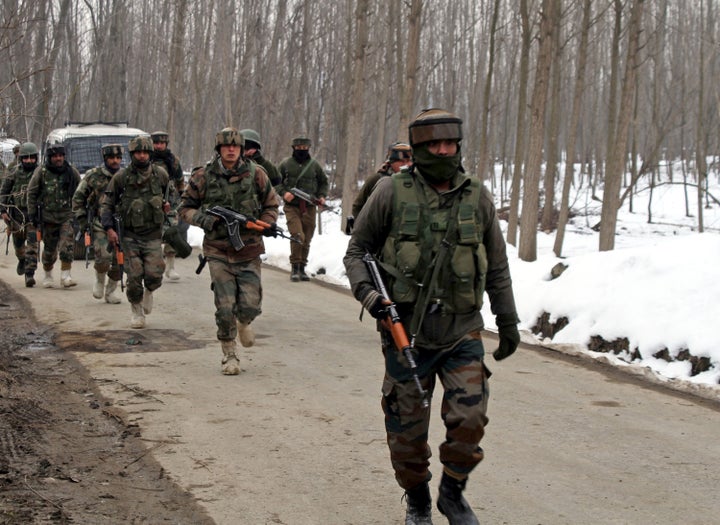 At least 40 CRPF personnel were killed in Jammu and Kashmir's Pulwama district on Thursday when a Jaish-e-Mohammed (JeM) terrorist rammed an explosives-laden vehicle into the bus they were travelling in, ANI reported. According to Indian Express, the attack is one of the worst in the state in 20 years.
More than 2,500 Central Reserve Police Force personnel, many of them returning from leave to rejoin duty in the Valley, were travelling in the convoy of 78 vehicles when they were ambushed on the Srinagar-Jammu highway at Latoomode in Awantipora.
Police said the terrorist driving the suicide vehicle was Adil Ahmad from Kakapora in Pulwama who joined the JeM in 2018.
The terror group has claimed responsibility for the attack that took place about 30 km from Srinagar, they said.
Over 20 people were injured in the terror attack, which reduced the bus to a mangled heap of iron. Several other buses were damaged in the attack.
"It was a large convoy and about 2,500 personnel were travelling in multiple vehicles. Some shots were also fired at the convoy," CRPF DG RR Bhatnagar told PTI.
Forensic and bomb analysis teams are on the spot.
CRPF Inspector General (Operations) in the Kashmir Valley Zulfiqar Hasan described it as a "vehicle-bound attack" and said Jammu and Kashmir Police has taken up the investigation.
Home Minister Rajnath Singh also took stock of the situation and spoke to Jammu and Kashmir Governor Satya Pal Malik. He is likely to visit the state on Friday.
Malik has directed immediate enhancement of surveillance and review of the security management of all important installations and establishments in the state.
He has also said such terror attacks will not deter the resolve of our security forces and people.
Prime Minister Narendra Modi called the attack "despicable" and said that the "sacrifices of our brave security personnel shall not go in vain".
Politicians across party lines condemned the attack with Union minister Arun Jaitley saying that terrorists will be given "unforgettable lesson".
Political leaders condemn attack
BJP president Amit Shah termed the terror attack as an "act of cowardice" and asserted that security forces will defeat those involved in terrorist activities.
Congress president Rahul Gandhi also condoled the killing of CRPF personnel and said it had left him "deeply disturbed". He tweeted:
Congress general secretary for Uttar Pradesh East Priyanka Gandhi Vadra cancelled her scheduled press conference and said that in the wake of the attack, "I don't think it's appropriate to talk politics right now".
Former Jammu and Kashmir chief ministers Omar Abdullah and Mehbooba Mufti condemned the killing of the CRPF personnel.
West Bengal Chief Minister Mamata Banerjee also mourned the death of the CRPF personnel. "Saddened that 13 CRPF jawans became martyrs today in Pulwama. We salute our brave jawans and extend our solidarity and condolences to their families. Our prayers for those injured. We wish them a speedy recovery", she said.