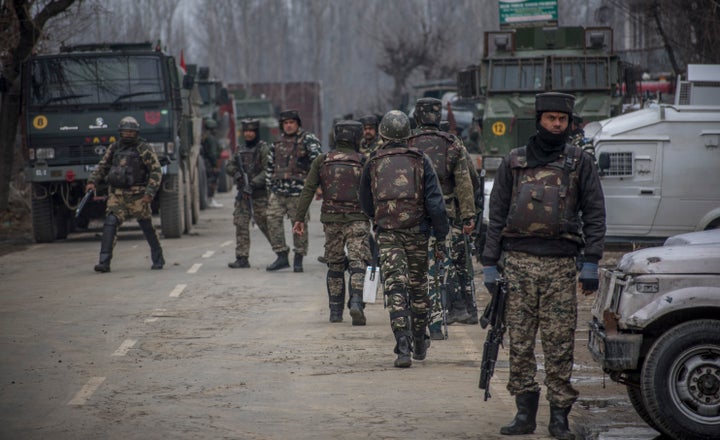 Days after the deadly Pulwama attack, in which at least 40 CRPF personnel were killed by a suicide bomber, opposition leaders, political commentators and ordinary observers are asking again whether the government's claims of demonetisation hitting terror financing actually hold up.
The verdict seems to be: probably not.
There is no clear data to suggest that terror funding was affected after the ban on Rs 500 and Rs1,000 notes in 2016.
According to IndiaSpend, terrorist incidents in Jammu and Kashmir have increased 177% over the four years to 2018. There has also been a 94% rise in death toll of security forces in Jammu and Kashmir in four years.
An analysis of Home Ministry data (compiled by South Asia Terrorism Portal) from 10 months before note ban and 10 months after, cited by NDTV, showed that terror incidents in Jammu and Kashmir rose 38% after demonetisation.
Happymon Jacob, who teaches disarmament studies at Jawaharlal Nehru University, told HuffPost India that arguments by ministers that demonetisation helped crack down on terror funding should not be taken seriously.
"There was a small period when probably the agitation had gone down," he said.
Otherwise, he said, from a long-range point of view, demonetisation has not really had an impact on either the protests or violence in Kashmir.
In a comprehensive article published in The Hindu on Tuesday, Jacob had pointed out that, while Pakistan's reaction leaves much to be desired, New Delhi's Kashmir policy had also been a failure, leading to terrorist-related violence in the Valley spiking "drastically over the past five years".
Conflicting views
In the months since the note ban announcement, several conflicting news reports have been published on the possible impact on the agitations in Chhattisgarh and Kashmir.
In November 2017, The Indian Express reported that documents recovered from the site of an encounter in Abhujmaad showed that Maoists had successfully exchanged demonetised Rs 500 and Rs 1,000 notes. Some police officers also told The Express it was unlikely that Maoist finances had taken a huge hit after demonetisation.
An Economic Times report from July 2018, however, quoted sources as saying that hawala cash transfers to terrorists and separatists in Kashmir have come to an abrupt halt.
The sources also told the newspaper that Maoist groups were at pains to "convert" the extortion money that has been stocked as piles of cash into 'legal tender'.
Rammanohar Reddy, former editor of the Economic and Political Weekly and author of the book Demonetisation and Black Money, wrote in Mint last year that "the less said the better about demonetisation ending terror financing."
When HuffPost India reached out to Reddy, he said that the Mint article and the afterword of his book encapsulated his views on the subject.
In the afterword, he writes, "It is in the nature of terrorism that it has an impact disproportionate to the resources put into it. To therefore argue that demonetisation would weaken the roots of terrorism made little sense. As events have subsequently shown, disaffection in different parts of the country did not end after notebandi. They could not have because the disaffection was not fuelled by money. Statements like 'Stone pelting (in Kashmir) has come down after demonetisation' were meaningless then and even thereafter."
On Monday, Samajwadi Party leader Akhilesh Yadav questioned the BJP's claims that demonetisation had helped to contain terrorism and corruption.
Even as the Modi government faces tough questions over the alleged intelligence failure that led to the deadly Pulwama attack, it is worth asking once again, whether the pain and misery of demonetisation was worth it.