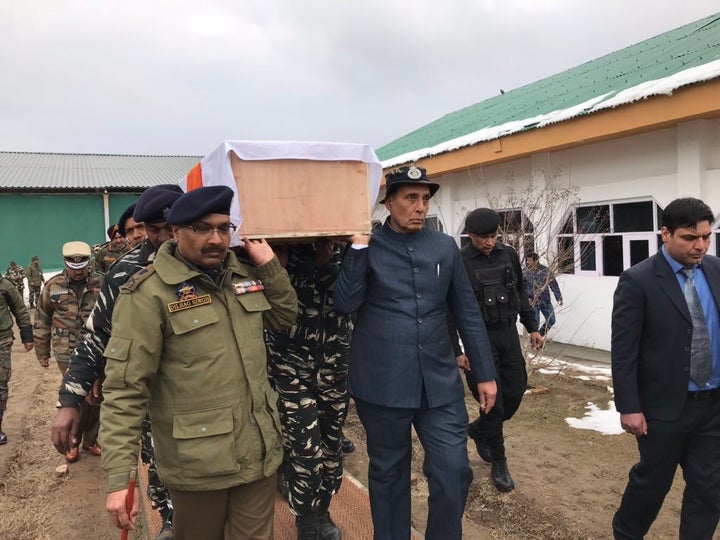 NEW DELHI — The day after the worst militant attack in Kashmir in over two decades, Prime Minister Narendra Modi flagged off a new high-speed train, and then travelled to Jhansi for a public address where he vowed to avenge the deaths of at least 40 Central Reserve Police Force troopers, who were killed when a suicide bomber attacked a convoy in Pulwama.
"The country's blood is boiling," Modi said, in a speech that sounded more like campaign rally than a sombre address to the nation. "The security forces have been given free rein."
A few hours before the Jhansi speech, Finance Minister Arun Jaitley addressed the press after a high-level meeting of the Cabinet Committee on Security, where he announced that the government was revoking Pakistan's "Most Favoured Nation" trading status.
Meanwhile Home Minister Rajnath Singh, the minister charged with ensuring India's internal security, quietly caught a flight to Srinagar to ostensibly take stock of Kashmir's rapidly escalating spiral violence — a task he is nominally tasked with overseeing, but in practice has come to epitomise just how peripheral he has become in the five years that he has served in the Modi government.
Earlier this week, HuffPost India spoke with a cross-section of politicians, senior officials in the government, and security analysts to understand if Prime Minister Modi's autocratic approach to government posed a threat to India's security. Our sources were interviewed prior to the deadly Pulwama attack, but their comments proved eerily prescient.
"The truth is that he has been upstaged by the Prime Minister, the Prime Minister's Office and even the Finance Minister Arun Jaitley," said Yashwant Sinha, a former Bharatiya Janata Party (BJP) member-turned-critic, who has served as the Minister of Finance and Minister of External Affairs in the Vajpayee government.
"Very recently it was Mr Jaitley who addressed the parliament on the issue of President's rule in Jammu and Kashmir. He is the finance minister, is that his job?" asked Sinha. "Shouldn't the Home Minister, who directly overlooks Kashmir, be making a statement on crucial issues like these?"
"Today the situation is that senior ministers are not in control of their ministries, policies are framed by the PMO alone"
Yet Singh's rapid and visible marginalisation has implications that go far beyond the BJP's internecine power struggles. The rapidly deteriorating situation in Kashmir makes clear that the country, as a whole, is paying the price of having a Home Minister only in name.
With Singh effectively silenced, Kashmir's complex, multi-dimensional conflict, some say, has been handled by Modi — an impulsive, inexperienced, first-time Prime Minister with little national exposure prior to assuming office — and National Security Adviser, Ajit Doval, a wily intelligence operative working from a playbook entirely premised on military intervention.
"Today the situation is that senior ministers are not in control of their ministries, policies are framed by the PMO alone," Sinha said. "The officers and bureaucrats report directly to the PMO and NSA and there are times when the ministers get to know what is happening in their ministry much later."
"Have you watched Uri?" said a senior bureaucrat evasively, referring to the 2019 Bollywood movie on the surgical strikes that followed a militant attack on an army garrison in September 2016. "Compare the characterization of the National Security Advisor with that of Home Minister. See how the Home Minister is portrayed".
Rajnath Versus Doval
While politicians are frequently maligned for their expediency, conflict watchers have long sought a political solution to seemingly intractable insurgencies like the one in Kashmir.
In his tenure as Home Minister, Singh has consistently prioritised dialogue and engagement, senior government officials said, only to be shouldered aside by Doval's so-called "muscular approach".
"The Home Minister took some major steps in Kashmir such as giving amnesty to stone pelters and the Ramzan ceasefire, but other than that it has been a difficult time for Mr Rajnath," said a senior government official, adding that Singh was in favour of extending the ceasefire but was overruled. "It started right after he took charge, and worsened after the fall of BJP-PDP government."
The official said that Singh was not even informed when the BJP toppled Kashmir's elected government by pulling out of the alliance with the People's Democratic Party, a claim substantiated by a senior PDP representative, who said the backroom moves were engineered by the BJP National General Secretary Ram Madhav.
"It was Mr Madhav all the way," the PDP leader said.
Madhav did not reply to several calls and messages from HuffPost India. Singh's office said he did not have the time to speak, given his commitments during the parliament session.
"In areas where there has been great unrest such as Kashmir, north east, the home ministry and home minister has been unable to initiate mechanism so that our people in those regions are not pushed out or away from the country," said Arun Shourie, a one-time BJP minister-turned-dissident, who has known Singh for many years. "Under the current PM, like every other minister such as defence, external affairs, finance, Rajnath has had no scope for implementing or perhaps or even thinking new ideas."
"A senior government official said Singh was not even granted a say in appointments to his own ministry."
Shourie said that Doval was pretty much driving India's Kashmir policy on his own, contrasting Modi's government with the Vajpayee cabinet, where India's security posture was set by the Prime Minister, Home Minister LK Advani, and Brijesh Mishra, who was the NSA at the time.
"Mr Brijesh Mishra was very close to the PM but he would not do anything that the PM would not approve. Also no one at that time thought he could direct a person like Mr Advani who was the Home Minister," Shourie said, speaking of his time in the Vajpayee government. "But today, ministers count for nothing. Anyone speaking on behalf of PM like my friend Mr Doval, well, let's say his words counts."
Ajai Sahni, Director of the Delhi-based Institute for Conflict Management, contrasted the situation in Kashmir — where Modi and Doval have taken an active interest — with the Maoist conflict in Chhattisgarh, which has been largely left to Singh's Home Ministry.
"Talking purely from the internal security point of view, wherever there hasn't been an interference, situation has improved," Sahni said. "For instance, Naxal-affected regions have shown improvement in the last few years but at the same time look at what is happening in Kashmir."
Sahni indicated that the Indian government's policy on Kashmir appeared unduly influenced by the BJP's political impulses. A prime example is "Operation All Out", a much-hyped military operation that was intended to eliminate suspected militants but resulted in alienating the state's population instead. The operation was launched in 2017 to much fanfare; the following year the valley's youth joined the militancy in record numbers — 200 new recruits, compared to 126 in 2017, and only 6 in 2013.
"Our policies towards Kashmir shouldn't be undermined by aspirations of government formation and that is exactly what is happening," Sahni said. "What specialization does Mr Ram Madhav or current state governor Mr Satya Pal Malik possess to be placed in positions that determine our Kashmir policy?"
PMO Versus Home Ministry
A senior government official said Singh was not even granted a say in appointments to his own ministry.
By convention, the Department for Personnel and Training (DoPT) would propose an appointment to the Home Ministry, which would pass on the file to the intelligence bureau before finally being cleared by the Home Minister, who would inform the Prime Minister.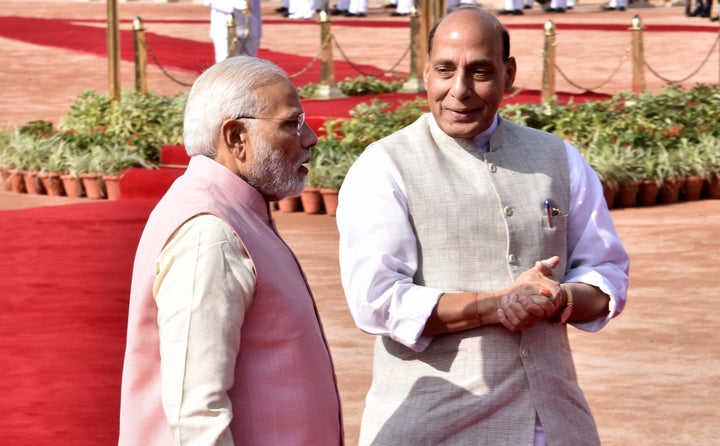 "Now what is happening is that the DoPT is sending these proposals directly to the PMO who then passes on the same to IB," the official said.
Internal government documents confirm Doval's ascent at the cost of Singh's isolation.
On March 6, 2018, a crucial security review meeting on Jammu and Kashmir took place in the National Capital that was attended by the top brass of India's security apparatus, according to documents accessed by HuffPost India.
The meeting was attended by a wide-spectrum of senior security officials, all of whom report to Singh. The attendees included Union Home Secretary Rajiv Gauba, Director of Intelligence Bureau (IB) Rajiv Jain, Director General of National Investigation Agency (NIA) YC Modi , then Director General (DG) of J&K police SP Vaid and Additional DG of J&K police Munir Khan.
Several key decisions were taken in the meeting, including decisions on the possible deployment of the National Security Guard (NSG), a paramilitary force under the Ministry of Home Affairs, to Kashmir.
The only significant absence at the meeting was Rajnath Singh. Instead, the meeting was chaired by Ajit Doval.
Modi Versus Rajnath
When HuffPost asked a senior government official if there were differences between Modi and Rajnath Singh, the officer stood up from his chair, turned up the volume on his television set to max, and gestured to remove all mobile phones from his desk, before he finally spoke.
As the crucial 2019 general elections draw close, the BJP-led government, and the bureaucrats it oversees are paranoid that a senior leader like Singh, or Nitin Gadkari, will strike a deal with allies to sideline Modi. Modi's abrasive and autocratic methods, the thinking goes, has alienated many allies within the National Democratic Alliance; allies who would welcome an opportunity to do business with someone more accommodating.
Gadkari's frequent outbursts against the government have already earned him a visit from a senior BJP intermediary allied with Modi and his henchman, BJP President Amit Shah.
Singh has remained largely tight-lipped thus far, but officers close to him say he still nurses the the thought that, one day, he too could become Prime Minister.
"If BJP comes back with a full majority, Mr Rajnath Singh's portfolio will remain the same or he might be made a minister in some other ministry. Not an ideal situation for him," said a senior central government official. "But if BJP wins between 160 -200, then he will be sought after because one thing that you can't deny about him is that he is good at winning friends over."
In Patna last week, Singh finally let his mask slip and his ambitions shine through.
In a public gathering, he took it on himself to defend Modi in context of clear signs that the Prime Minister violated established procedures, and favoured Anil Ambani's Reliance Group, in the procurement of Rafale fighter aircraft from France.
″I feel very hurt. I have known Modi for long," Rajnath said, following the expected script, before adding a sly caveat. "You can level other allegations if you want — that Modi has worked less or he could have done more — but no one can raise questions on the prime minister's honesty and intention."