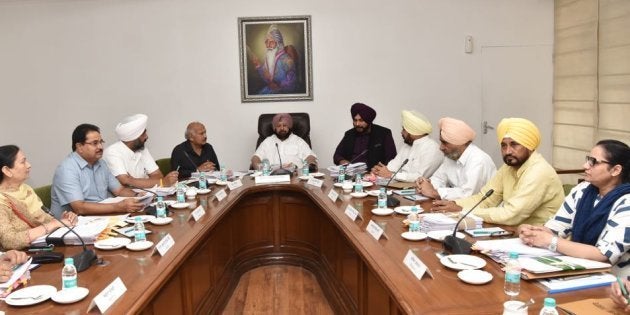 CHANDIGARH—The Punjab government will push the Union government to accept the appointment of Punjab representatives to the Bhakra Beas Management Board (BBMB), days after HuffPost India reported that the BBMB had diverted scarce water from Punjab and Haryana to Rajasthan farmers to prop by Vasundhara Raje's ailing government.
The BBMB is responsible for apportioning water, in accordance with a set formula, from the Bhakra and Pong reservoirs amongst the three downstream states of Punjab, Haryana and Rajasthan. This summer, according to HuffPost India's investigation, the board released surplus water to Rajasthan — in one instance, under the guise of routine maintenance work.
The water was released at a time when the Bharatiya Janata Party-led government in Rajasthan was struggling to recover its popularity in the run-up to state polls at the end of this year.
On Thursday, Minister for Local Government Navjot Singh Sidhu raised the matter at a cabinet meeting on Thursday, prompting questions from Chief Minister Amarinder Singh. Singh was informed that the interests of the Punjab government were not represented in the BBMB, with the post of Member (Power) laying vacant since May 31 this year.
The post of member (Irrigation), meant to be filled by the Haryana government, is also vacant.
Sources at BBMB have claimed that while both the state governments have sent in their recommendations of three officials for each of the post to the Department of Personnel and Training (DoPT), the central government is yet to make a decision.
Popular in the Community