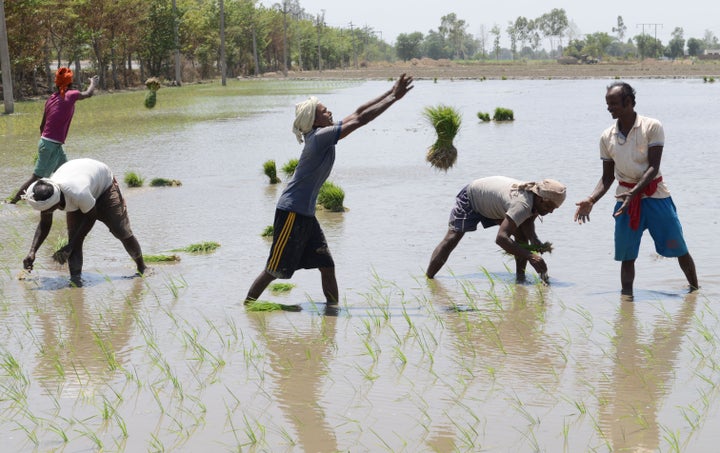 LUDHIANA, Punjab — India's monsoon deficit currently stands at 35% and Punjab's fields are bone dry, yet awash in river water with no way to use or store it. As a consequence, much of this water is flowing right through the state, onwards past Haryana and Rajasthan and into neighbouring Pakistan.
Data from the Bhakra Beas Management Board (BBMB) reveals that the water level at Bhakra dam is almost 150 feet higher than normal, the first time such a thing has happened in the last 25 years. But Punjab barely uses this water for irrigation: 74% of the state's irrigation needs are met by over 14 lakh tube-wells, according to the Central Ground Water Board (CGWB).
An over-reliance on groundwater, in a land named after its five rivers (Punj - 5, aab - river), has meant 109 of Punjab's 138 ground water blocks are "over-exploited", according to the CGWB.
While Punjab's use of tube-wells has grown exponentially, largely encouraged by decades of free electricity provided to farmers, the state's colonial era canal irrigation network has fallen into disrepair.
Punjab's lopsided water policy suggests that India's looming fresh water crisis is largely a man-made crisis born of criminal mismanagement. As climate change disrupts the sub-continent's hydrological cycle, this crisis is likely to deepen.
According to agriculture expert Devinder Sharma, Punjab government has shelved the policy of out of turn tubewell connections to farmers who choose not to avail free electricity supply.
"However a time has come when along with checking the use of water for irrigation purposes in rural areas, there should also be a check on the use of water in urban areas through submersible pumps," said Sharma.
Untapped
The Sirhind canal, not far from Doraha in Ludhiana, is part of the colonial Indus water works. One afternoon in June, 52-year-old Kuldeep Singh, a farmer of village Khaira, sat on its banks and pointed with his spade towards the water gushing through the canal.
"Its been 20 years since the three 'rajwahas' in our area became non-functional," Singh said. A rajawaha is a smaller channel that diverts water from the canal to the fields beside it. The three rajwahas constructed in village Khaira, Jaspalo and Majhalia during the British era to irrigate fields in over 50 villages nearby remained non-functional at least from the last 20 years.
"Despite repeated protests, the water resources department did not repair them," Singh added.
As a consequence, Singh has no way to tap into the water flowing past his fields.
"While the canal water is flowing directly into Rajasthan, we have no option but to irrigate our fields with groundwater pumped through the tube-wells every day," said Singh.
Village Khaira situated on the banks of the main Sirhind Canal has over 500 acres of land and the farmers here have installed over 55 tube-wells to irrigate this land. According to villagers, while the groundwater level here in 1992 was around 20 feet, it has dropped to below 45 feet now.
"Since the village is situated on the banks of the canal, the groundwater is depleting slowly," said Jagdish, another farmer. "If we move just 5 kms away from the village, the water level has gone to as low as 70 feet and in certain areas even below 150 feet near Sangrur."
Unable to use river water, the farmers here were not able to sow paddy despite the season starting on June 13.
"While the government has resumed free eight-hour power supply to farmers since June 13, we could not sow paddy for days due to power failure. The supply could only resume on June 16," said Kuldeep Singh.
The electricity department in Punjab is facing an acute staff shortage as the government has not filled vacancies for decades. As a consequence, it often takes a week to fix power faults.
In a cruel paradox, Punjab's farmers are now waiting for rains, despite farming alongside a canal swollen with river water.
"If all the three rajwahas get functional, the river water derived from the Sirhind Canal can irrigate fields in over 50 villages situated nearby," said Jagdish, another farmer. "At present, every village has more than 50 tubewells which will further lower the groundwater level."
With no corrective measures being taken to recharge groundwater or boost crop diversification to check groundwater depletion in Punjab, the Central Ground Water Board (CGWB) has reminded the deputy commissioners of various districts to initiate action against those violating the ban on tubewell boring in the notified areas.
"In over 82% of area in Punjab, the groundwater level is declining at an alarmingly high rate which could lead to depletion of water resources in the next few years. Out of the net total irrigated area of 4.019 million hectares, canal irrigation is taking place in 26.2 percent and tubewell is irrigating around 72.5%. Gross irrigated area in Punjab is 7.442 million hectares," said Anoop Nagar, regional director Central Ground Water Authority (CGWA).
He said that the government should initiate reforms like groundwater recharge and also crop diversification.
Strengthening the irrigation infrastructure
The Punjab government claims it wants to fix the state's broken irrigation networks.
In the Niti Aayog meeting held on 15 June at New Delhi, the Punjab government has sought special category state status from the centre under the Accelerated Irrigation Benefits Programme (AIBP) to strengthen the irrigation infrastructure due to overexploitation of groundwater.
The state government has sought a specific grant of Rs 2,575 crores from 2020-21 to 2024-25 under the 15th Finance Commission to modernise the canal system. The state government has also urged the centre to carry out extension, renovation and modernisation of canals fed from Satluj with an estimated budget of over Rs 918 crores and to spend another 1,112 crores to revamp various distributaries along with Upper Bari Doab canal.
Yet, even if this money were to come through, farmers have encroached upon the land once taken up by the canals.
"The water channels linked to the fields were not serving any purpose after the drying up of the rajwahas in the state," said Manjeet Singha, a farmer from Sultanpur Lodhi. "Majority of the farmers in the state have filled them up and are now cultivating along with the rest of the fields."
Singha said it was almost impossible to exactly where the canals once lay as the land had been divided, bought, sold and transferred over generations.
"Who will agree to leave his share of land to reconstruct the field canals to transport water into the village fields?" asked Singha.
Popular in the Community