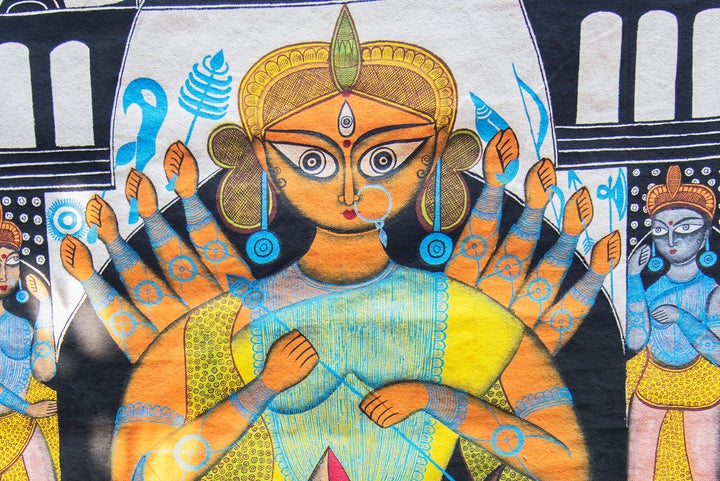 It's practically law: Durga Puja is meant to be embraced in the bosom of your family of origin. The big city has a way of reminding you of this fact, so when the season rolls around, migrants such as I find ourselves beating a retreat to our hometowns. This ritual of 'coming home' is as much a part of the festival as the story of Durga returning to earth with her brood of children.
But one season, many years ago, I was given a few too many cream-coloured silk blouses as Pujo gifts. The sly coercion into what I 'should' wear like a good little gender-conforming person did not escape me. Except, back then, I did not know the smart term 'gender non-conforming'—I could have worn that as my only label for Ashtami evening and turned heads! Instead, I decided not to return to my hometown for the festival.
Pujo had always felt like betrayal—even the tailor who had my undying loyalty the whole year had abandoned me. No, let me be clearer—my gay tailor, with whom I always thought I had an unspoken pact of solidarity because, you know, I "saw" him for "who he was", was falling all over the straight woman's blouse that looked nothing like a blouse. I mean how long does it take to stitch a few strings together? Be that as it may, he had no desire to take on my three metres of aquamarine denim material to be paired with a yellow shirt. He didn't care that I was channelling Hrithik Roshan in Aap Mujhe Achhe Lagne Lage, and that a real designer had created that ensemble. Nobody was ever interested in real design— not small-town tailors at least!
So, 2010 was going to be my year of Puja vindication. And, fashion-related betrayals apart, there was the exhilarating prospect of spending the festival with a lover. Without having to hide from my parents. The bittersweet decision to skip the 'homecoming' started to seem sweeter. This year I was going to wear what I liked, without having to listen to snide comments about looking too masculine.
Except, two days before Ashtami, I still hadn't found clothes that I could allow myself to wear for the occasion. There was no way I could look so casual during Pujo, could I? My uncle's voice echoed in my head, my mother's, my aunt's… every one of my family members seemed right in front of the mirror as I held my favourite plaid shirt. Maybe I could wear leather instead? What about sunglasses? So, what if it was 7pm and there wasn't any sun—maybe that way no one would recognise me (in a city where I didn't know anyone at the pandal)?
When Ashtami finally arrived, there was no leather, no lover. I was all alone in my hostel room, craving most specifically for an egg mutton roll. Romance had taken a train to her 'real' home—the rightful space for celebrations—away from the 'idea' of a home she had had with me. How can you argue with "I need to go home,″ especially while living in a hostel?
Was that the big moment when I turned a little more queer, and a little less queer all at the same time—defeated, yet determined not to stay that way? Those were the days when I had not realised how much I longed for straight things—family, fashion, Pujo. Of course, in my ideal imaginings, these straight family norms were supplanted between two women, definitely included aquamarine and yellow, and featured a pandal where men did not hit on my crushes. I didn't think it was too much to ask for.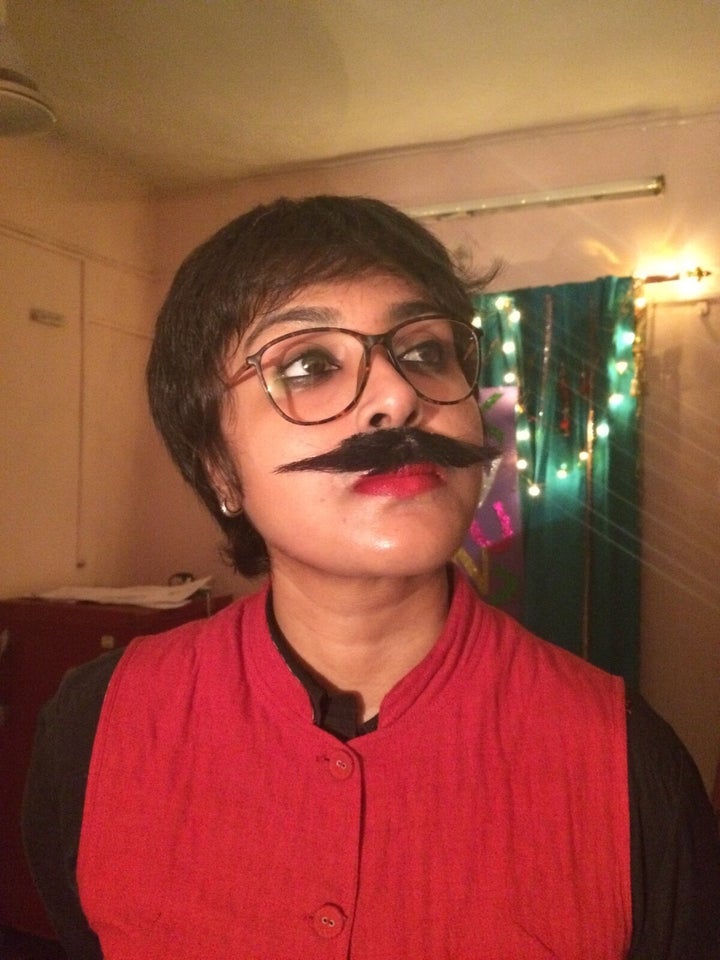 In reality, Ashtami felt like a burden I couldn't escape from. Like every Pujo, I felt like a failure. Like every year, that sense of belonging eluded me. As always, I was swinging between nostalgia and rebellion.
All alone, I went to the most crowded Bengali part of town I knew of, looking fabulous in plaid. My fashion statement was very conventional this time, not too loud, almost like the gamchha pattern blouses favoured by cis women that year. I felt absolutely indomitable and… completely invisible. There was not even a friend beside whom I could feel suitably inferior. Breaking this habit for the first time felt like the hardest part of it all.
Right around this vulnerable moment of realisation, at the most famous stall for egg mutton roll, the Bengali bhodroloks showed their love for anarchy. I was more exhausted than the egg being beaten mercilessly into submission inside that steel-er glass. I felt immense empathy for the boy who was tirelessly making rolls—for him, the festival could only mean an opportunity for extra cash. One family-less Pujo person to another, I tried to make eye-contact with him through the chaos, chanting, "give me mutton roll first fellow marginalised person"—but he too, like my old tailor, chose a cis woman.
My internal wounded-queer-empath-baritone voice was quickly replaced by pishima's sarcastic screech— "eeeeesh nyaka"—while I sat there, a self-defined kind soul, looking fabulous in plaid. And I would have continued to sit there staring at the vanishing rows of eggs from the crate had my cousins not called to tell me about the feast they were having at an aunt's house.
Finally, it was this missed food that defeated me. I spent the next two days imagining that repast, which had been relayed in minutest detail. Ishhh, of course I know that pesky relatives can be tolerated for food—when I eat, I can't even hear a word in any case. But like they say, when you are in your twenties, you are so hellbent on being a rebel that you forget these important life lessons.
"I have finally found the courage to wear the term gender non-binary. I will strut with it and also go around calling Puja 'Pujo'—just to sound convincingly aantel (intellectual)."
That was the last pujo I spent in anxiety about fitting in and since then, like Ma Durga, I have found weapons to cope with the asura of self-doubt. Since then I have, in fact, converted masculinity into respectable androgyny (just wear red lipstick), trashed my own caste like the politically correct academic bhodroloks, and I have finally found the courage to wear the term gender non-binary. I will strut with it and also go around calling Puja 'Pujo'—just to sound convincingly aantel (intellectual). That and a few articles shared on social media critiquing Bengali mainstream culture and its exclusion of marginalised gender expressions and I think I am sorted for Pujo! My days of overcompensating with clothes are far behind me. There is no way I can feel invisiblised now that I have social media—it's so powerful that even your exes finally see how fabulous you are, and simply putting up a sari picture is enough for you to be celebrated like the eighth wonder of the world. I finally feel cool and have accepted that there is nothing quite like Bengali culture.
Popular in the Community