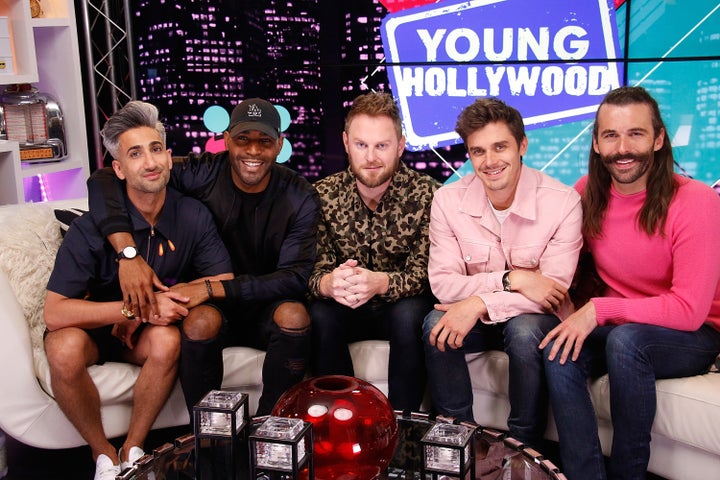 The "Queer Eye" stars don't see, well, eye to eye when it comes to the baker at the center of a controversial religious liberty case.
Earlier this month, the Supreme Court handed a narrow victory to Masterpiece Cakeshop owner Jack Phillips, who refused to bake a cake for a same-sex couple in 2012, citing his religious faith. In a 7-2 decision, justices ruled that the Colorado Civil Rights Commission had showed a hostility to religion in its handling of claims against Phillips.
Nonetheless, the ruling has been condemned by a number of media outlets and human rights advocates, who believe it could pave the way for businesses to discriminate against LGBTQ people and other minority groups.
When the "Queer Eye" stars were asked by New York Magazine's Vulture if they'd ever consider giving Phillips a makeover on their Netflix series, their views couldn't have been more varied ― and the chat appears to have gotten heated.
"I would. I want to know what that's about. I want to know about who your parents were, how you were raised," the show's food expert, Antoni Porowski, said. "I want to know, if this person were vetted, if there's a willingness. Then I want to know about where that willingness is coming from."
Design expert Bobby Berk and culture expert Karamo Brown felt similarly, suggesting Phillips wasn't that much different than other conservative participants who've appeared on the show.
On the flip side, grooming expert Jonathan Van Ness seemed doubtful he'd be up for putting the spotlight on Phillips, who has been embraced by the conservative Christian crowd for his opposition to LGBTQ rights.
"Personally, where I come from, I have had people my entire life tell me to my face, 'I don't agree with your lifestyle. You should never be able to be married. You're a faggot,'" Van Ness said. "When I walk out of a room with someone like that, I know very clearly the thoughts that are going through their head. Would they say it to my face? No."
He continued, "This is someone who has led a charge from the fanatical wing of the U.S. to disenfranchise gay people and further feed the flames of the right, who says we're evil and shouldn't have the right to marry ... To have this platform and have these followers, to be taking interviews and to say lightly that you'd [have the baker on the show], I don't know. That's why I don't know if I'd want that episode. I really don't."
Van Ness didn't relent when Porowski tried to interject.
Porowski: I'm not talking about the Pences' views, but the idea of the baker. Cory [a contestant from season one], when I first met him and he had a Trump banner on his thing, I wanted to get the hell out of there.

Van Ness: Right. But this is someone who was vetted and OK to be around us, and the baker of the fucking baking shop that has spent his life's mission … I'm telling you. Are you kidding me? Have you read the story?

Porowski: No!

Van Ness: So you'd know, if you did, that I'm not making a lot of this up.

Porowski: I just want to go and talk to the guy, because you hear so much shit …

Van Ness: Well, good luck to you. Read the article.

Porowski: Look, we've made mistakes as well. I'm not … [sighs]

Van Ness: Next question?
Yikes.
Fortunately for "Queer Eye" fans, the guys also discuss a number of less-divisive topics, including "Call Me by Your Name," "RuPaul's Drag Race" and the pop culture item that "made them gay" in the candid chat.
Head here to read the full Vulture interview with the "Queer Eye" cast.