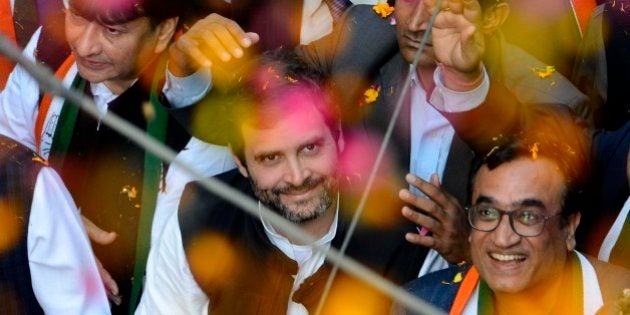 A visibly disgruntled Congress Party attempted to seek answers from the ruling government on Monday in Rajya Sabha over the visit of Delhi Police officials to the party office to seek details of Rahul Gandhi's physical appearance. Calling their visit a case of "political espionage", the Congress has demanded an explanation from Home Minister Rajnath Singh and Prime Minister Narendra Modi.
"The present government has much to answer when it comes to right of privacy of citizens. They are now trying to do it everywhere what was happening in one state. Both Modi and Amit Shah are now here. It is not confined to one person. It is much deeper. The practice that they had adopted in Gujarat, they want to carry it out now every where," party spokesperson Anand Sharma told reporters at the office of the All India Congress Committee in New Delhi, reports ANI.
'Going to a person's house and asking him or his secretary to fill a proforma is not snooping': Arun Jaitley on Rahul Gandhi profiling row

— NDTV (@ndtv) March 16, 2015
In the Rajya Sabha, the issue was raised by Leader of Opposition Gulam Nabi Azad, who called for the suspension of business and demanded a statement from Home Minister Singh immediately.
Azad claimed that the government was attempting not only to curb religious and civil freedoms, but also political freedom, and added that "an atmosphere of fear and insecurity" was being created. He firmly stated that he hadn't seen the said pro forma in the 35 years of his political career.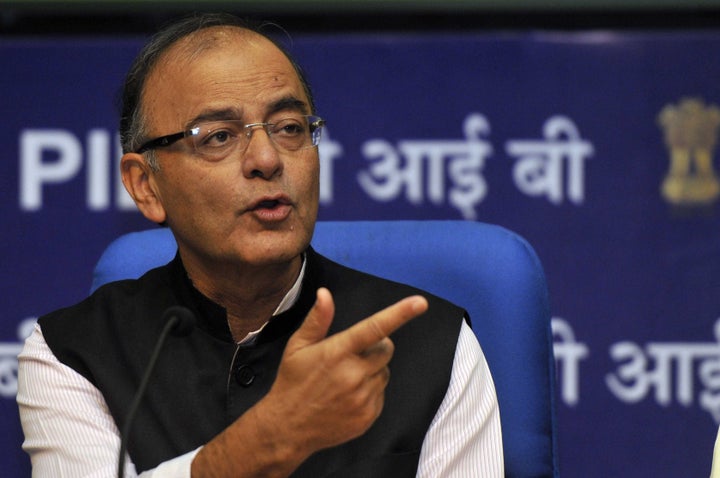 Finance Minister Arun Jaitley said, "The proforma, which was revised in 1999, has been used to profile former prime ministers HD Dewa Gowda, IK Gujral, Manmohan Singh and Atal Bihari Vajpayee. The same was also used to profile Congress President Sonia Gandhi in October 2004, 2009, 2010, 2011 and 2012. Pranab Mukherjee, before becoming the President, was profiled in 2001, 2007, 2008, 2009 and 2012, while senior BJP leaders LK Advani and Sushma Swaraj, Ahmed Patel of Congress, CPI(M)'s Sitaram Yechury and Sharad Yadav of JD-U were also profiled," he listed said.
"Delhi Police gathering information on Rahul Gandhi is not snooping, but a part of transparent security profiling," said Jaitley. "526 persons have been profiled using the present form," he said, adding this was part of "transparent, security profiling and not associated with any kind of snooping or spying."
In the Lok Sabha, Congress leader Malikarjun Kharge promptly stood up as Monday's session began with Speaker Sumitra Mahajan in the chair, to demand an official response from both Prime Minister Modi and Union Home Minister Singh on the issue of why the police found it necessary to visit Gandhi's residence, which he described as an invasion of the latter's privacy, PTI added.
Kharge further stated that this was a serious enough issue, as it related not only to Gandhi, but also to all other Members of Parliament and other important personalities.
"We need an answer on this."
This morning the Congress party again said that conducting a secret surveillance at a VIP's residence was unacceptable, and added that the act was almost similar to espionage.
India is not like Pakistan, where the authorities can do anything they want: Ghulam Nabi Azad over 'snooping' on Rahul Gandhi

— Hindustan Times (@htTweets) March 16, 2015
"If police is conducting a secret surveillance at a VIPs residence, it is unacceptable. We need an answer on this. It's almost similar to espionage," said senior Congress leader PC Chacko.
Another party leader Ashwini Kumar said the Congress would certainly raise the issue in the Parliament with all the strength at their command. Manish Tewari dubbed the NDA Government a 'colonial government'.
"It's high time that Parliament debated, there must be a legal basis and oversight of our intelligence agencies, to put an end to this," Tewari said. "The intent and entire exercise is absurd in its entirety, what is going to come out of this profiling of public figures?, he said.
"The intent and entire exercise is absurd in its entirety, what is going to come out of this profiling of public figures?"
A team led by Additional Deputy Commissioner of Police Jatin Narwal visited Gandhi's Tughlak Lane residence on Saturday to enquire about the earlier police visit. The team also checked the pictures of the policemen who had visited Gandhi's residence a couple of days ago and enquired about the colour of the Congress leader's eyes and hair.
Delhi Police Commissioner BS Bassi however, denied that his force was profiling opposition leaders at the behest of the government, stating that the procedure has been practiced for decades.
"This has been a practice since long. A pro forma in fact was revised as early as in 1957. It was revised in 1987, and then it was revised in 1999. So, it is a fairly old practice and it is done with the motive of ensuring maintenance of public order and safety and security," reported ANI.
(With inputs from PTI and ANI)