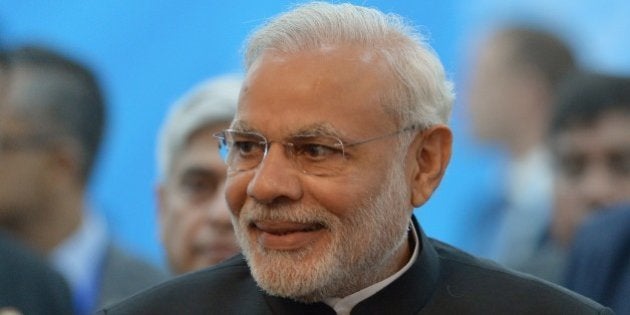 NEW DELHI -- Escalating his attack on the central government's Land Acquisition Bill, Congress Party Vice President Rahul Gandhi said today that Prime Minister Narendra Modi's "56-inch chest" would be reduced to "5.6 inches" in the next six months.
"We won't let it pass in parliament. Not one inch of land will go," Gandhi told Congress Party workers in Jaipur, referring to the Land Acquisition Bill, which is likely to be tabled in the upcoming monsoon session of parliament.
"The 56 inch chest will become 5.6 inches in six months," he said.
While campaigning for the national elections in January 2014, Modi had said that it takes a "56-inch chest" to transform Uttar Pradesh into Gujarat in terms of development.
Gandhi's attack comes ahead of the monsoon session which the Congress Party has vowed to disrupt if the Modi government fails to address the Lalit Modi scandal involving the External Affairs Minister Sushma Swaraj and Rajasthan Chief Minister Vasundhara Raje.
Even though he is a fugitive from Indian law, Swaraj helped the former Indian Premier League commissioner obtain travel documents from the British government.
Raje backed his immigration plea on the condition that Indian authorities would not be informed of her assistance to the cricket magnate, who is being investigated by Indian agencies for financial irregularities relating to the IPL cricket tournament.
Mocking Raje on Friday, Gandhi said that the "Lalit Modi government" was in power in Rajasthan. "The government's remote control is in London. He presses the button there and she jumps here," he said.
राजस्थान में BJP की सरकार नहीं,ललित मोदी की सरकार है।यहाँ ललित मोदी सरकार,मध्यप्रदेश में व्यापम सरकार,छत्तीसगढ़ में NANसरकार-और मोदी जी चुप!

— Office of RG (@OfficeOfRG) July 17, 2015
BJP leaders quickly retaliated against Gandhi's remark.
BJP's Nalin Kohli told ANI that Modi's "56 inch chest carries a very big heart thats consistently concerned with making India a superpower."
Earlier in the day, Modi took a swipe at Congress Party president Sonia Gandhi and her son-in-law Robert Vadra, while speaking at a function in Jammu to mark the centenary of former state minister Girdhari Lal Dogra, a Congress politician, whose son-in-law is Finance Minister Arun Jaitley.
"There was no similarity in the political line of thought of Dogra sahab and Arun Jaitley ji and neither are remembered due to each other," he said.