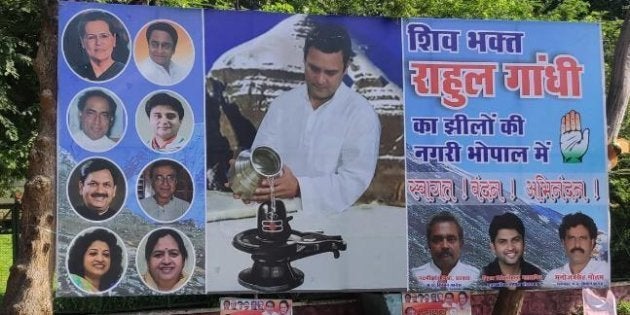 Campaign posters declaring Rahul Gandhi to be a Shiv bhakt, and showing him pouring water on the Shivalinga, have been plastered along the 18 kilometer route in Bhopal, which the Congress Party president is covering today in his road show for the Madhya Pradesh state election.
Gandhi has repeatedly referred to himself as a Shiv bhakt, this year. While his critics have accused the 48-year-old leader of practicing "soft Hindutva" to appease Hindu voters, Congress has sought to make a distinction between Hindutva and Hinduism to counter Bharatiya Janata Party's (BJP) pitch for Hindu nationalism.
The BJP has been in power in Madhya Pradesh for the past 15 years. In addition to anti-incumbency against the BJP, the Congress believes agrarian distress and public anger over issues like unemployment and record fuel prices will boost its chances of winning the state election.
NDTV reported that Gandhi will seek blessings from Hindu priests and young girls before kicking off his road show in Bhopal.
The Times of India reported the 'Shiv Bhakt' hoardings have been put up by a Congress corporator, Girish Sharma, but with the approval of the state party leadership.
"If BJP has any delusion that Lord Ram, Lord Shiva or Brahma were discovered by them, they should know they have existed from time immemorial, and people worshipped them eons before BJP and RSS were born," state Congress media vice-president Bhupendra Gupta told TOI.
"Anyone can be a devotee of Lord Shiva. Who is the BJP to decide who will worship the Aadi Shiva?" Gupta told the newspaper.
The posters declaring him to be a Shiv bhakt follow on the heels of Gandhi completing his pilgrimage to Kailash Mansarovar.
"Whenever there are elections in any part of the country Rahul Gandhi starts visiting temples. His first visit to Madhya Pradesh after his journey to Kailash Mansarovar on Monday has a stamp of his soft Hindutva agenda on it but people of Madhya Pradesh are wise enough to understand the design behind his so called pilgrimage to Kailash Mansarovar and his being dubbed as a 'Shiv bhakt'," state BJP spokesperson Rajneesh Agrawal toldHindustan Times.
Earlier this month, the Congress in Madhya Pradesh tweeted that it would construct over 23,000 gaushalas (cow shelters) if it returned to power.
The Congress has also promised to transform the state into a hub of religious tourism. Congress leader Digvijay Singh has promised that his party will construct "Ram Path," the route that Lord Ram took during his 14-year-long exile, if voted back to power in MP.
BJP's Vishwas Sarang, Minister of State for Cooperatives in MP, said, "This is the same party that questioned the existence of Lord Rama. Its workers in Kerala were found relishing beef, but the party did not act against them."
Madhya Pradesh Congress chief Kamal Nath accused the MP municipal corporation of removing a large number of posters. "They think that by removing posters, our program will be unsuccessful, they are mistaken," he toldIndia Today.
While campaigning in Gujarat, Gandhi's decision to only visit temples triggered commentary about him practicing "soft Hindutva." While campaigning for the Karnataka Assembly election, however, Gandhi visited diverse places of worship.