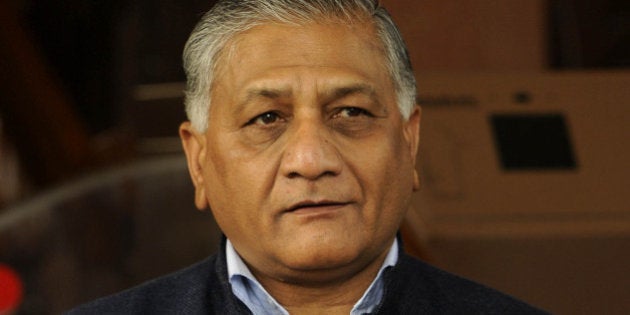 In a long-winded statement that mocks the media -- his pet target -- and his political opponents, former Army Chief General VK Singh has said that Congress leader Manish Tewari "is brazenly telling a lie" on an Indian Express story that alleged that on the night of January 16, 2012 there was an unexpected and non-notified movement by a key military unit from mechanised infantry based in Hisar in the direction of the national capital.
The Indian Express report had quoted central intelligence agencies to support its claim. On the same night, another unit - identified as a large element of the 50th Para Brigade based at Agra - had also been moved towards Delhi, according to the report.
Singh said the story was "bunkum" and went on to launch a rant against former Indian Express editor-in-chief Shekhar Gupta.
Tewari, who was Minister of State for Information and Broadcasting in the UPA government between October 2012 and May 2014, had earlier said that the "to the best of my knowledge that story was correct".
It was on January 16, 2012 that Singh had approached the Supreme Court regarding the controversy over his date of birth, an issue which saw him locked in a bitter confrontation with the UPA government.
"Then along comes Mr T, until yesterday the brash face of the party in power, who despite knowing the facts of the case fully well, decides to brazenly tell a lie. He is much too intelligent a person not to know what he was doing or saying and he is a lawyer too. Let me also emphasize that by trying to get at me he has once again caused collateral damage to the 13 lac strong patriotic force that protects the country and so that he and Mr Coupta can sleep peacefully. In one stroke he has cast doubts not only on the integrity of this force but also of the government he was a part of and the then RM and PM - both men who are held in high esteem by his own Party," Singh said in a statement.
By 'Coupta' Singh is referring to Gupta who was the editor of the paper when the story on the alleged coup was published.
"Using the bogey of a military coup and then by politicizing one of the finest armies in the world, his party presided over an absolute disaster and it was men from my own battalion, 2 Rajput, who paid the price with hundreds of other soldiers. We lost 282 men in one hour while the remainder were wounded and were made POWs. There were just a dozen or so survivors - that is why I'm getting 'antsy'. My sworn oath to protect this country means one has to not just look beyond the borders but also tackle the likes Mr T and Mr C," Singh said.
Tewari's comment that the incident was "unfortunate but true" had provoked a strong rebuttal by his own party.
The Congress leader was asked about media coverage of issues pertaining to defence forces as in the case of the Indian Express report on April 4, 2012, titled "The January night Raisina Hill was spooked: Two key Army units moved towards Delhi without notifying Govt."
An embarrassed Congress had dismissed Tewari's claim.
"I am again clarifying there is absolutely no truth in it (claims about troop movement in 2012). My colleague was neither a member of the Cabinet Committee on Security, nor any relevant decision making body," Congress spokesman Abhishek Singhvi said, adding some troop movements are necessary, "inbuilt and inevitable part of the defence mechanism".
"We on behalf of Congress very clearly and categorically want to deny this report," another party spokesperson P C Chacko said.
Gupta, who was the editor when the story was published, said though he would not comment on the war of words between political rivals," I don't believe that it (the news) needed further vindication, but yes anymore vindication is welcome. But more than vindication the debate is welcome because I think the system in India...the government...has been in denial over what had happened because it was a very unpleasant thing that happened," he told NDTV.
The army had already denied in 2012 that any such thing had happened.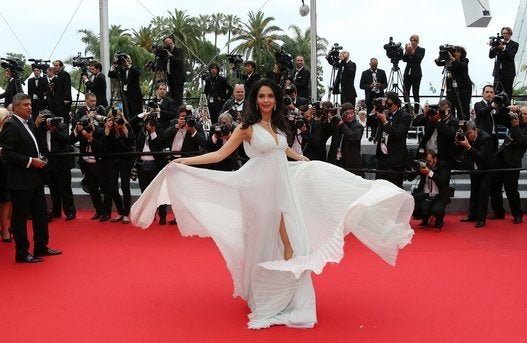 Bollywood Celebrities At Cannes Film Festival